It's summer; blonde is trending. A few weeks ago, E! News anchor Giuliana Rancic kept fans in suspense before revealing her "all or nothing" hair change -- a fierce blonde bob. Glam rockstar Gwen Stefani has graced the stage for years with her signature platinum coif. Then, there's the beach chic of Kate Hudson and Gisele Bundchen, whose flowing locks halo their megawatt smiles.
With celebrities playing muse, can we have what they're having?
Colorist Corey Powell from Sally Hershberger Los Angeles says yes -- yes, you can. Based in West Hollywood -- the location was recently named a top US hair spot by Elle magazine -- Corey says it is important to know what you want. From there, he assesses the "level" of the natural hair color and skin tone before determining the lighter hue. "For an all-over blonde look, I would suggest softening the base to make it a little lighter, and then highlight with balayage to add some depth... Unless you want to go Gwen Stefani and bleach and tone every three weeks!" he says. "Balayage is the best solution health-wise for the hair, for sure."
What's balayage? In brief, it's a colour sweeping technique that was created in France in the 1970s. Rather than highlighting with foils, which gives hair a frosty and dated look, balayage affords the stylist "creative sensibility" with the brush by painting highlights based on where the hair falls naturally. "You can make it very skinny at the roots and fat at the bottom, so it looks like it's been on the head for a long time. Also, you don't have to place all the highlights on the roots, or half an inch away or an inch away," he says. "It leaves depth where the sun wouldn't hit."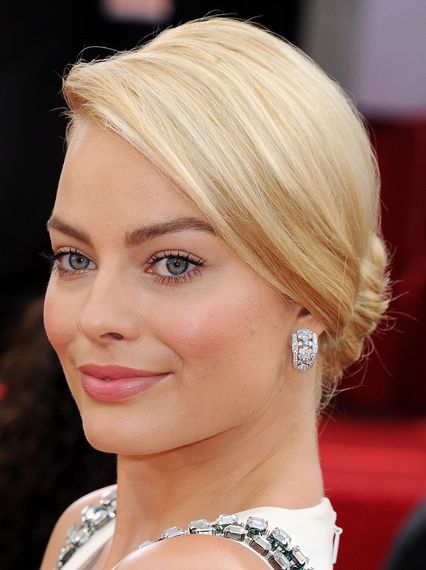 Corey tended to the tresses of Australian actress Margot Robbie (she played opposite Leonardo DiCaprio in Wolf of Wall Street), whose stunning blonde look was courtesy of balayage, which achieved greater depth than a single process. "I did her base very light and then the balayage. She's super blonde!" Harper's Bazaar noticed and heralded it the "must have hair color for 2014."
More good news -- Corey says that a longer lead time between salon visits actually makes the hair look sexier. "The balayage grow-out is not as abrupt because the placement is varied. You don't have a dramatic line as you would with foils, which are placed across a line," he says. To maintain vibrant blonde at home, fellow stylist Jonathan Colombini (who is a master at the blow-dry) recommends using a purple/ violet shampoo and conditioner. "It's imperative to use both. Reason being, the shampoo preps the hair by not creating a moisture barrier over the hair shaft so its partner conditioner can deposit the right about of color control. I recommend the Joico Color Endure violet shampoo and conditioner."
With summer in full swing, it's the best time to get a sun-kissed look. For some rock 'n roll edge, go all-out blonde; for roll-out-of-bed maintenance, go balayage. Whatever you do though, take it from an expert: forget DIY colour. Blonde, especially via balayage, needs the expertise of a professional stylist.