Ovarian cancer, the "silent killer," only issues warning signals after it has attacked the reproductive system, and no one knows why. The disease ranks fifth in cancer deaths among women: A woman's risk of getting ovarian cancer during her lifetime is about 1 in 73; her lifetime chance of dying from it, about 1 in 100. The disease claimed the life of Angelina Jolie's mother, actress Marcheline Bertrand; Pierce Brosnan's first wife, Cassandra, and daughter, Charlotte; and Kelli Sargent's mom, Nanci.
After her mom was diagnosed, Kelli decided to tackle the disease head on. Together with Nanci, they set up an annual 5k Run and Friendship Walk, Run For Her, to raise money for ovarian cancer research and awareness. That was a decade ago. Since then, Run For Her has raised $6 million dollars. September is Ovarian Cancer Awareness Month, and with impending run/walks in the Bay Area and Los Angeles, I asked Kelli to share her knowledge about this life-threatening disease, so we can be better informed about it.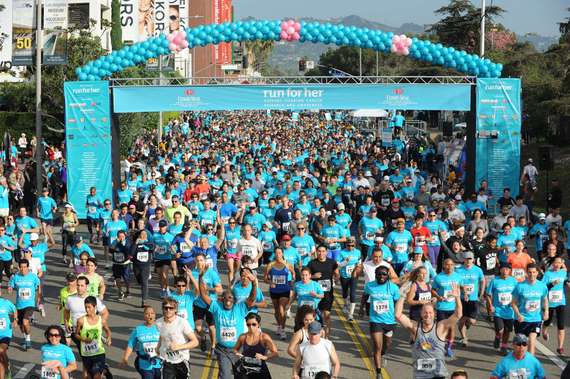 1. The American Cancer Society states that ovarian cancer amounts to 3 percent of all cancers but causes the most deaths of any other cancer of the reproductive system. We're faced with a conundrum: There is no early screening test for it. Why?
Unfortunately, we just aren't there yet. I asked Dr. BJ Rimel, a gynecologic oncologist with the Cedars-Sinai Women's Cancer Program, for her professional take, and she said that with ovarian cancer being rare, a screening test would have to be both sensitive and highly specific. "Early detection has been the source of extensive research, and several large scale studies examining screening ultrasound, and CA-125 (a blood marker that is often elevated in ovarian cancer), have not demonstrated a benefit. More research is needed." The most important message is to listen to your body and see your health care provider if new or unusual symptoms like abdominal bloating, pelvic pain, or urinary troubles (urgency) persist longer than two weeks.
2. Actress Angelina Jolie carries the BRCA1 mutation and announced that she will undergo a hysterectomy and an oophorectomy, where the ovaries are removed, to prevent against ovarian cancer. How does someone test for this gene?
There are several companies that offer genetic testing for BRCA genes, both BRCA1 and BRCA2. According to Dr. Rimel, less than 10 percent of women with ovarian cancer have the mutation in one of their BRCA genes*, which can be passed from mother or father. A woman with a personal history of breast or ovarian cancer should speak with her oncologist to see if this test is right for her. For men and women with family histories of breast and/or ovarian cancer but without a personal history, it is best to see a genetic counselor to see if this test is appropriate. The test can be done with a mouth swab for DNA or a blood sample. New guidelines recommend all women with a diagnosis of serious ovarian cancer should have genetic testing. If she tests positive for a mutation than her blood related family members should be tested (children, siblings, parents).
3. Your mother was diagnosed with the disease eight years ago. Take us through that time.
In the summer of 2000, I had just finished my junior year of college and was headed to London for an internship with one of my best friends. Before I left, my Mom was experiencing severe constipation and back pain, as well as bleeding and lower back pain (which I didn't know about). Before her diagnosis, we had all joked about the mineral oil and the 15 other natural remedies the doctor had suggested she take to "get her system moving." Mom had such a good sense of humor. She'd already been through Stage 4 Hodgkin's disease 10 years prior, and told she had with six months to live after defeating that cancer, being told she had another malignancy did not seem possible. Mom and Dad encouraged me to go to London and assured me that everything was fine. I had a gut feeling it wasn't but I got on that plane to London anyway. A couple weeks into the trip, I remember standing in the small living room of our London flat, which faced the front porch, talking to my patents on the phone that sat on a small circular table. They told me it was ovarian cancer and I burst into tears. I felt helpless being so far away and even more I was so scared, but my parents encouraged me to stay.
Mom's medical oncologist for who treated her Hodgkin's disease recommended Dr. Beth Karlan, Director of the Cedars-Sinai Women's Cancer Program. It is proven that surgery for ovarian cancer has a better outcome if done by a gynecologic oncologist. We were assured Mom was in phenomenal hands with Dr Beth Karlan. After Mom had her surgery, I stayed in London for another couple of weeks, but I felt so miserable that I ended up coming home. For the next eight years Mom battled ovarian cancer like a true warrior and hero. She never complained. She even often said how ovarian cancer had "been kind to her." We all know that was because of the compassionate and extraordinary care she received from her oncologist Dr. Beth Karlan and amazing nurses like Paula Anastasia. Thanks to Dr. Karlan, she was able to experience a year here and there without having to do any treatment. She went to Switzerland with friends, traveled to Vegas and Hawaii. She had always lived life to the fullest and didn't want to let this cancer stop her.
4. What steps do you take in prevention, and early detection, of the cancer?
I am going to be very candid with you. It has been over 16 years since my mom was diagnosed and eight years since my mom passed away, and I still have not had genetic testing. With a strong family history, genetic testing would be one of my greatest resources of prevention and early detection. How is that even possible that I, an advocate for ovarian cancer, have not had testing, right? Part of me is scared. I am going to be 35 in a week, I am not married, and have not had kids. What if I am positive? What if I feel the need to have a full hysterectomy and full removal of my ovaries at 35 because of the fear I am doomed to get cancer like my mom? I know BRCA positive mutation is not a sentence to cancer but rather powerful knowledge to perhaps prevent it. I also know that just because I have a family history doesn't mean that I will be BRCA mutation carrier. And I know that even if I am BRCA positive it does not mean I will get cancer. While nervous to share this, I sometimes wonder if I am the only one that feels this way. Maybe this will open the door to a greater discussion of women and men in a similar predicament. In the meantime, at my annual exam with my gynecologist, she performs a transvaginal ultrasound and pelvic rectal exam.
5. You've been coordinating Run for Her since 2005. How did it start, and how has the event grown?

For my master's thesis, I created a marketing and operations plan for a 5k run/walk for ovarian cancer. I knew from experience how effective run/walks are in raising money and awareness for a cause. When my mom was diagnosed with ovarian cancer, I learned that there is no reliable test for ovarian cancer, and that symptoms such as constipation and bloating are often confused with less serious conditions.
When I graduated, I partnered with Cedars-Sinai Medical Center to produce the event. Now, 10 years later, Run for Her has raised over $6 million for the Cedars-Sinai Women's Cancer Program at Samuel Oschin Comprehensive Cancer Institute and we have events in Los Angeles, New York, Bay Area, and a sponsor driven event in Hong Kong. We have a program called Sleepwalkers Around the World, which was developed by our Run for Her committee seven years ago. A Sleepwalker is someone who lives out of town, has other plans, or just doesn't want to wake up early on event morning. Sleepwalkers are mailed a T-shirt and socks before the event and we encourage them to send us a photo wearing their sleepwalker shirt to share with our Run for Her community. We now have Sleepwalkers in all 50 states and over 20 countries, which has helped Run for Her become an international event.

6. What research developments have been made over the past decade?
There have been major developments in ovarian cancer treatment. Dr Rimel says that they've seen improved survival by giving chemotherapy directly into the abdomen (called IP or intraperitoneal chemotherapy). There's also been development with blood vessel-inhibiting drugs that improve the effectiveness of standard chemotherapy. Improved anti-nausea drugs have also enhanced the quality of life of women who are undergoing treatment. Study into the mechanisms by which ovarian cancers start is continuing so that new therapies can be made. Lastly, they are working on novel ways of connecting with women to collect research through, say, case studies and clinical trials.

7. Are there any words of inspiration you can share on behalf of your mum?
Mom talked a lot about hope... she always had a ton of it and she was always encouraged and strengthened by it. It led her through the toughest of times, and she wanted Run for Her to give hope to everyone. My mom loved to engage other people and help them feel good about what they were going through, even if she herself was receiving chemo. She baked homemade cookies for all her nurses and doctors and was always thinking about the special ways she could show her appreciation. Everyone adored her. She always dressed in beautiful hats to cover her hair loss. This was her signature style but not in a flamboyant way. It was a conversation starter and people gravitated towards her giving heart and approachable, loving personalityThe way she cared for and embraced family and friends and turned them into the strength that fueled her is an inspiration to me every day. And lastly, she would always smile. She said it not only made her feel good but it also makes everyone around you feel good too.
Upcoming information:
Saturday, September 20, 2014 - Inaugural Run for Her Bay Area. Sign-up.
Sunday, November, 9 - 10, 2014 Annual Run for Her in Los Angeles. Sign-up.
*NCCN Guidelines Version1.2014 Genetic/Familial High-Risk Assessment: Breast and Ovarian.
Jazaeri, AA., Lu K., Schmandt R., et al. Molecular determinants of tumor differentiation in papillary serous ovarian carcinoma. Molecular Carcinogenesis 2003; 36: 53-59