So many of my colleagues are sick, perhaps a symptom of what the Centres for Disease Control has predicted would be the worst flu season in six years. They have varying levels of colds and flus; some have been out for days, some have been sick for weeks. And those that haven't been sick themselves have often been caring for sick children who haven't gone back to school after the year-end break. Since it's been quieter than usual in the office, I've spent time listening to some of the interviews being done with mothers in San Marcos, and it strikes me how many of the same struggles parents face when their children are ill, no matter where they are.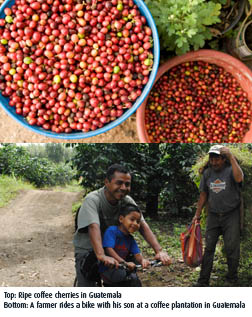 It's the start of the coffee-cutting season in San Marcos, one of the primary ways that families earn a living in the area. The season lasts for about four months and those who harvest coffee cherries try to get as many hours as they can during this time, with no allowance for sick days. Part of my Grand Challenges project is interviewing parents about diarrhea treatment for their children, when and how often they seek care and what some of the obstacles are to treatment through a health facility. We'll use this information to refine packaging, distribution and information for caregivers. When I listen to these women, I'm hearing the same issues that my colleagues here in Ottawa are having -- how to balance care of their sick children with demands at work.
One mother told us that if she needs to bring her son to the health center, she needs to take at least four hours off of work. Once a doctor or health care worker has seen the child, she then has to return her child to his usual caregiver and return to work. She loses four hours of precious income and also has to leave a sick child with someone else.
While it may seem like a small thing, I believe scaling up zinc and ORS will have a profound effect on this family and families throughout San Marcos. Zinc helps children recover from diarrhea more quickly and the ORS helps replenish lost fluids. This can mean less time away from work for parents during a crucial income-earning time, less time missed at school for children and less heartbreak about having to leave a sick child behind to go back to work.
Another mother we interviewed has five children, one girl and four boys. Her little girl of only nine months was sick yet again with diarrhea. The health center gave her zinc and ORS. It was the first time the mother had been given this treatment. She gave ORS over two days and zinc for 10 days, the prescribed treatment. She was amazed at how quickly her daughter recovered: "After one day of taking zinc she didn't dirty herself anymore; she was having diarrhea three times per day before. It's good because she doesn't get diarrhea anymore." Having healthy children relieves a huge burden on a family.
The immediate effects of zinc and ORS treatment will, of course, will be for the sick child. He or she will have more energy and a better appetite. The wider impact that the increased use of this treatment throughout San Marcos will have is the positive effects on the whole family, the community at large and the economy.
Hasta pronto and stay healthy!