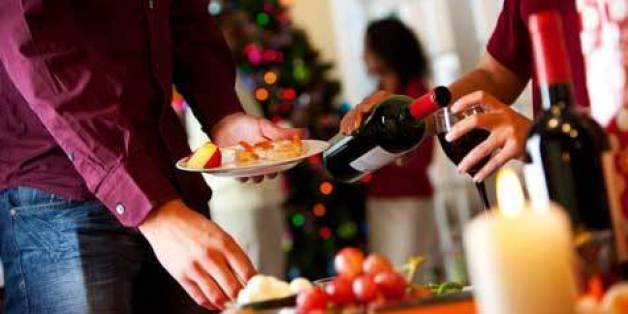 It's that time of year again, and with the holidays in full swing there will be parties galore! What I'm hoping this holiday season won't bring is more of the same old salty finger foods and cocktails that you see at parties every year. Of course we're not all chefs and bartenders! So before I complain about the lack of imagination in serving a simple cheese platter and sparkling wine, I'm going to give you a few snack and cocktail recipes that are sure to stand out at this year's holiday party. I even got one of my favorite mixologists, Jon Gasparini, involved in this project. Jon is the creative force behind Rye, Rye on the Road, and several other San Francisco hotspots. We came up with some simple to replicate appetizer and cocktail recipes that are sure to impress all your guests. Before you get intimidated, we created these recipes with the novice cook (and bartender) in mind. They are just as easy as cutting up a few wedges of cheese, and mixing a simple fruit punch. But I'm sure Santa, and your guests, will be much more impressed by these recipes!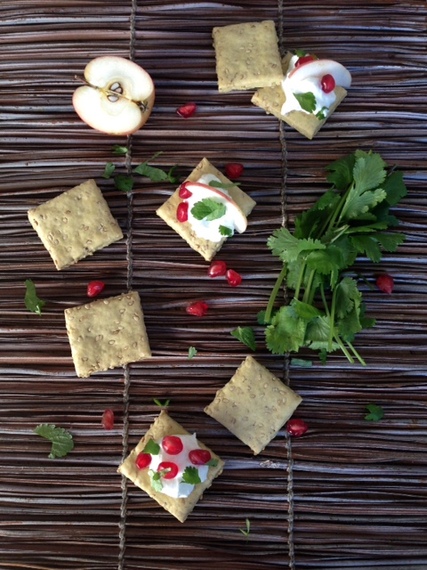 Sesame Parmesan Crackers & Feta-Yogurt Dip
Makes about 36 crackers
3/4 cup einkorn flour
1/2 cup whole wheat flour (substitute oat flour if you have a wheat allergy)
1/2 cup toasted sesame seeds
1/4 teaspoon salt
2 tablespoons aged Parmesan
4 tablespoons extra virgin olive oil
3 tablespoons water
Preheat the oven to 350F.
In a mixing bowl, combine the flours, sesame seeds, parmesan, and salt. Pour in the olive oil and stir with a fork to combine. The dough should be a bit rough and crumbly at this point. Add in the water a spoonful at a time, add a little extra water if needed, until the dough comes together. Knead the dough with your hands for one minute. Just until smooth. It should not be at all sticky. Roll the dough into a square about 1/2" thick. Cut the dough into strip lengthwise and widthwise, so that the crackers are now all cut into squares. Transfer the crackers to a sheet pan lined with a silicone baking mat or parchment paper. Bake for 20 minutes, or until crunchy and cooked through. Allow the crackers to cool and then transfer them to a container. Store the crackers at room temperature for up to three weeks.
Feta-Yogurt Dip
2 cup plain Greek yogurt
7 ounces feta, crumbled
1 tablespoon olive oil
1/4 teaspoon salt
1/4 teaspoon pepper
small pinch of cayenne pepper
2/3 cup pomegranate seeds
half bunch of cilantro
In a mixing bowl combine all of the ingredients, except for the pomegranate seeds and cilantro. Whisk together until thoroughly combined. add in about 1/4 cup of finely chopped cilantro. Sprinkle the remaining cilantro, and the pomegranate seeds, on top. Serve the dip with the crackers.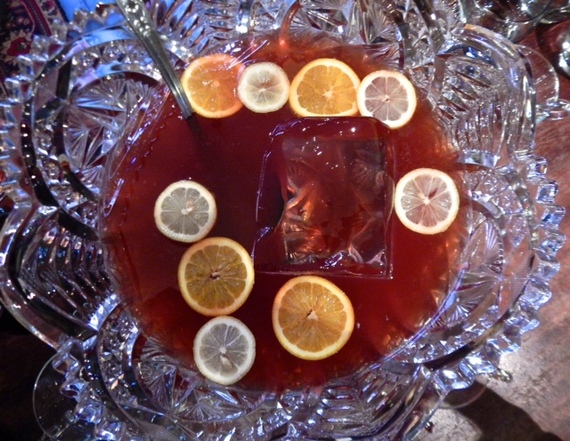 Sparkling Punch
1 bottle Rye Whiskey, Jon used Russell's Reserve Rye
1 bottle Campari
1 bottle Cinzano 1757
1 cup Navel prange oleo-saccharum (don't panic this is just sugar and orange zest!)
2 cup lemon juice
1 bottle Prosecco
2 oranges, to garnish
2 lemons, 2 garnish
1 block of ice
In a medium-sized mixing bowl, combine the peel of 4 Navel oranges and 1 cup of sugar. Rub together until the orange peel begins to release its oil, and the sugar turns liquidy. Allow the mixture to sit for 30 minutes. This mixture will make 1 cup of oleo-saccharum. Meanwhile, combine the rest of the ingredients in a large punch bowl. Strain the orange peel and sugar mixture. Stir the liquid into the punch. Garnish with thin slices of citrus, and a block of ice.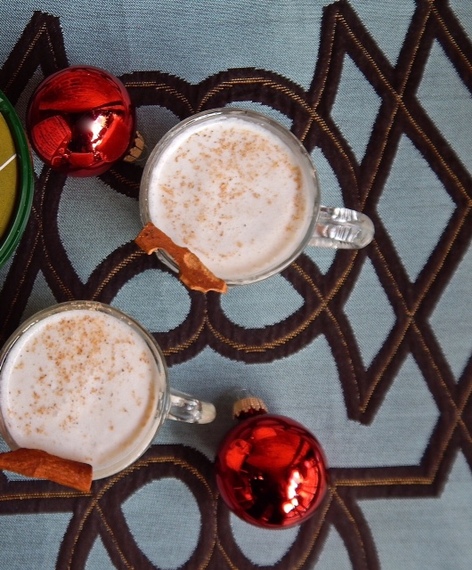 Cardamom Eggnog
6 oz. (2/3 cup) Jamaica Rum
1 pint of melted Cardamom Ice Cream, we used Three Twin's "Dad's Cardamom Ice Cream"
6 oz. (2/3 cup) Whole Milk
3 Fresh Organic Eggs
1 teaspoon Organic Rosewater
Nutmeg and Cardamom, for garnish
Over low heat, melt the ice cream (or just leave the ice cream in the refrigerator overnight).
Beat the eggs in a blender or food processor on low speed for 45 seconds. Transfer the eggs and the melted ice cream to a sauce pan. Heat,the mixture, while whisking constantly, over medium heat. Cook the mixture just enough to pasteurize the eggs.
Cool slightly. Whisk in the remaining ingredients. Chill the eggnog thoroughly. Serve garnished with grated nutmeg and cardamom.
(A special thank you to Ryan Robles for taking the cocktail pictures for us!)