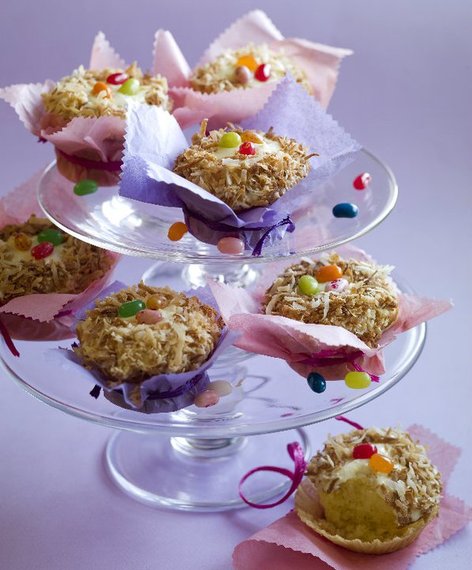 I suddenly realized that Easter is less than two weeks away. This realization has put me in a bit of a panic. What should I wear? What should I do? What will I make? I'm sure I'm not the only one out there who has left Easter planning to the very last minute. With that in mind, I'm posting one Easter recipe this week and one next week. Hopefully this will help out those of us who tend to procrastinate. At least now you can cross off the question of what you should make!
Coconut Cupcakes
Makes 24
Cupakes
1 3/4 cup all-purpose flour
1 1/2 cups sugar
1 teaspoon baking powder
1 teaspoon baking soda
1/2 teaspoon salt
1/2 teaspoon vanilla extract
1/2 teaspoon coconut extract
1 1/4 cup buttermilk
1 cup fat free Greek style yogurt
2 whole eggs
2 tablespoon organic coconut oil, melted
Frosting
1 cup (8 ounces) reduced fat cream cheese
2 tablespoons organic coconut oil, room temperature
1/4 teaspoon coconut extract
1 1/2 cups powdered sugar
Unsweetened shredded coconut (toasted), to garnish
Assorted jelly beans, to garnish
Preheat oven to 350 º with the rack in the center position. Line 24 muffins tins with paper liners and set aside.
In a large bowl, mix together the flour, sugar, baking powder, soda and salt. In a separate mixing bowl whisk together the vanilla extract, coconut extract, buttermilk, yogurt, eggs and coconut oil. Create a well in the center of the bowl with the dry ingredients, pour the contents from the other bowl in and whisk well, to thoroughly combine. Divide the batter evenly between the 24 muffin tins. Place the pans in the oven and bake for about 15 minutes, or until a knife inserted into the center of one comes out clean. Once baked, remove them from the oven and cool for several hours. Once cool, remove the cupcakes from the pans.
To make the frosting: Place the cream cheese in a bowl, add the coconut oil and coconut extract. Sift in the powdered sugar. Using an electric mixer beat for several minutes, or until well combined.
To finish: Using a spatula, frost the cupcakes with half the frosting. To garnish, sprinkle the toasted coconut around the circumference of the cupcakes and then place several jelly beans into the center of each cupcake to create a nest. Serve immediately. Leftovers can be stored at room temperature for up to 3 days.