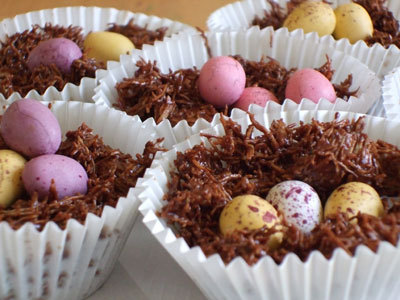 If, like me, you don't think you'll have time to prepare anything for Easter this year, this recipe will save the day! I'm making a batch of tasty haystacks using dark chocolate and shredded wheat. By placing them into paper cupcake liners the haystacks look like adorable little bird's nest cupcakes. But unlike cupcakes, these babies don't require you to spend more than 10 minutes in the kitchen. That's even faster than the time it would take to run to the nearest store and buy something for Easter. So what are you waiting for? You better hop to it!
Easter Haystack Cupcake Recipe
3 large shredded wheat biscuits
5 oz. dark chocolate, chopped
24 chocolate Robin's eggs
Place the cupcake liners on a baking sheet. Using your hands, crush the shredded wheat biscuits into thread-like pieces in a bowl. Place the chocolate in a microwave safe bowl and melt on medium-high heat. Be sure to stir the chocolate every 15 seconds, until it's smooth. Add the crushed shredded wheat to the chocolate and stir until it is well coated. Using a cookie scoop, place tablespoon-size stacks of the mixture into the cupcake liners. Place several of the chocolate eggs in the center of each nest. Place them in the refrigerator to cool for about 30 minutes, or until the chocolate is firm. Remove the nests from the refrigerator about twenty minutes before serving.