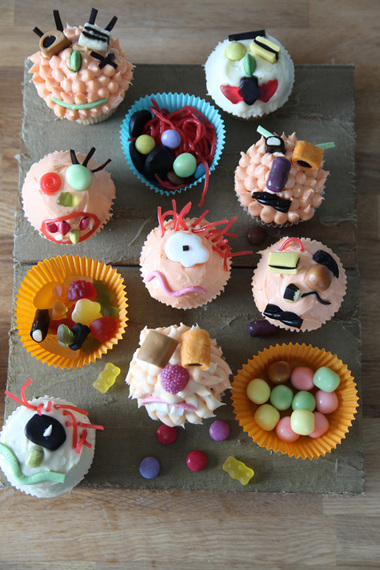 High fructose corn syrup, hydrogenated oils, artificial flavorings... Halloween sure can be a scary time! The best way to avoid these processed food blunders is to make your own creepy creations for Halloween.
For this week's Halloween festivities, I'm whipping up a batch of fairly healthy (yes, you read that right) and wickedly fun cupcakes. I might even get guests involved in the festivities and have them decorate their own cupcakes. With a blend of orange zest and Greek yogurt these light cupcakes are from the Holiday section of my new Sweet & Skinny cookbook. The new book has not been released yet, so you're getting a sneak peek with this recipe. These tasty ghouls have 30 percent less fat and fewer calories. They're certain to vanish in no time!
Orange Monster Cupcakes
Makes 24
4 oz. butter, softened
2 oz. cream cheese
1 1/4 cups sugar
2 eggs
1/4 cup orange juice
1tsp. vanilla extract
2 Tbl. orange zest
1 2/3 cups cake flour
1 1/2 tsp. baking powder
1/2 tsp. salt
1/3 cup low fat milk
1/2 cup low fat Greek yogurt
Line 24 muffins cups with paper liners. Preheat the oven to 350F with a rack in the center position.
Sift together the cake flour, baking powder, and salt. Set aside.
Beat together the butter, cream cheese, sugar, and orange zest for several minutes on medium speed. Add the eggs, orange juice, and vanilla. Scrape down the sides of the bowl if needed, mix until everything blends together. If the batter looks slightly separated don't worry, it will come together with the flour.
Add the cake flour mixture and the milk. Beat together just until combined. Add the yogurt, again beating just until combined.
Divide the batter evenly between the lined muffin pans. Bake the cupcakes for about 15 minutes, or until a knife inserted into the center comes out clean. Cool the cupcakes completely before frosting.
Orange Cupcake Frosting
18 ounces cream cheese
1 1/3 cup powdered sugar, sifted
1 teaspoon orange zest
1 teaspoon vanilla extract
Natural orange food color, optional (sold in most health food stores)
Assortment of candies (I suggest purchasing natural candies from the health food store)

Sift the powdered sugar into a mixing bowl. Add the cream cheese, orange zest and vanilla. Beat until well combined. If using, add the natural food color. Frost the cooled cupcakes and use the candies to make a variety of faces on top of the cupcakes. Store at room temperature for up to 12 hours before serving.