When visiting the Riviera Maya you will be overwhelmed by the selection of places to go and things to see. From snorkeling with whale sharks, to swimming in the natural occurring cenotes, to visiting the jungles, here are a few of my not to miss activities.
Kantun-Chi Eco Park- Located along the main road that connects Cancun and Tulum is Kantun-Chi Eco Park. Nestled in the jungle, Kantuchi houses a variety of cenotes both above and below ground. Cenotes (pronounced seh-no-tess) are characteristic of Mexico, especially along the Yucatan Peninsula. Much of the area is made of limestone, a highly porous rock that is susceptible to erosion. As the rock erodes and collapses, large quantities of natural water underneath the rock rise to the surface, creating what looks like a pond. But what's special about the cenotes, is that they are actually a surface body of water connected to subterranean bodies of water and caves that lie hidden beneath the jungle floor. These pools of cool water have a life of their own, with hidden tunnels snaking their way down into the earth, hiding many untold stories. There is a rich history within these waters. The Mayans once believed that they were a gateway into the afterlife. Divers have found lost riches of gold. But they have also found human skeletons deep below the surface, remnants of the Mayan's sacrifices to the rain god Chaac. This might make the cenotes sound somewhat ominous, but at Kantun-Chi there is nothing foreboding, only beauty. Their cool waters, above ground cenotes, and sparkling cenotes caves allow visitors to dip into another world. You can sense the rich history as you climb down a tunnel and slip from one connected cenote into the next. Their guides are well-trained and extremely knowledgeable, filling the tour with fascinating facts that make you want to explore the cenotes even further. Kantun-Chi does take safety seriously. Unfortunately for an avid swimmer like me, life vests were still mandatory. If you are not a strong swimmer, or have children with you, rest assured that you will be in good and safe hands. If you are an experienced swimmer and have diving experience I would instead suggest visiting the cenotes through Aqua World, where you can swim freely and scuba dive through the cenotes.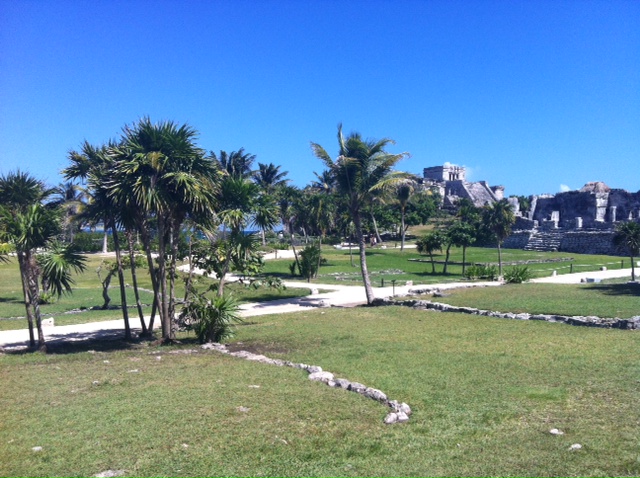 Mayan Ruins of Tulum - As the Tulum Ruins travel website accurately describes it, "the ruins of Tulum stand 130km and 700 years away from Cancun." Tulum was one of the last cities built and inhabited by the Mayan civilization. It's the only Mayan city to have been built on the coast, with long paths in the jungle leading up to the main entrances into the walled city. With the Caribbean Sea on one side and a 784 meter wall stretching across the other, the ancient city within sparks the imagination. Many of the buildings that once stood within have been reduced to gray stone outcroppings, a shadow of their former glory. The well-manicured grass, paths dotted with palm trees, and sunbathing lizards, make it difficult to imagine this paradise as a city overrun by mother nature and abandoned for over 300 years. As one looks around at the impressive buildings that are still intact, you try to put together the missing pieces of the puzzle. What would have caused the Mayans to abandon this beautiful city and where did they all go? The answers have faded with the city. It's secrets were lost to time , whispered to the rustling trees and sparkling sea, the only audience these walls knew for centuries. But you can draw your own conclusions and paint your own history, as you walk through the jungle, into the old city, and make your way towards the main temple. The afternoon sun makes it clear why the rain god Chaac played such a central role in the Mayan culture. The heat and humidity are daunting if you are unprepared. Thankfully, today bottled water and a refreshing beach have replaced sacrifices as methods to stay cool. So be sure to bring your swimsuit and some water when touring the ruins. After a day in Tulum you will surely have worked up an appetite. Heading back into the city there is the perfect restaurant to satisfy your hunger, and taste some local Yucatan cuisine.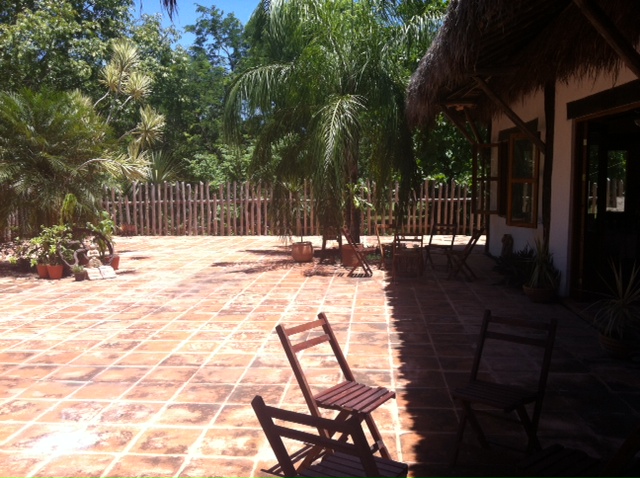 Kinich Restaurant Tulum - There are now two Kinich locations, both serving the same traditional Yucatan cuisine using "grandmother's recipes." The restaurant is as traditional as the cuisine. It sports a thatched roof made of palm tree fronds that were once common roofing material in the area. The building itself is a soft yellow stucco with saltillo tile floors and wide open windows looking out onto the patio and garden. It's warm, inviting, and immediately draws you in. If the recipes belonged to grandma, then perhaps this was once her home too?
As soon as we sit down, the waitress brings us a basket of freshly made tortilla chips with a side of salsa, black bean dip, and a small cup of creamy lime green guacamole. The avocados are a local variety, their flesh brighter and richer than a typical avocado. The guacamole is simple, with lime juice, tomato, and a hint of garlic. It bursts with flavor and melts in your mouth. It's like no guacamole I have tasted before, and may spoil me for other guacamoles I will eat in the future. Next we order a pitcher of Agua de Chaya with lime, a refreshing drink tha's subtly sweet. There is an unfamiliar and delicious flavor in the drink. It's the chaya, a type of tree spinach that grows like a shrub in the Yucatan Peninsula. The chaya gets blended in and then strained. It's bright green color catches the eye of a child passing by our table. Why, I wonder, can't kids in America drink this instead of soda?
Next we sample the Empanadas de Chaya, a platter of crispy empanadas made of cornmeal, tender chaya leaves (I want more of this delicious plant) and stuffed with a local cheese. I now realize it's not empanadas that I dislike, but the badly done American versions I have previously tasted.
We order a second share plate for the table, the Queso Relleno, baked Dutch cheese stuffed with ground beef and served on a platter of white sauce called k'ol, and topped with tomato sauce, almonds and spices. They bring warm homemade tortillas to eat with it. I find myself eating one tortilla after the other slathered with this delicious mixture. I have no idea how I will eat my entree, but I don't care. I am in Mayan god heaven now.
The entrees come to the table. With the heady aroma of spiced meat before me, my appetite returns. I have ordered the Cochinita Pibil, a dish of pork marinated in sour oranges, achiote and spices, wrapped in banana leaves and cooked underground. I stuff the tender meat into another tortilla, enjoying the flavors of the juicy meat and spices.
Lastly, I order the flan. It might not be Yucatan cuisine, but it is grandma's recipe, and I can't resist!
After the meal, a walk (or roll) might be in order. I make my way back to the hotel to wander around the grounds one last time. I wondered, if Chaac brought rain to the Mayans maybe he could bring some to me... and delay my flight back to reality just a little bit longer?