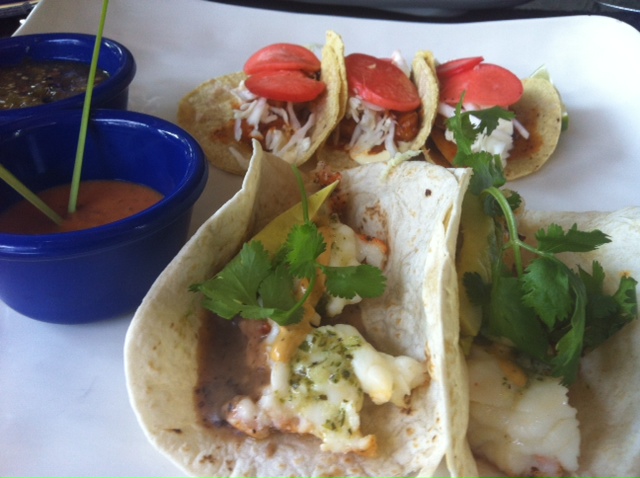 I just got an email from a fellow chef, who had promised to send me a recipe. The email was from a talented and cool chef named Alexis Bostelmann. I got to meet Alexis during my trip to the Riviera Maya. Alexis is the executive chef overseeing all of the restaurants in the Grupo Vidanta hotels, including Grand Luxxe and Grand Mayan. He is a man that is passionate about food. He has a wealth of information when it comes to the cuisine of his homeland, Mexico. I didn't get to spend as much time with Alexis as I would have liked. But we did have a chance to sit down for dinner together, and for him to introduce me to some of Mexico's culinary contributions: achiote, Chimay habanero tabasco, Mexican honey, Mexican wines (yes, they do more than tequila well down there!) and my favorite spice blend recado blanco. If you haven't tried the above, then a trip to Mexico (or at least a Latin market) is in order!
Alexis' parents are artist. Needless to say, he was raised in a very creative environment. From an early age he found his love and curiosity with food. "I was 5 years old," he tells me "ordering tuna sashimi and always tasting any type of new food."
His passion is clear when you taste his dishes. There is a deep respect for tradition in his cooking. His dishes are influenced by the history of the area, seasonal ingredients, and, as he puts it, "my own feelings."

After tasting his seafood tacos and ceviches at Blue Fish, I wanted to meet him. After sampling his Asian dishes with Mexican riffs at Gong, I knew I had to pick his brain! Aside from chatting with him about his favorite Mexican ingredients (many of which he kindly loaded me up with on my way home) he also gave me the inside scoop on a few not to miss local spots. One of his suggestions was also recommended to me by someone else I know and trust when it comes to food, La Cueva Del Chango. Since I'm not trying to write a restaurant review here I won't go into details, but suffice to say this place is not to be missed! Alexis suggests ordering the Huevos Rancheros. I say you can't go wrong with anything you order there.

Alexis loves the variety of chiles you find in Mexico, from spicy to sweet and smoky. He uses chiles a lot in his cooking (including in the recipe below). If you make it down to the Riviera Maya, you should be sure to try his food! Here are several of his dishes that are not to be missed.
Breakfast - Cochinita pibil, which is a braised pork dish marinated with local spices and sour oranges.
Lunch - Peruvian grouper ceviche and seafood tacos, must tries if you can get to Blue Fish
Dinner - Roasted duck and crispy tamarind Grouper at Gong
With his email, Alexis brought memories of my wonderful trip to Mexico back to my mind. I know what I'll be having for dinner tonight! Now I'll spread the joy and share Alexis' recipe for shrimp tacos with all of you.
TACOS DE CAMARON SOLIDARIDAD
(4 PORTIONS)
INGREDIENTS
36 SMALL SHRIMP SIZE 41-50(PEELED AND DEVEINED)
SALT AND PEPPER TO TASTE
4 OZ ALL PURPOSE FLOUR
15 OZ BEER BATTER(RECIPE FOLLOWS)
VEGETABLE OIL FOR DEEP FRYING
4 OZ MEXICAN SALSA(RECIPE FOLLOWS)
12 PIECES SOFT CORN TORTILLAS
6 OZ HABANERO MAYONNAISE(RECIPE FOLLOWS)
12 SPRIGS FRESH CILANTRO
4 WEDGES FRESH LIME
METHOD OF PREPARATION
SEASON THE SHRIMP WITH SALT AND PEPPER,COAT WITH FLOUR ,TAKE OFF EXCESS FLOUR.
PREHEAT A DEEP FRYER TO 350 f ,COAT EACH SHRIMP IN THE BEER BATTER AND FRY ,WHEN GOLDEN BROWN PLACE IN A PAN WITH PAPER TOWELS TO DRAIN EXCESS OIL AND PATH DRY WITH PAPER TOWELS.
PREHEAT CORN TORTILLAS AND PLACE 3 WARM TORTILLAS IN EACH PLATE.
PUT 3 SHRIMPS IN EACH TORTILLA , SPRINKLE MEXICAN SALSA AND PLACE A CILANTRO SPRIG IN EACH TACO.
ACCOMPANY EACH PLATE WITH A 1.5 OZ RAMEKIN DISH OF HABANERO MAYONNAISE AND A WEDGE OF FRESH LIME
BEER BATTER(MAKES 15 OZ)
1 CUP DARK BEER (XX ,NEGRA MODELO,OR BOHEMIA DARK)
1 CUP ALL PURPOSE FLOUR
2 TSP SALT
1 TSP GROUND BLACK PEPPER
METHOD OF PREPARATION
IN A BOWL SIFT THE FLOUR ,ADD THE BEER WHILE WHIPPING, INCORPORATING UNTIL YOU HAVE A SMOOTH BATTER,SEASON WITH SALT AND PEPPER AND MIX
LET SIT FOR 1 HOUR
MEXICAN SALSA(MAKES 4 OZ)
3 OZ SMALL DICED PLUM TOMATOES
1 OZ SMALL DICED WHITE ONIONS
½ PIECE SERRANO CHILE SEEDLESS CHOPPED
1 TBS CHOPPED FRESH CILANTRO
1 TBS LIME JUICE
SALT TO TASTE
METHOD OF PREPARATION
IN A BOWL PLACE TOMATOES,ONION,SERRANO CHILI,CILANTRO,LIME JUICE AND SEASON WITH SALT,MIX AND LET SIT FOR 30 MINUTES FOR FLAVOR TO DEVELOP
HABANERO MAYONNAISE(MAKES 6 OZ)
1 PIECE SMALL FRESH HABANERO CHILE
1 OZ WHITE ONION
1 EACH GARLIC CLOVE
1 OZ ORANGE JUICE
1 OZ LIME JUICE
5 OZ MAYONNAISE(GOURMET QUALITY)
SALT AND PEPPER TO TASTE
METHOD OF PREPARATION
IN A VERY HOT PAN,CHARR THE ONION ,HABANERO CHILE STEM OFF UNTIL BLACK.
PLACE THE REST OF INGREDIENTS IN A BLENDER AND BLEND UNTIL SMOOTH,SEASON WITH SALT AND PEPPER TO TASTE AND KEEP IN THE COOLER