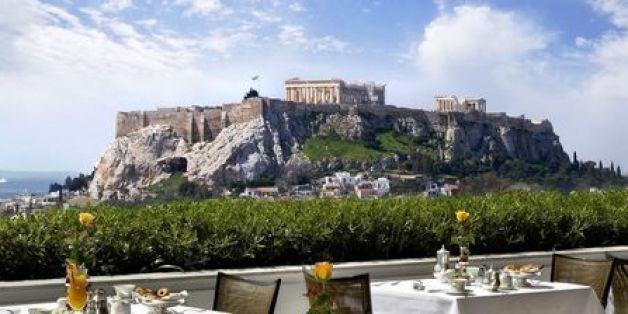 I spend a lot of time in Greece, especially in Athens, where I have friends and family. My familial roots (on my mother's side, hence the last name of Churchill and not Paraskevopoulos) always seem to draw me back. But I'd like to think that even if I didn't have a blood connection to Greece, as a chef, I would still be drawn to the culinary roots of the country. There is so much to see and experience in Athens, let alone Greece. The city of Athens is full of shops where they still roll paper-thin sheets of phyllo by hand, and bars that serve spectacular Greek wines. Needless to say, I think I know the city quite well. It wasn't until I spent some time with my friend (and fellow chef) Vasilis Kallidis that I began to realize that I haven't even scratched the surface when it comes to exploring the exciting city of Athens! Over the past few years Vasili has become a well-known celebrity chef in Greece. He hosts a show called Nostimi Gi (Tasty Earthy) in which he travels around Greece, eating and exploring. He also recently wrote a book titled "Athens Special," which lays out all of the best spots to eat, drink, and shop, in the city of Athens. So when he tells you "honey you haven't seen anything yet," I'm inclined to listen. Of course, I'm also inclined to seize the opportunity! So I had Vasili take me around and show me his some of his favorite "Athens Special" spots. Here are several of those not to be missed secret (well not so secret any more) places.
Heteroclito Wine Bar
(Fokoinos 2 & Petraki 30, Syntagma)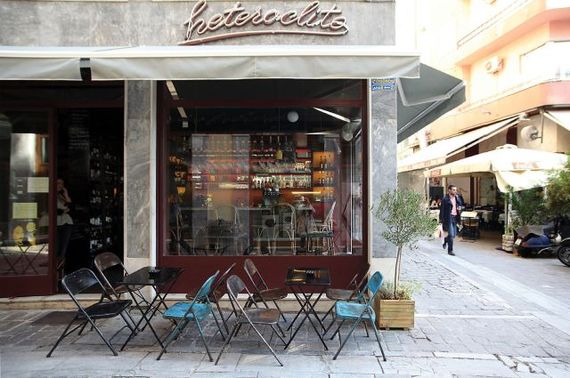 Score one for me! The first spot on his "eat and drink our way through Athens" list was a bar that I was not only familiar with, it's also one of my favorite places to grab a drink in Athens. I do still have a lot of exploring to do before I can claim to know the city the way Vasili does. But, I think this means that I'm off to a good start! I love Heteroclito for several reasons. One, the bar serves nothing but wines that are produced in Greece. They also serve a limited menu of cheeses, cold cuts, and pitas, which are all from Greek producers. It's a great place to experience the wines of a country that is often overlooked when it comes to oenology (By the way, oenology is a Greek word. So let this stand as proof that the roots of Greek wines go much deeper than the lowly Retsina). The other thing that struck me about Heteroclito from the first time I went there was the style. The bar is small with an understated charm. The dim lights, marble counter, and neon signs, are reminiscent of 1950's Paris. I never made the connection until the day I went there with Vasili. It turns out that the bar's owner, Madeline, is half Greek and half French! When a Frenchman decides to open a wine bar, serving nothing but Greek wines, I think it says it all.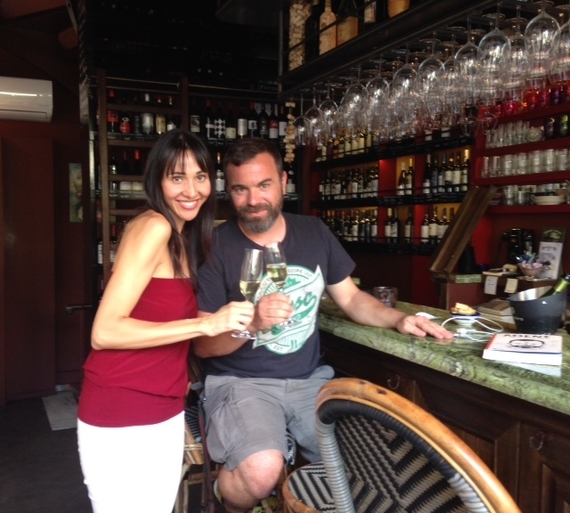 Bougatsa Tou Pappou
(Demertzi 6, Keratsini)
Bougatsa is a classic Greek street food. It consists of layers of phyllo typically stuffed with semolina custard, meat, or cheese. It's something that you can't find in the States (at least not good bougatsa). When my plane touches down in Athens, bougatsa is one of the first things I eat. Unfortunately, many of the bougatsa shops in Athens forgo the laborious process of rolling their phyllo by hand, opting instead to buy ready-made phyllo. In this case, "modern technology" is not my friend! So when Vasili told me about a bougatsa shop where they not only hand roll each piece of phyllo, but fold and re-roll the phyllo (like a laminated dough). I knew we had to go there! Bougatsa tou Pappou (Grandfather's Bougatsa) is a small family run shop. It wasn't until the year 2000 that they even had a shop! Before that time, Mr. Christo would take his bougatsa around the neighborhood, selling it on a little cart. When it comes to making a true quality bougatsa, trading your cart in for a storefront is the only "modern" influence that should be allowed. Bougatsa tou Pappou only offers two types of bougatsa. I took the one recommended by Vasili and Mr.Christo's daughter, custard bougatsa, topped with cinnamon and sugar crystals. All I can say is, if you only eat bougatsa once in your life (well then you're not living, but we'll discuss that another time), eat it here!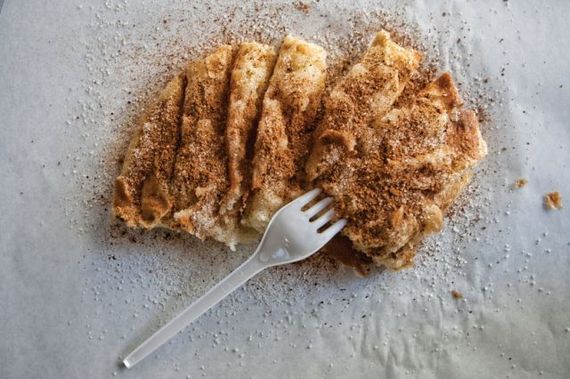 Peinirli Ionias
(Panormou 3, Ambelokipoi)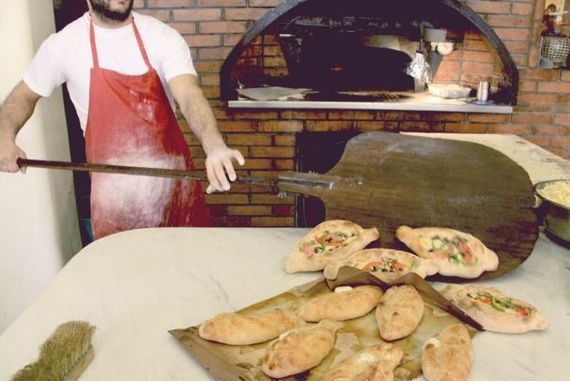 One thing I can tell you about Greeks, they don't wait in line for food the way Americans do. If the cronut (as great as it is) had been invented in Greece, I don't think people would have willingly spent hours in line (in freezing weather conditions) to get their hands on one. So it says something when you see a line of people patiently waiting outside of Peinirli Ionias. For those of you not familiar with peinirli, it's a dish that's similar to pizza. But in this case, the dough is shaped like a boat. It's a dish that's unfamiliar to many non-Greeks. Since most yiayias don't make peinirli at home, it never made its way across the ocean and into Greek-American kitchens (the way that moussaka and pastichio did). Peinirli Ionias opened 10 years ago.
As you approach the shop, the air becomes heavy with the scent of freshly baked dough and oregano. Inside the shop, the wood burning oven takes center stage. While waiting for your peinirli you can watch the shop owner, Mr.Spyros, shaping dough and pulling warm peinirli from the oven. The recipe he uses is a traditional recipe that was handed down to him by his grandfather. "Of course there is one secret ingredient," he says, "love for what we are doing!" There are two things that, for me, set Peinirli Ionias aside from other similar shops. The first reason I love this shop is the beautiful wood burning oven. It chars the edges of the fluffy dough, and gives it a flavor that simply can't be achieved when you bake in an electric or gas oven. Secondly, Peinirli Ionias offers some well thought out variations for their peinirli. My personal favorite is the peinirli stuffed with eggplant, fresh dill and anthotiro (a soft goat cheese similar to chevre). They also make a wonderful version of spanakopita, with freshly baked dough (instead of phyllo), stuffed with aromatic herbs and wild greens. I've been going to Peinirli Ionias for a few years now, and have observed that the best time to go (and avoid the lines) is late morning. But even if there is a line, it's well worth the wait!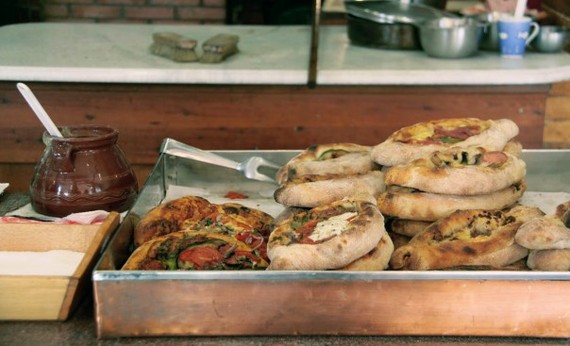 Eidikon
(Psarron 38, Piraeus)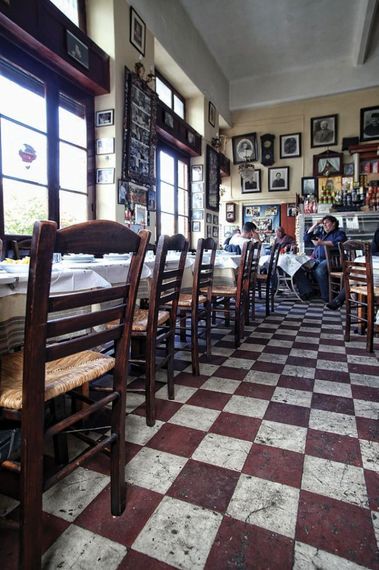 When I met up again with Vasili, for our second day of exploring Athens, we headed down to Piraeus. Piraeus is an area that I mostly associate with the ferry boats that tourists (and Greeks) catch to head to the islands. "Did you know," asked Vasili, "that down in Piraeus is the oldest taverna in Athens?" I had not known this. So Vasili began to delight me with the story of Eidikon, the Greek taverna that first opened in Athens in 1920. Four generations later, Eidikon is still cooking up traditional Greek dishes, and serving their own retsina, a Greek spirit that could probably peel the paint off the walls. It's an acquired taste, but no trip to Greece is complete without it! Time has stood still at Eidikon. Black and white photos hang on the walls. The checkered floor is marked and scuffed. Like a sweet old ladies face, it's covered by the marks of time. There's memorabilia throughout the restaurant paying homage to the bygone eras, such as the old refrigerator from 1938 with a sign on it stating "the first refrigerator model in Greece."
While we waited for our food, biftekia (little fried beef patties), gigantes (giant beans) and the "tourta" a mountain of freshly fried potatoes topped with farm fresh eggs, Vasili continued to intrigue me with his stories. "If Mr. Aristeidis likes you," he leans in as if he's getting ready to tell me a juicy secret, "he will show you the bullet holes," gesturing to the front of the restaurant. At first I wasn't sure what to make of this statement. Who shoots up an old tavern? Before I could ask, Vasili continued, "The metal door that slides down over the windows at night is pre 1940's. It still has the bullet holes shot into it by the Nazi soldiers during WWII." I am overwhelmed by the history of the old tavern. I can't help but imagine everything the place has seen. If only the walls could talk. Just then our food arrives. There is a platter of warm potatoes in front of me. The scent of hot olive oil and freshly fried potato fills the air. One whiff and I know why Eidikon has stayed in business for almost one hundred years. I bite into a crispy potato, and all else is quickly forgotten.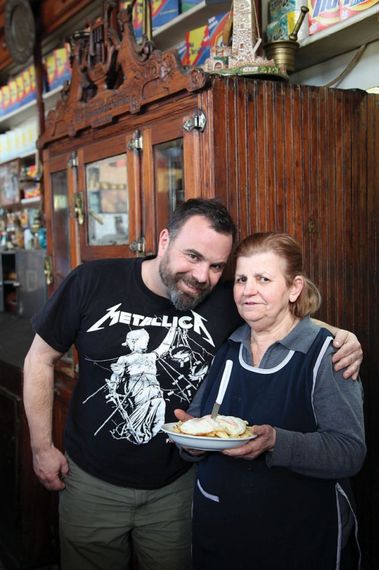 Psarokokkalo
(Vikt. Oukgo 10, Keratsini)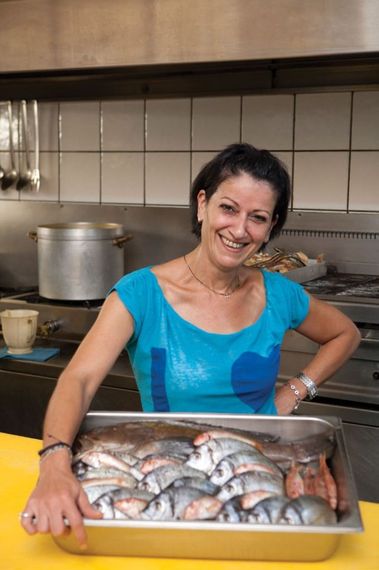 When you're visiting a country that is almost completely surrounded by the sea, you need to make it a priority to experience some of the local seafood! When it comes to fresh fish, shellfish, and octopus, Greece has some of the best to offer. So when Vasili suggested we try a restaurant called Psarokokkalo (fish bone). I was eager to give it a try. The restaurant is tucked down a small easy to miss road. It's owned by husband and wife Anna and Fanouri. They opened the restaurant 7 years ago with no previous restaurant experience, just a simple love of cooking and seafood. Of course, they didn't stumble by accident onto the idea of a seafood restaurant. The couple had previously owned a fishing store. As a result, they know all of the local fisherman; giving them the inside track to the freshest and best fish.
Be sure to order the fried calamari heads as a starter, as well as a few dips such as the skordalia (a garlic, potato and olive oil dip typically served with fish in Greece). I suggest washing it all down with a well-chilled ouzo (a Greek spirit, perfect for licorice lovers like me!). The fresh shrimp salad is another not to miss plate, perfect for sharing. Last but not least, my personal favorite was the crab cooked with a thousand herbs. Ok, a thousand might be a bit of an exaggeration, but the herbs were numerous, fragrant, and bathed the crab in a lovely green sauce. This is a great restaurant to go to if you have a big group. That way you can order plenty of plates for the table to share!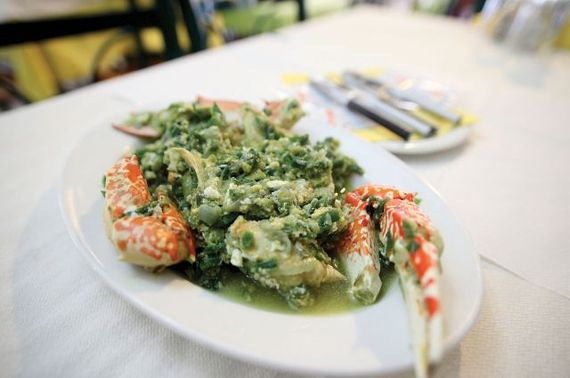 Athenne
(Leoforos Irakleiou 381, Nea Irakleio)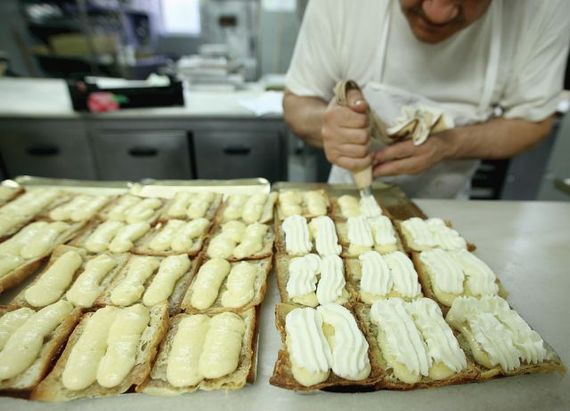 Now I don't know about you, but I make it a priority to always save room for dessert! Although at this point, Vasili and I had done a pretty good job of eating our way through Athens. Still, I couldn't pass up the opportunity to try one of his favorite spots for dessert. For the past 30 years, Mr. Manolis Kotsikas of Athenne has been preparing a dessert called "rodini." It consists of a flaky puff pastry, drizzled with syrup, and filled with layers of pastry cream and whipped cream, and dusted with powdered sugar. This is his signature dessert. The pastry shop, and Mr.Kotsikas' "rodini," are famous in Athens. Greek celebrities, old and new, travel to Athenee just for this dessert! Although, Vasili did confess that his personal favorite (I can't give my opinion, because I was too full to try both) is the dessert Mr.Kotsikas calls "theiki yevsi." It consists of plums soaked in warm syrup, stuffed with ganache and walnuts, and dusted with cocoa powder. Next time I'll follow my own motto and eat dessert first. That way I'll have enough room to try everything!