When Charlie Bucket first stepped into the Wonka factory in the original Charlie & The Chocolate Factory film, he entered a garden filled with edible buttercups and chocolate streams, and my culinary fantasies were ignited. I dreamt of winning a golden ticket and discovering a place just as sweet, just as magical, and just as over the top! When the realization finally set in, that perhaps the Wonka factory only existed in stories, I tried to create an edible land myself. I took a log of store-bought cookie dough, sprinkled colorful candies on top, baked the cookies and sprinkled them (much to the delight of my parents), all around the living room. I suppose that is when I should have realized I was destined to become a pastry chef!
Many years have passed since my initial attempt at building a world of fantasy through pastries. Although my pastry skills have certainly become more refined than sticking candies on a log of store-bought cookie dough, I never did manage to bake my way to the Wonka factory, but still secretly have wished that I could. Nevertheless, any further attempts to recreate Willy Wonka's factory were long ago laid to rest, along with (spoiler alert) tales of Santa Claus and the Easter Bunny. But last week when I was down in LA for The Talk, all of that changed. My friend Allison, a Los Angeles native and owner of Please the Palate, told me about a new restaurant that opened, called Barton G. I had heard of the name Barton G. Weiss. He was a guest judge on an episode of season 3 of Top Chef. I remembered being disappointed that Barton G hadn't been a judge on my season of Top Chef. His theatrics in the restaurant both intrigued and worried me. Could performance and quality really go hand-in-hand? More importantly, are such fantasies best left to the minds of children? I wanted to find out for myself. Visiting Barton G. seemed the closest I would ever come to visiting the Willy Wonka Chocolate Factory. So I agreed to meet Allison there for dessert and drinks.
Now I'm not a restaurant critic, nor do I have any desire to be. But, I will say that I left Barton G feeling giddy. The performance lived up to all my childhood fantasies and the quality appeased the chef in me. It might not be for everyone. But if you've ever read Roald Dahl longingly, or are looking for some whimsical culinary inspiration, then a visit to Barton G is in order!
Take a look at some of the pictures we snapped.
Bread Service, a variety of savory breads presented to guests as if they were donuts.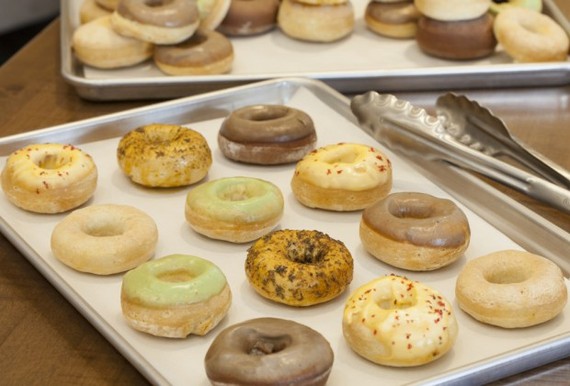 Sweet Flower Pots, a duo of lime curd, graham crumbs and schlag a.k.a. whipped cream and lemon curd, cinnamon streusel and creamy meringue.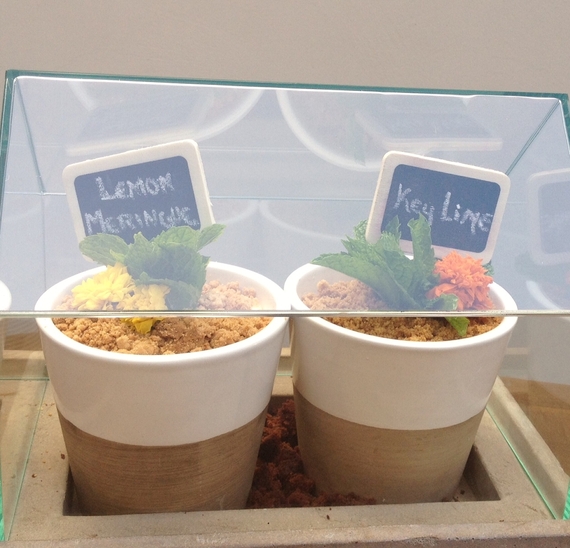 Mercadito Churros, fried to order churros rolled in cinnamon and Chinese spice, served with a pot of spiced hot chocolate.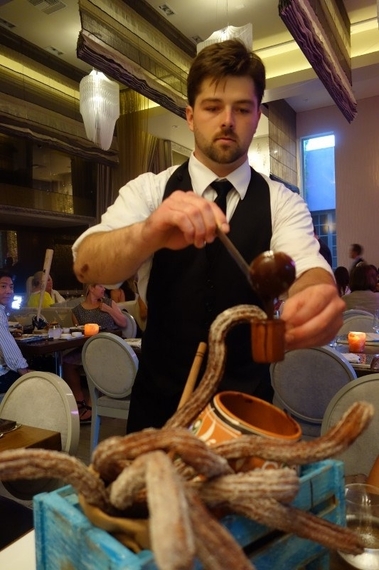 Marie Antoinette's Let Them Eat Cake, Marie Antoinette's head topped with a cotton candy wig, petite strawberry and raspberry cakes and whipped cream.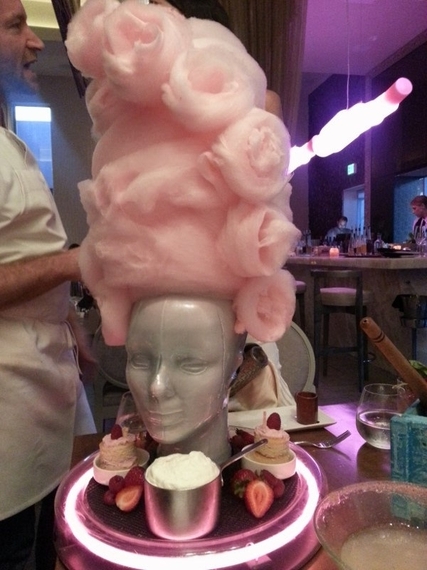 "Never do anything by halves if you want to get away with it. Be outrageous. Go the whole hog. Make sure everything you do is so completely crazy it's unbelievable..." -- Roald Dahl.