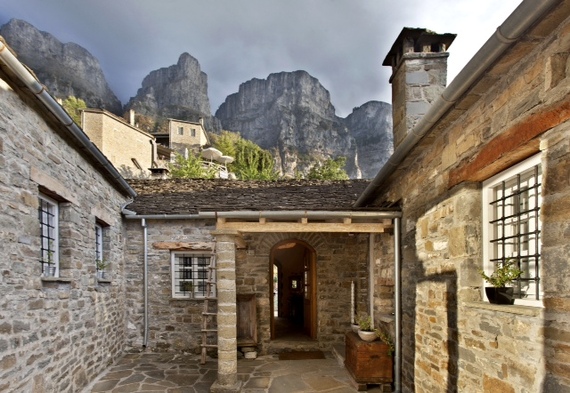 Although I consider myself to be a city girl at heart, there are only so many days of crowded metro rides that I can take before I need to get away. Let's just say when the urge to get away hits, it's time to get out of the city, lest I provide a reenactment of Michael Douglas' behavior in Falling Down.

This was just the case when I left my work in Athens last week and headed to the mountains of Zagorohoria in Northern Greece. The area of Zagorohoria is famous for its pristine forests, ancient stone bridges, rivers, and the famous Vikos Gorge (one of the largest and deepest canyons in the world). Zagorohoria is made up of about 40 small villages, all tucked into the sides of the mountains, connected by zig-zag roads.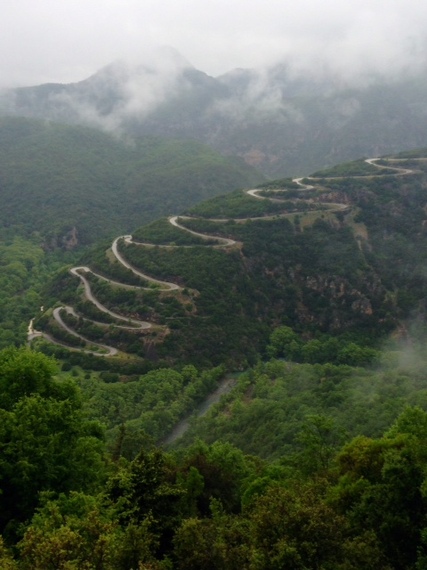 It's one of the most beautiful parts of Greece, and is often overlooked by tourists. As a result, it's beauty and authenticity remains quite untouched or altered by tourism. It's the perfect spot to escape from the weight of the city, or get away for a peaceful vacation.
(Where to Stay) Mikro Papingo 1700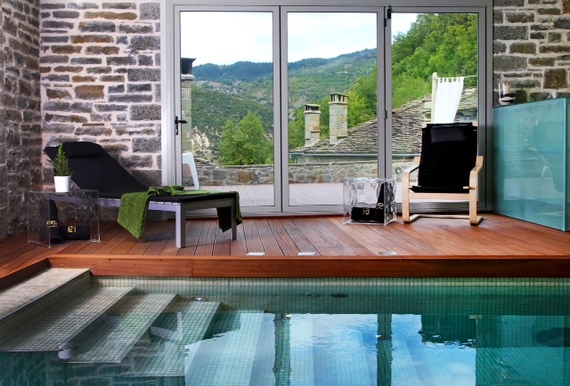 Located in the small village of Mikro Papingo is the 5 star hotel, Mikro Papingo 1700 (pictured in the first and third of the photos above). While the hotel has all the modern comforts of a quality hotel: spa, wifi, Jacuzzi tubs, and a stellar restaurant, it still manages to stay lost in time. The small 15 room stone hotel is located up in the mountain village of Mikro Papingo. You can only get to the hotel on foot (not to worry, it's only a 3 minute walk from where the road ends). Guests park their cars next to the local church. A valet drives down on an ATV and carries the bags up, while guests follow a small stone pathway leading up to the hotel. Elsa, the woman who runs the hotel (or perhaps owns the hotel, I never found out which) knows the villages of Zagorohoria like the back of her hand. During my visit she mapped out a variety of hikes and villages to visit. Unfortunately, I didn't have time to squeeze them all in. I opted for the short 30 minute hike next to Voidomatis River (see pic below), and bypassed the 5 hour hike up to Dragon Lake.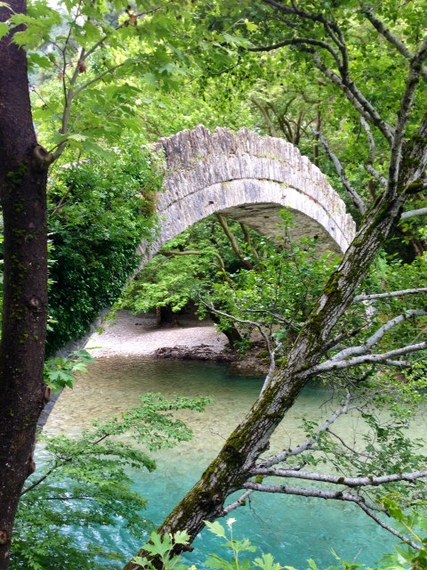 Had I brought appropriate clothes, I might have been up for the 5 hour hike. But, I've never been one for checking the weather before trips. It was 80 degrees when I left Athens and dropped down to 59 degrees by the time I reached Mikro Papingo. That's definitely on the cool side for me! Climbing to a higher altitude (and undoubtedly lower temperature), without a thick jacket, was definitely not on my "get in touch with nature" list. Nevertheless, I did spend my days exploring and hiking. I even took a hike around the top of Vikos Gorge.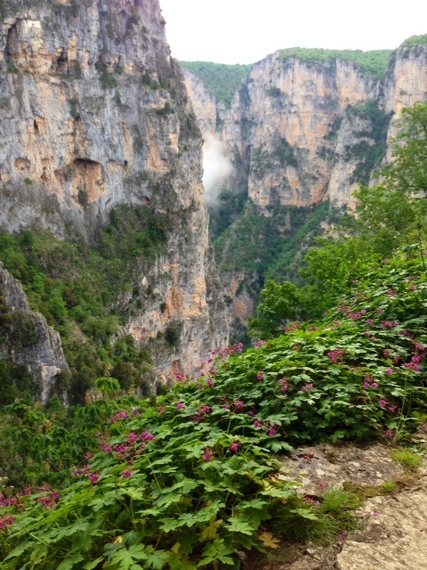 Every night I'd return to the hotel, my muscles sore from hiking, and would plunge into the spa pool. It was a cathartic ritual. It relaxed my mind as well as my body, and washed away every physical and mental strain. The one thing it didn't relieve was my hunger. Hiking works up quite an appetite! Lucky for me, the hotel restaurant served a variety of authentic Greek dishes. One of my favorite dishes was a pita called batsaria, made with a soft cornmeal crust instead of phyllo, baked with a variety of greens and herbs and served with yogurt.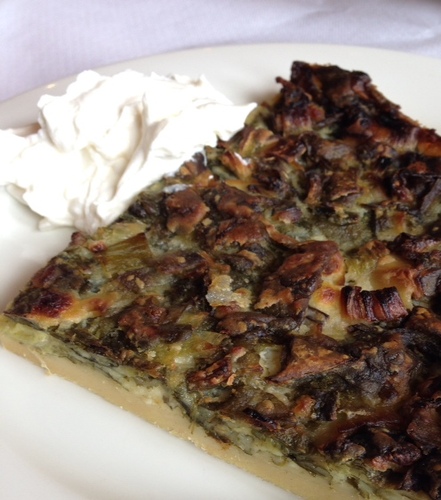 There was also a wild boar dish, slowly braised and served with hilopites (a type of hand cut noodle, perfect for carb-loading before a big hike). For dessert I had their portokalopita, a Greek cake made with oranges and sweet syrup. It was the best portokalopita I have ever eaten, not too sweet, perfectly browned, and still super moist. The great meals kept me energized for all my fun activities.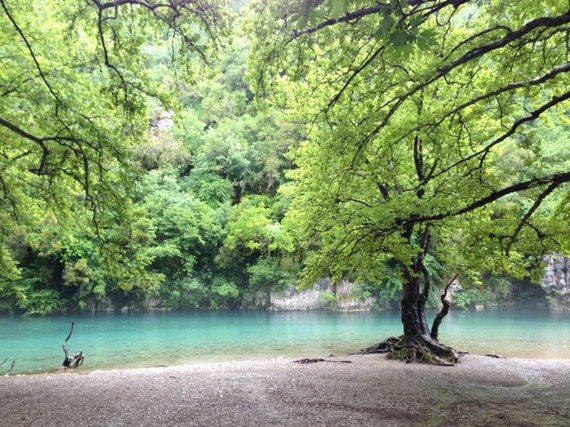 One of my favorite action-packed adventures in Zagorohoria was rafting down Voidomatis River. It's only graded a level two. This means you can enjoy a few waves and bumps, but mostly you just get to row, swim (if you want), and enjoy the scenery. There are a variety of companies offering rafting excursions, but I booked mine with Alpine Zone. If you book with them, I suggest you ask for my tour guide Christo. When you spend several hours in a small boat with a group of people, there is always the risk, no matter how beautiful the surroundings, of having an awful time if the company isn't right. Fortunately I had a great group rowing with me!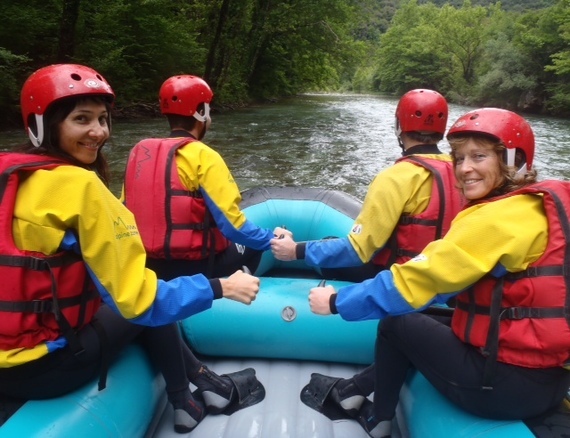 It was made that much better by our tour guide, the always entertaining Christo, captain of our little boat. He packed every minute with humor, information about the area, and personal stories related to the river. He made sure we rowed when we were supposed to, navigated, and still managed to snap a few photos for us without getting the camera wet. He's definitely an ace of all trades!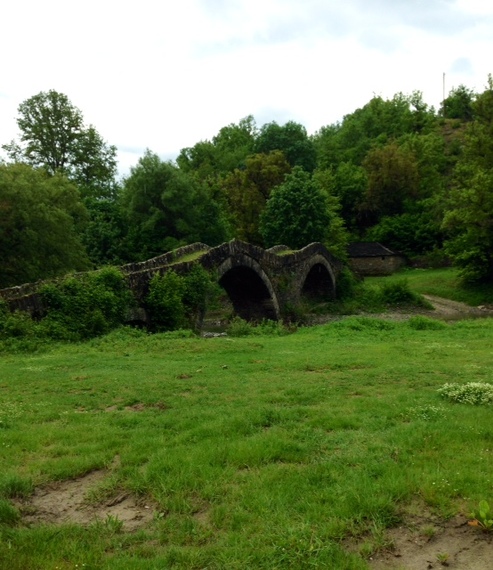 Now as if the day couldn't get any better, after rafting we decided to have lunch in the village of Vitsa, at a restaurant called Kanela kai Garyfallo (Cinnamon and Clove) I was a bit dubious at first. I'd heard great things about the restaurant, but what I ask you, do cinnamon and clove have to do with a restaurant that is all about mushrooms foraged from the local forest? This made me wonder if it was a hodgepodge mix, like the restaurants that serve Mexican food, hamburgers and sushi. Thankfully, this was not the case. Perhaps there is even a charming story behind the name, which connects it to the star product. I don't know. What I do know, is that chef Vasili has a background in both environmental studies and the culinary arts. It's an ideal combination for a restaurant that focuses on featuring locally foraged mushrooms in each plate.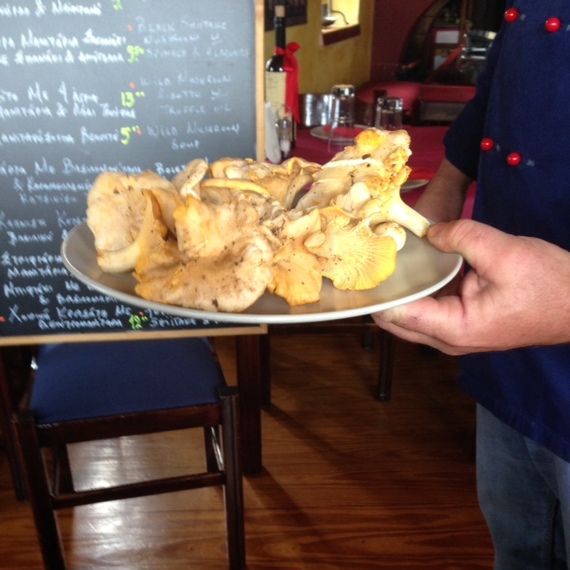 It was a quiet day when we went, and Vasili was serving, pouring wine, and cooking! Still, he never lost a beat. Each plate from the kitchen was perfection. He clearly has great respect for his craft. It comes through in each dish. In addition, the freshness and quality of his mushrooms are unsurpassed. We decided to have wine with our lunch. Why not? After all, I had just spent two hours rafting down a river. I think that earned me a glass or two of vino. Vasili suggested a Greek red wine to go with our first dish, wild chanterelles cooked with parsley, garlic and lemon.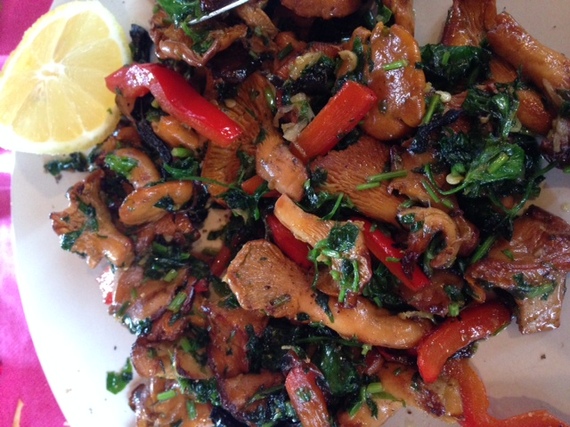 I love white Greek wines, but am often not a fan of the red varieties. However, he made his suggestion with such certainty and authority that I couldn't help but agree. In the end, the wine, like everything else, was perfection. In fact, I took my last sip while soaking up the dregs of the chanterelle dish with a piece of bread. I promptly ordered a second glass to go with his wild mushroom risotto. The dish was another masterpiece. The rice was cooked perfectly, blended into a thick creaminess and dotted with chunks of 4 varieties of wild mushrooms and black truffle.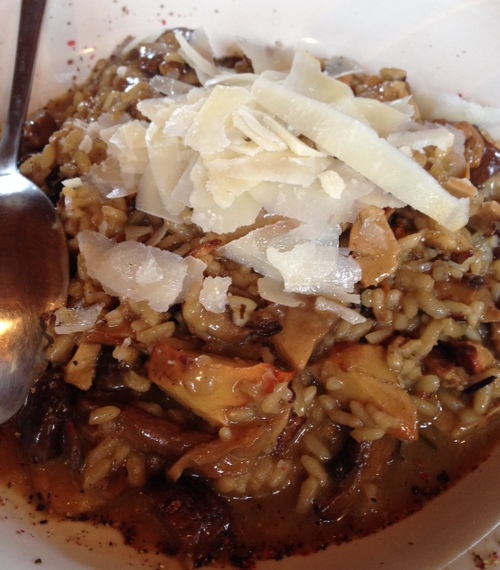 Now I don't know if it was the fresh mountain air, the altitude, or perhaps the two glasses of wine (did I mention that I'm a bit of a light weight?), but after we left the restaurant I saw this sign and was determined to follow it.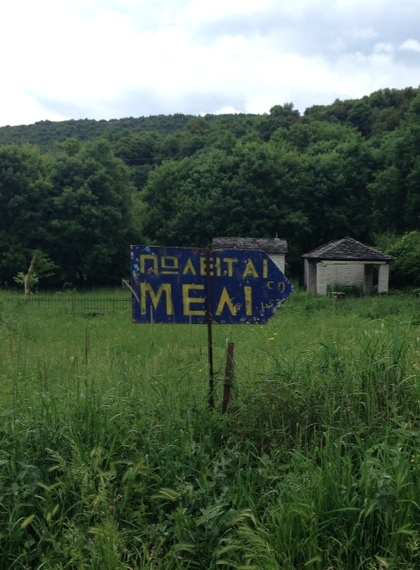 For those of you who can't read Greek, allow me to translate. The sign said "Honey Sold," with the arrow pointing the way. Now if you love honey the way I do, how can you resist following a sign that offers you local mountain honey? Well, I for one can't! So I parked the car, and followed the narrow footpath leading up into the village. Unfortunately about half way up, the footpath became thick with dark mud.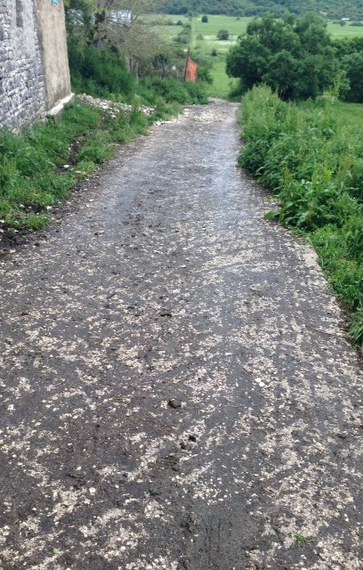 At first this seemed odd to me. It had rained a bit, but not enough to create so much mud. Besides, none of the other footpaths had been covered in mud. Soon a rather ripe fragrance began to waft up. I realized that the muddy footpath was in fact the goat path. The "mud" was the calling cards left behind by my friends that had been grazing earlier in the day down the road (guilty parties shown in the photo below).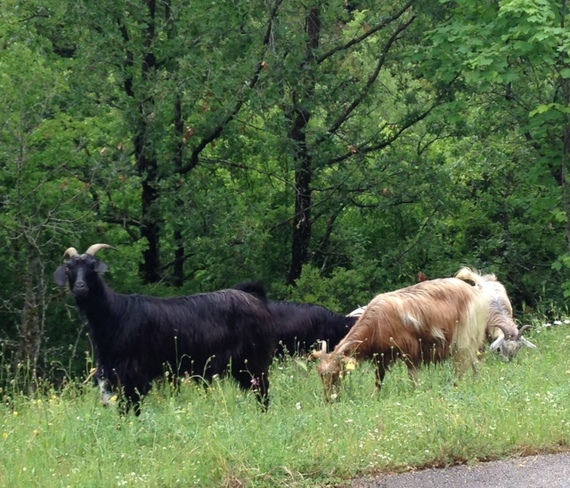 At this point I realized I would soon be up to my ankles, or at least up to my shoe laces, in you know what. Why didn't I have a nice slick, easily washable pair of Wellingtons with me? But with the promise of local honey I soldiered on, determined to claim my prize. When I finally made it to the front door of the house that had promised me local honey I found nothing but a collection of twigs by the front door. I knocked. I rang the bell. I even yelled. But no one seemed to be home. Thankfully the neighbor was home. He didn't have any honey for me, but he at least had an idea of where I could find his neighbor. He instructed me to go to the plateia (town square) and find the café neio (coffee shop). There I should ask for his neighbor Mr.Protopappas, who was usually there drinking his afternoon coffee. So I continued up the footpath, a woman on a mission. I found the café neio. I searched and inquired for Mr. Protopappas, to no avail. I tried other houses that the town's folk sent me to, but in the end, I left the little village without my jar of honey. In Greece, sometimes taking two steps forward requires taking one step back. Other times, you take five steps forward (into goat crap) and still come out empty-handed. That's life.
Once I returned to the hotel, and fumigated my sneakers, I decided to stop by a charming little shop that I had spotted on my way up to the hotel.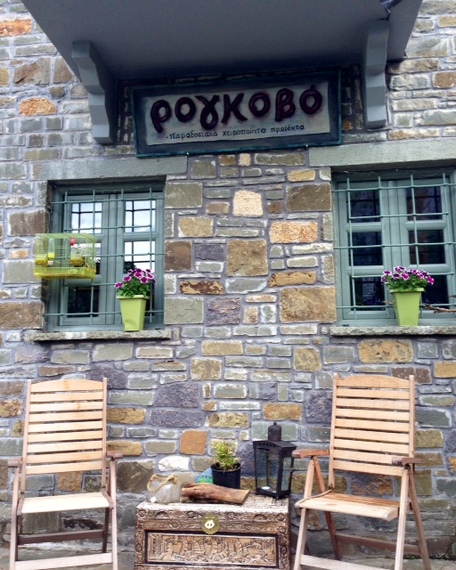 I soon discovered that Rogovowas owned by a husband and wife who had left Athens to retire in Papingo. They had owned several shops in Athens. But as the economy turned shaky, their business died down and they closed the shops. As luck would have it, when they moved to Papingo an opportunity arose for them to open a new shop. So they turned the bottom floor of their newly built home into a lovely store. They now spend their days chatting with tourists who come from all over to purchase locally made marmalades, mountain herbs, candles, and even........local honey! At last, I got what I was looking for.

As my long weekend in Zagorohoria came to an end, my city stress had vanished but my to-do list seemed to have grown longer. Every time I crossed an activity off my "must try" list that weekend, I found two or three more activities to take its place. I decided this could only mean that a return trip to Zagorohoria was in order: next time bring a thick jacket, hike up into the mountains to visit Dragon Lake, visit one of the local production facilities where they make goat cheese. Oh yes, and buy a pair of Wellington boots!