To strike or not to strike? That's the question on everyone's lips regarding Syria, but not to me. I'm no warmonger or imperialist. I'm a human, a mother, someone who can never get used to the sight of 426 dead children in a makeshift morgue, awaiting burial. To me, it's a simple case of crimes against humanity that merits strong reaction, not silence. It really doesn't matter how these children were killed, but the fact that gas was used makes for inevitable comparisons to World War II. Gassing children sadly is nothing new.
The first targets of Hitler's genocide were children--his own country's. He began slaughtering German children who didn't fit into his vision of a master race. Begun in the spring of 1939, Hitler's "euthanasia" program was a clandestine killing operation aimed at disabled infants and toddlers. It didn't take him long to lift the age limit up to 17 years, resulting in the extermination of 5,000 German children. Any minor suffering from conditions such as epilepsy, schizophrenia or who had been institutionalized for five years or more was taken by bus or train to a central gassing station where they were killed by carbon monoxide gas in a shower, and then their bodies were cremated. Sound familiar? The program was viewed as a dress rehearsal for the Holocaust.
On September 1, 1939, Nazi forces invaded Poland, sparking WWII. My mother was barely a teenager at the time. Her life would never be the same. But she couldn't tell me much about it. Instead, she relayed fragments--the sight of her grandfather being dragged down the street as Nazis hacked away at his beard, the memory of Nazis bashing her two-year-old cousin against a wall. The brutality was beyond belief to me as a child and still is today. My mother was so traumatized by the events of her childhood, she could never tell me her complete story. She had to bury her past to survive her present in a new land, while trying to rebuild the family she lost.
My mother's silence compelled me to travel to Israel two weeks ago to interview women who broke theirs in the most unconventional way--by entering a beauty pageant for Holocaust survivors. No, there was no swimsuit portion. None of the contestants were actual Misses. They were, for the most part, grandmothers and even great grandmothers. They were not judged on their looks, but on the merits of their deeds, or their internal beauty--how they prevailed in the face of unspeakable horror and rebuilt their lives in the aftermath of genocide. The pageant was not about belittling Yom Hashoah, Holocaust Remembrance Day. That's their time to mourn. And to them, every day is Yom Hashoah. This was their time to celebrate their lives--as women, as mothers, as citizens of Israel, as humanitarians.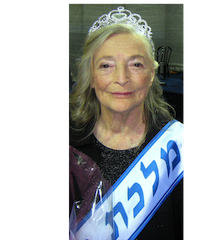 Many of the contestants were children when World War II broke out, but the memories were still as fresh in their minds as the day the Nazis marched into their hometowns. Others were teens, which made their recollections all the more vivid. "I can't remember where I put my glasses," says Shoshana Colmer, 93, who was crowned Miss Holocaust last week in Haifa. "But I can remember everything about my hometown, about my time in Auschwitz, about the death march to Ravensbruck."
As I listened to Shoshana, whose tattoo is so faded, it looks more like green smudges than numbers on her arm, I was in awe of her unsentimental recounting of the events that took her from Munkacz, near the former Czechoslovakia, to Palestine. Without dwelling on atrocities, she spared little detail. She also didn't cry, though she paused a few times. Her gaze was unflinching as we strolled past a Holocaust museum set up by the charity that hosts the pageant, Yad Ezer L'Haver. As she looked at photos of cattle cars and the gates of Auschwitz, she almost seemed to be communing with the gaunt people in the pictures. She told me about how she sang in German to a guard in Auschwitz, so charming him, he would sneak her enough bread to survive. But the odds were stacked heavily against her. She was 23 kilos when she was liberated. "Why am I here?" she asked, then pointed to the sky.
I looked at Shoshana and wondered how someone who witnessed what she did can still believe in G-d. But when I ask this to observant survivors like Shoshana, the answer is always the same: "It's not where was G-d. It's where was man?"
Perhaps it's no coincidence that Labor Day was also the anniversary of the world's first conviction for the defined crime of genocide. Fifteen years ago, an international tribunal found Jean-Paul Akayesu guilty of genocide and crimes against humanity for acts he engaged in and oversaw while mayor of the Rwandan town of Taba. (At the time of the Nuremberg Trials, there was no legal concept for genocide.) I'm sure survivors of the Rwandan genocide would have said the same thing Shoshana and others have. Where was the world? Where was man?
As I was getting ready to leave Israel last week, my cousins there talked about getting gas masks, of the evidence that Assad used chemical warfare against his own people and the eerie parallels to the Holocaust. Syria is no friend to Israel, and Israel would like to stay out of the conflict, but in the words of one Israeli I spoke with, "How can we, with our history of being gassed, stay mute?" Or as John Kerry so eloquently put it when referring to the temptation to look the other way: "The question is what are we -- we collectively -- what are we in the world going to do about it."
I, for one, don't want to look back at Syria, the way I'm now looking back at Rwanda and the start of World War II. I know military strikes aren't simple. I understand the consequences. I know the heavy price soldiers pay. My mother was one. But I also know, I can't sit by and smugly preach apathy when there's such graphic evidence of genocide. I'd rather commemorate anniversaries of saving lives and ousting hateful, brutal dictators than stand at more ceremonies for the dead, as I so often have. I'd rather stand with more Shoshana Colmers, a crown on her head, saying, "I shouldn't be here, but I am," than be haunted by the silence of mass graves and an indifferent world.
I know the path to healing for the mothers of the 426 gassed children will be a long one. But look at Colmer, who turns 94 in December. Or look at Coca Palmon, 79, a survivor from Jassy, Romania, the site of one of the most brutal pogroms, resulting in the death of 13,000 Jews. Standing before a stadium crowd of 3,000, the event telecast in more than 50 countries all over the world, telling her story in an evening gown, being treated like a queen, not a victim. As she explained to me a few days after placing first runner-up in the Miss Holocaust competition, getting recognition from a world that was once so apathetic is tremendously cathartic. "I feel like a stone's been lifted from my heart," she said. "That I was meant to speak out, that it's never too late to break your silence."