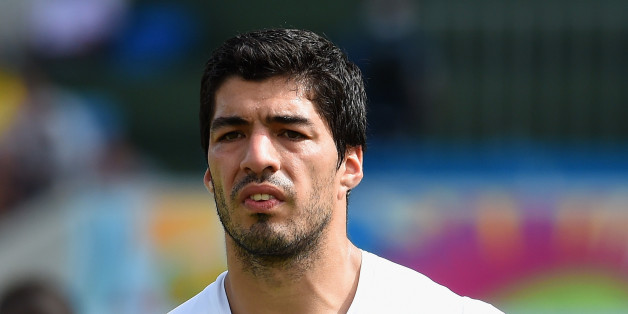 In the wake of the Suarez biting incident, by far the most exciting -- or at least bizarre -- event of the World Cup thus far, global media has gone in to frenzy. Everyone has had their say on Luis, his mental state and his place in international football -- he's been called every name you can think of including crazy and "an animal." Nowhere, however, has the reaction been more extreme than in the striker's own country. His nine-game ban effectively signals the end of Uruguay's World Cup ambitions and over the course of the last three days the country's denial of reality and general outrage has been almost as spectacular as the bite in itself.
For those who haven't followed, in the press conference after the match, the players refused to answer the questions of the British press, which many accuse of demonizing Suarez. Lugano, the Uruguayan captain, when asked what he thought of the incident simply said, "What incident?" Tabarez, the Uruguayan coach, when pressed for comment said he hadn't seen what happened and told journalists, "This is a football World Cup, not about cheap morality." Later, Lugano called Giorgio Chiellini, victim of the bite, a wimp and said "as a man he disappointed me totally."
But the comments haven't been limited to the world of football. Living in Uruguay and watching the drama unfold has been quite incredible. Everyone from the shopkeepers to political figures have something to say. Yesterday evening our president, Jose Mujica, commented on the case saying, "I didn't see him bite anyone" and "we didn't pick him to be a philosopher, or a mechanic or to have good morals, he's an excellent player." The PIT-CNT, Uruguay's largest union, declared in an email that "the sanction was absolutely disproportional and excessive" and that "a fundamental part of [Luis Suarez's] DNA is a way of feeling and understanding football which is incomprehensible to anyone who born outside this country." As I write this there is a protest outside the UK embassy because fans are convinced that England is somehow behind the Suarez ban.
The reactions this has solicited may seem absurd to anyone outside Uruguay, and several people have asked me: "How on earth can you defend him?" But demonizing Suarez doesn't do justice to the situation either.
To understand why that is you have to understand what football means for a country like Uruguay and to understand that you have to get what it means to be from a place that, as a general rule, no one cares about. Granted, it may be hard for Americans and Europeans to understand, but football is literally the only moment where we take center stage. During the World Cup not only do we participate in the goings on of the rest of the world, but we win. The "bite" in Tuesday's match overshadowed the fact that teeny little Uruguay kicked two world champions out of the World Cup in the space of a week. Football is Uruguay's way of saying, Hey world, we're here and we matter. Uruguay worships at the altar of football, and Suarez is God.
In that context, then, it's not hard to understand Uruguay's disappointment and sense of injustice. In this World Cup alone examples of gratuitous violence are plentiful but none have garnered the attention of the "bite." Take Pepe from Portugal, for example, who after hitting Thomas Müller in the face got up off the floor, with the ball nowhere in sight, and head-butted the man he'd just hit. Surely that's worse than a bite? It got him a red card and Portugal was later eliminated from the Cup, but it got nowhere near the media attention of the Suarez incident. Or take Kevin-Prince Boateng and Sulley Muntari from Ghana who attacked executive members of the GFA and a management member of the Black Stars both verbally and physically. That definitely can't be passed off as part of the game -- they weren't even attacking other players! Their own team kicked them out and sent them home but FIFA didn't intervene. It's not surprising that Uruguay might think the world has something against Suarez.
We can all agree that more than anything Suarez's action was foolish, especially when you consider what the World Cup means to his teammates and his country. But let's give him this; at least he makes for a good show, which is after all what the World Cup is about. Even if you accept that the "bite" was worse than other common football aggressions it seems a bit hypocritical, to say the least, that the FIFA have become the guardians of modern morality. In between scandals for fixing matches in 2010, millions of dollars lost in corruption, and accusations of using of slave labor to build stadiums for Qatar 2022 a bite seems almost comically innocent.
But in the end when you enter a tournament you agree to play by its rules and accept its authority. Even though from Uruguay's perspective it's hard to understand what the deal is with the bite, we'll have to play on without Luis.
Luis, we love you anyway. Thank you for making our little country dream big.