While many people may still be fatigued from attending a whirlwind of international fashion weeks, it is in fact time to start planning for next season, especially if you're an Indian designer. Lakme Fashion Week Summer/Resort 2012 saw five days of shows put on by designers both new and established, working in India and also abroad.
From stitching old saris as a child in Orissa to showing at New York Fashion Week and holding presentations in Paris, Bibhu Mohapatra is one such established designer. He participated in this past season of LFW to much acclaim, due in part to his spectacular evening gowns and in part because of the 'aura of abroad' that surrounds him. This celebrated designer has a lot to be thankful for and he never forgets it, something he says himself with much humility.
Fresh off a plane from New York City, Mohapatra's first non-stop day in Bombay was filled with model fittings and meetings, all scheduled to ensure that his vision gets realized on the catwalk.
Keep reading to get a glimpse into the life of a prominent designer preparing to show a brand new collection in Bombay.
***
Feb. 29, 2012
Mohapatra arrives in Bombay late at night from New York, where he's just show his Fall 2012 collection at New York Fashion Week (see the Style.com review here.) He holds a covetable 9 p.m. show slot on Day 3, the finale show for the day. His show is one of the most buzzed-about in the whole schedule -- his international success carries a unique allure and excitement.
Mohapatra checks into the Grand Hyatt -- also the venue for LFW S/R12 -- and hours later is up for his fittings with the models.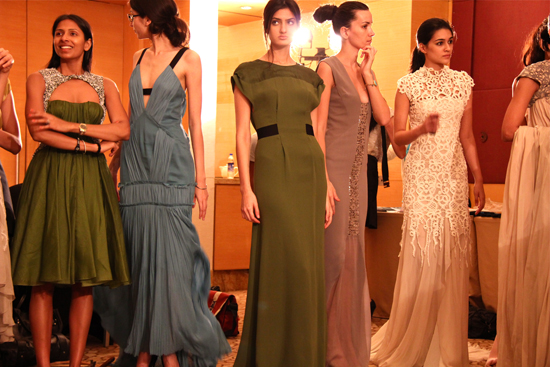 Models in looks from Bibhu Mohapatra's summer 2012 collection for LFW S12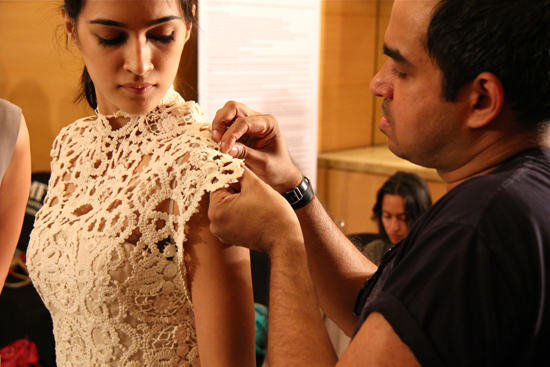 Bibhu Mohapatra fixes the sleeve on a dress at his LFW S12 fitting
March 1, 11 a.m.:
Mohapatra has his first and only fitting with the LFW models. He looks understandably tired but he's focused, evaluating each and every detail about the clothes and how they look on the models. There are two sets of looks in the show; the first more appropriate for day and the second, obviously meant to dazzle in the night. No other media is allowed inside and he's particular about the photos being taken, he wants to make sure the girls look good. As each model walks the makeshift ramp in the fitting room, Mohapatra and the LFW stylists look closely at how the garments fit and fall. Mohapatra is sometimes on his knees, inspecting hemlines, or peering over a girl's shoulder, altering a sleeve with his shears. The fitting goes on longer than expected, though with only one small window of time to get the looks right, no one is complaining. Before wrapping up, Mohapatra instructs the models on how to walk in his show - "walk fierce, walk strong" -- and shows them a video of his recent New York Fashion Week show on his ipad.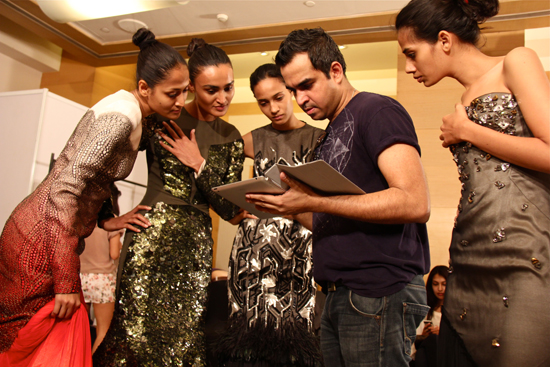 Bibhu Mohapatra shows the top models walking in his LFW S12 show a video of his recent show at New York Fashion Week for Fall 2012
2 p.m.:
The fitting has gone on longer than expected and Mohapatra's assistant is making sure he eats lunch. He finishes up a meeting with a tailor, who's on site to make the changes he's decided on in the fittings, and we schedule to meet again post-lunch. Before leaving he makes sure I'll be getting lunch too, just another example of the kindness he's shown everyone since the morning.
3 p.m.:
Mohapatra meets with the show director, as well as music and lighting specialists, to ensure they can pull off his vision for the show. This time, he's showing a video clip of his NYFW Fall 2012 show on his iPhone, the model he's building his Bombay show on. He's using the same music from New York and each beat is important, it must be timed perfectly to how the girls walk down the ramp.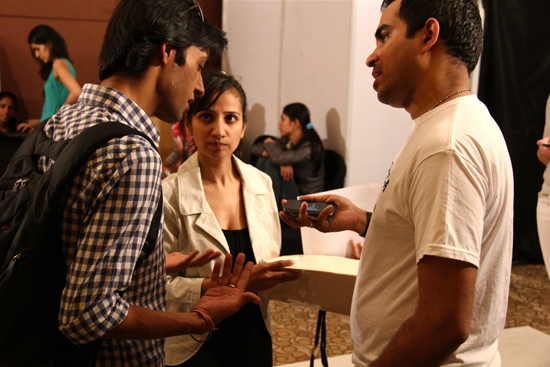 Bibhu Mohapatra explains how the music must play for his LFW S12 show, using a video of his NYFW Fall 2012 show as an example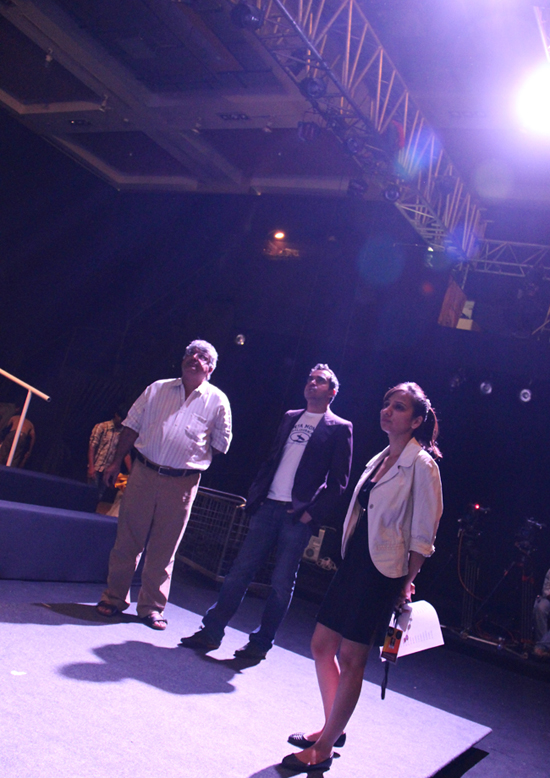 Bibhu Mohapatra in the LFW S12 runway room checking the lighting for his show
5 p.m.:
Miraculously, Mohapatra makes time for a quick interview and tells me about growing up in Orissa, being disconnected from the outside world and making clothes for his muse, his sister. He studied economics but always knew his passion was fashion; FIT realized it as well and admitted him as a student, where he was awarded Best Evening Wear Designer during his senior year. After working at J. Mendel, Mohapatra began designing for private clients and launched his eponymous collection at New York Fashion Week in 2009.
Here are a few excerpts from that interview. To read his comments on the timing conflict of LFW and Paris Fashion Week (they run at the same time) and its effect on Indian designers, see this article.
On showing at NYFW:
People in New York, friends in the industry, have been so supportive. There is so much excitement about my work, which I am very grateful for. There is some amazing work people put out each season [at NYFW] so to stand amongst them is a big deal for me, and I don't take it for granted, it's very humbling. I take pride in having something to say, which people actually want to hear.
On the difference between NYFW and LFW:
[NYFW] is just bigger... it's much more dynamic because there are more shows, Two-hundred fifty shows in a week. Here it's much more personal and the energy is much more personal. [In New York] people just come and sit through your show, then walk off to the next one. Here [in Mumbai] people retain things. [LFW] isn't big enough yet but once it gets to 250 shows, people will become robotic. It's very refreshing to be a part of LFW at this stage.
On his collection:
Empowering. One word is empowering. My clothes are tools to bring out one's inner self and strength and courage, [it's] in every one of us but we don't get to express and carry it over ourselves. My clothes don't make one a different person, just more of oneself.
On his directions to the models at LFW S/R12:
There is no need to pose for anything -- you just walk straight and strong and be clear. We are all born with unique characteristics and we have to stick to that. Yes, use the tools to enhance it, but we shouldn't be hiding behind them. That's what style is about.
On the Bibhu woman:
Strong and exposed, someone who is passionate about things, not just clothes. Someone who is driven.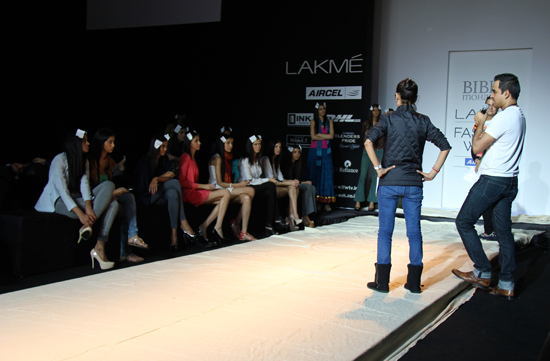 Bibhu Mohapatra speaks to the models during rehearsal for his LFW S12 show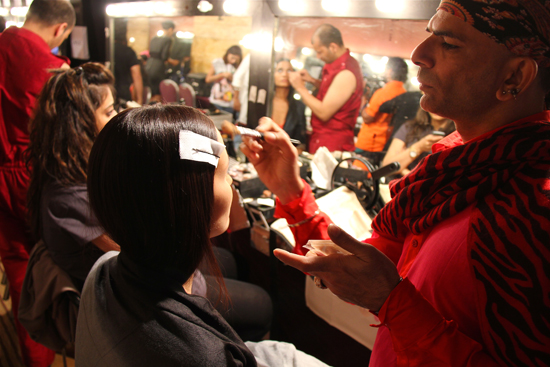 Models backstage in hair and makeup before Bibhu Mohapatra's LFW S12 show
March 3, 2012 -- 10 p.m.:
After Bollywood stars like Nargis and Jaya Bachchan take their seats, the lights dim and the music begins for what becomes one of the week's most beautiful, well-executed shows. Mohapatra takes his bow, and strides backstage with a smile stretching from ear to ear. The next day he flies to Paris, for five days of presentations with buyers and private clients.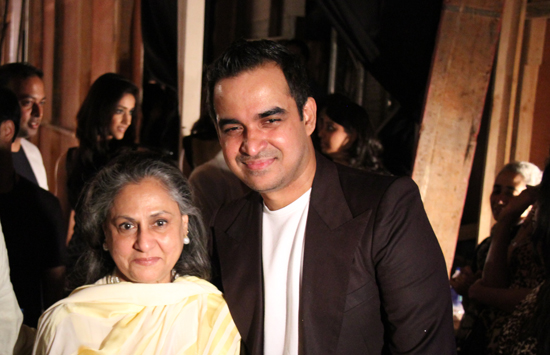 Bibhu Mohapatra with Jaya Bachchan before his show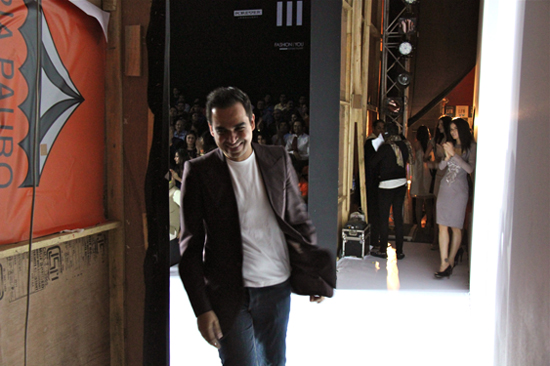 Bibhu Mohapatra smiling backstage after taking a bow at his LFW S12 show
***
To see more exclusive pictures from Bibhu Mohaptra's fitting and backstage photos, click here.
All photos by Nolan Bryant.