It was a sunny spring day in Toronto when I first met Veronica Chail -- all dressed up from the OMNI studio to meet me for coffee at a Starbucks on the funky Queen Street strip -- but idyllic atmosphere aside, we had something very serious to discuss: IIFA 2011. Little did I know that a masala style chat about one of the world's biggest award shows would offer me a window into the life of a young woman carving her own path in the media landscape and proving that stereotypes are meant to be broken and glass ceilings shattered.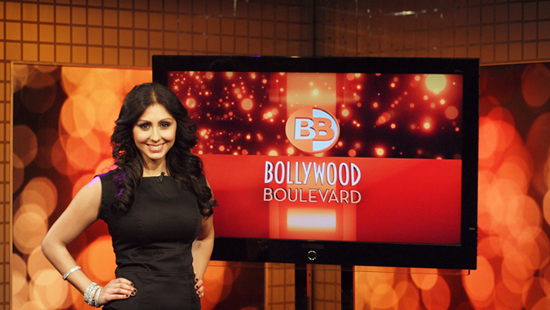 Veronica Chail, host of OMNI's Bollywood Boulevard
We shared an animated and obviously obligatory exchange of Bollywood gossip, caught up on who had been wearing what on the Indian fashion scene, compared our favourite Hindi films, hunks and heroines, and generally had a wonderful time getting to know more about each other and our own unique relationships to India and Indian culture.
After covering the official IIFA 2011 announcement with Bollywood stars Anil Kapoor and Preity Zinta in Toronto in January I had promptly packed my bags and moved to Bombay in February, yet had come back for a visit that serendipitously coincided with the 2011 International Indian Film Academy Awards. Knowing how familiar I had become with Bollywood, Chail was keen to have me on her show -- OMNI'S Bollywood Boulevard -- to talk celebrity fashion for all things IIFA. As the madness of IIFA descended onto the city, Chail and I were constantly comparing notes, excitement over who was coming (Shah Rukh Khan!) and disappointment over who was not (Salman Khan.)
The 2011 IIFA weekend was a star studded affair full of mayhem and surprise but it was also a undeniably memorable event that left an indelible mark on both our careers. Though we only crossed paths on the IIFA green carpet, we later came together on Bollywood Boulevard to recap the IIFA weekend and discuss my passion for India.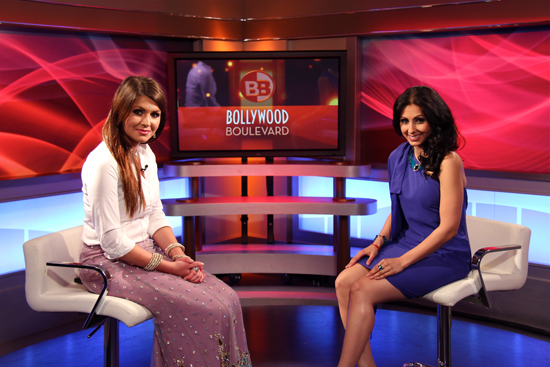 Marissa Bronfman and Veronica Chail on Bollywood Boulevard. See more pictures here.
What began as a collaboration for IIFA became a real friendship and I was lucky to learn about Chail's passion, courage of conviction and dedication to giving back. She's had success as a producer, news writer and reporter, and most recently, as the very talented host of Bollywood Boulevard -- yet has always found time to volunteer with charities and organizations with genuine interest and commitment. Outraged by the shameful blind eye to human trafficking she's witnessed, particularly at home in Canada, Chail has recently set up an anti-human trafficking organization to create awareness, spread knowledge and ultimately find solutions to end this horrible practice. No small feat with only 24 hours in a day.
In a very short time spent with this media maven it was clear to me that there's absolutely no stopping her -- the sky's the limit -- and after reading the interview below I'm sure you'll feel the same.
Keep reading to find out how Chail got into media, what her experience as a woman in a male dominated industry has been like and what her ambitious plans for a very bright future are.
Your parents are Indian but you have quite an international background. What was that like growing up? How did that shape your perceptions of people and the world?
I was born and raised in Sweden. We traveled a lot and we later moved to Stratford, Ontario. At home, we spoke Hindi, Punjabi, Swedish and English and ate all types of cuisines because my parents love to cook. My parents sacrificed many of their dreams so that my siblings and I could fulfill our dreams. Their love is unconditional and their work ethic is unparalleled. My father would challenge my brother, sister and I on our opinions (he still does), and it taught me to have conviction in myself and my ideas. My mom and I would always watch Bollywood movies and dance to Indian music in my living room. I grew up in a loud, fun, opinionated and busy household. As a child, I was constantly learning just being around different people, cultures, religions and perspectives. Looking back -- it was a beautiful thing because I embrace people from all walks of life. It made me curious about who we are as human beings and what makes us tick. As a child, I probably drove my parents and teachers nuts with my non-stop questions but I'm happy that I stayed true to my roots and I am building a career out of it.
How did you get into the media industry?
When I was younger I was always obsessed with being creative and unconventional -- I was always thinking outside the box and using my imagination. I loved theatre and I saw many performances as a child. The performances intrigued me -- especially the intimate relationship between the actors and the audience. I remember being in pre-school and I actually directed plays with my classmates. I guess having a sense of control and giving direction has always been in my blood. As I got older, I wanted to be an actress. That changed to being an entertainment lawyer in my teens. I was interested in all sorts of things -- politics, social issues and entertainment. I got my undergraduate degree in English and Political Science. My international experiences inspired me to pursue journalism. I completed my Masters in Journalism at the University of Western Ontario. I landed my first gig as a news reporter for OMNI Television News. Since then, I have worn multiple journalistic hats and worked as a TV producer at the CBC for The Hour with George Stroumboulopoulos, a news writer and entertainment host.
What challenges have you faced as a working woman in media?
People still pre-judge women who hold certain positions in the media. And I guess I push myself harder because I want to garner respect for my craft and the work that I do. There have been incredible women around the world who have made it easier for younger generations to follow in their footsteps. One thing is for sure -- television is no longer a man's world. However, there still is a fine line between being a stern woman in the media and being seen as a diva or a "bitch." When a woman holds the same ground as a man people don't always embrace her firm hand but being able to overcome instances like this has propelled my growth in this industry. You need thick skin, passion, ideas and tremendous hunger and drive. I admire women who continuously prove that beauty and brains are not mutually exclusive. Being a woman -- I want to set the example. Sometimes we are satisfied with what other people tell us we should be happy with and I am not into that. I want to achieve the unimaginable.
What has your experience been like hosting Bollywood Boulevard?
My experience so far at Bollywood Blvd on OMNI Television has been an unparalleled experience. I feel very blessed and thankful to have my gig and to work with my team. It's a really unique environment that allows you to work without having an umbrella of fear over your head. I have been able to learn a lot from my colleagues and contribute a lot of creative things to the show. I have been able to grow as an individual both professionally and personally. Prior to hosting Bollywood Boulevard I was a producer on another network but something within me was yearning to be back in front of the camera and going with my gut instinct has never proven better.
You covered the whirlwind madness that was IIFA 2011, what was that like?
It was epic. I was in the middle of the IIFA Toronto ride several months prior to the big event taking place. I have been very fortunate as I have been able to interview some of the biggest names in Bollywood and I have produced numerous interviews with the movers and shakers of the world including politicians, newsmakers, sports heroes, activists, musicians, and Hollywood A-listers. However, the 2011 IIFA experience in Toronto was out of this world. I have never seen fans like Indian Cinema fans.
The most challenging part of IIFA 2011 was fitting into my dress -- kidding! The deadlines, time restrictions and constant changes posed the greatest challenge both for my daily shows and for the three-hour live green carpet special -- all the expected typical and sometimes chaotic stuff that happens when you're making television. Meeting Shah Ruhk Khan was probably the most rewarding aspect of IIFA 2011. I co-hosted a big event with him and Vivek Oberoi the night prior to the awards ceremony and we had a blast! Shah Rukh Khan was so gracious, humble and had contagious warmth. The people that tail-gate this guy are unbelievable and it was awesome to see it in action. My most surprising moment had to be mid-interview with Cuba Gooding Jr. when he picked me up and swirled me around horizontally without a cordless mic and we both didn't end up flat on the floor! I'm thankful I'm here to tell the story and not the disaster. There were many surreal, amazing and memorable moments.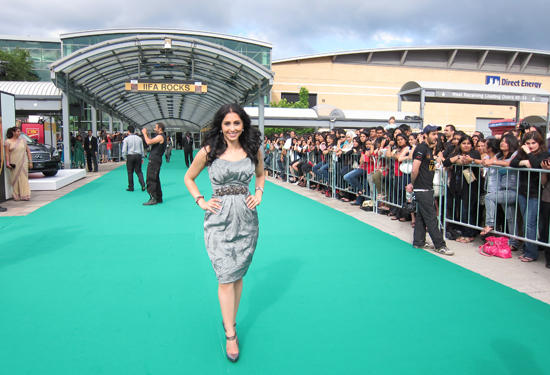 Veronica Chail on the IIFA 2011 green carpet for IIFA Rocks
What inspired you to establish your own anti-human trafficking organization?
Human trafficking is modern-day slavery and Canada is not immune. Humans are still being bought, sold and exploited. People pay to sexually abuse and torture other human beings. Human trafficking is the worst kind of human depravity that you can imagine and involves the most vulnerable including children. It's a human-made disaster and a huge business. During my Masters program I did a project on sex tourism. As I was doing research and compiling the statistics I became extremely disturbed with the case of Donald Bakker, a father from Vancouver, who was the first Canadian convicted under the child sex-tourism law. I was absolutely shocked and disgusted with the details surrounding this case. When you hear the horrific stories of those who actually live to tell their tale -- it's so heartbreaking, shocking and you feel compelled to act and to eliminate it. That's why I am currently in the process of launching an anti-human trafficking organization.
There are many challenges including the fact that this is a lucrative business and there is a lack of response from the Canadian government. Traffickers are rarely charged let alone convicted and victims are often deported or left helpless. Canada needs a national anti-human trafficking body and a national action plan. We are a country that prides itself on democracy and human rights yet slavery is still taking place in our own backyards. I want to create awareness. I want to educate and to inspire action so we can find solution to eliminate this outrageous crime.
You've accomplished so much but I know this is only the beginning -- what are your plans for the future?
My goal is to host my own nationally syndicated talk show and to launch my own media company. A snapshot of my personality is a mix of news, social issues and pop culture, Bollywood and Hollywood. And as my career continues on its path -- I hope to share more of me with my audience. I see myself doing what I love -- talking to people and staying true myself.
***

Watch episodes of Veronica Chail hosting OMNI's Bollywood Boulevard here.
See more pictures and the video of my appearance on Bollywood Boulevard here.
Not familiar with the International Indian Film Academy Awards? Read the definitive IIFA 101 guide here.