The first thing I see as I walk into a boardroom in the TIFF Bell Lightbox to interview Cameron Bailey is a framed black and white photo of Aamir Khan and Kiran Rao, taken when they were in Toronto for the 2010 Toronto International Film Festival to premiere their film Dhobi Ghat. This brief glimpse into the past is an appropriate entre into my discussion with Bailey, the man responsible for bringing Indian film to the festival and the man who chose to spotlight Mumbai in TIFF 2012's City to City Programme. Dhobi Ghat was also the first film at TIFF I ever reviewed, the first Indian film I ever saw in Toronto and marks the point in time when I had just begun to plan my move to Mumbai. This year, coming back to TIFF from India, feels like I've come full circle.
Bailey first started covering south Asian programming nearly a decade ago and visits India at least once a year, sometimes up to three different times. He speaks passionately about India's film history, traditions, actors, directors and producers. When I asked Anupama Chopra, a well-respected film critic and author based in Mumbai, why she thinks Bailey is such a great champion of Indian film, she's succinct: "he gets it." She elaborates, "He gets that it has such a huge emotional connect with Indians everywhere, he gets how much power there is, he gets how important these stars are to a billion people around the world, he understands the strength and he appreciates the movies."
It's clear that Bailey truly does appreciate the movies, that it's "not just about the numbers," says Chopra. He also understands the enormous shift that's happening in Indian cinema right now, which is why he chose Mumbai for this year's City to City Programme.
Read on to learn more about City to City, what's changing in the Indian film community and for a few hints at which Indian films may premiere at this year's Toronto International Film Festival.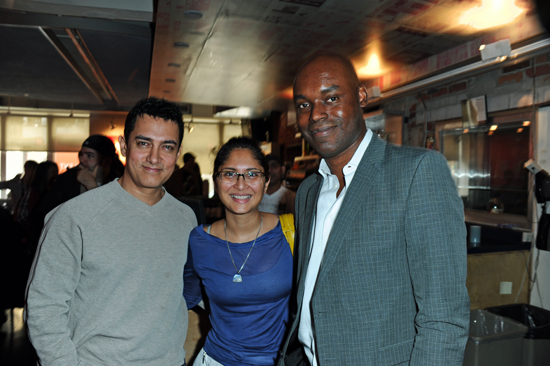 Cameron Bailey (right) with Aamir Khan and Kiran Rao at the 2010 Toronto International Film Festival.
You've long been a supporter of Indian film but originally you had no personal connection to India, correct?
Honestly this started as an assignment. When I came back as an international programmer I was asked to take on south Asia and I was interested but I didn't have a lot of deep knowledge about it.
I learned a lot as I went. I traveled as much as I could to the area and spent time seeing films and meeting filmmakers and just being there because it's different than just watching a lot of stuff that's available here. It helps to just spend time in a country and find out how people live, what the rhythms are, what's important.
Was it your idea to start the City to City Programme?
It was, yeah. I love cities. When I go on vacation I love to go to another city as opposed to some remote wilderness, I thrive on the energy that comes out of cities. We're one of the few major film festivals that's located in a city -- as opposed to Cannes or Venice or Sundance, and I want to connect Toronto and Torontonians with other cities around the world because this city is so diverse, is so much made up of people who come from all over the world.
Also, cinema is made by people who live and work in cities. It's an urban art form, in a way. Painting doesn't have to be, poetry doesn't have to be but cinema is an urban art form, we're in a big city that's changing a lot and I wanted a programme that would reflect some of that vitality.
Tell me about the City to City Programme.
We started the program four years ago with Tel Aviv, then Istanbul and last year we did Buenos Aires and this year Mumbai. In every case I was looking for cities that are at turning points. The cities themselves are fascinating and have rich histories -- that's what we're looking for. We've never had a city with such a strong film tradition as Mumbai or as much production or as wide a range of filmmaking, from the most commercial cinema to some incredible avant garde work and documentary work. And I've never had as much to choose from; there's more happening in filmmaking in Bombay than anywhere else in the world.
Because I've been programming the city [Mumbai] for a long time, I think I was able to find the right moment, in the sense that there's a really important shift happening right now. I feel so lucky that we chose it this year. What's happening with the rise of the incredibly rich, independent film work coming out of Mumbai, is that there's a new generation that is fully versed in Bollywood but they're not of Bollywood, they're not making Bollywood movies at all.
I liken it to the late 1980s and early 1990s in the U.S. when suddenly you had this New York independent wave -- Spike Lee, Hal Hartley, John Sayles and others who were making films that were fully American but they weren't Hollywood movies, at all. And suddenly there was an audience that grew up with those films and a new film language around it and I think exactly that is happening in India right now.
When do you think that change started to happen in India? Did you feel it?
You began to feel it, yeah. There's always been a very strong art cinema in India but this is something else. I think what changed is when you began to see filmmakers who had independent sensibilities, who were a little more adventurous in terms of the forms of their films but were still working with a commercial film language.
When Madhur Bhandarkar began to make films like Fashion, when A Wednesday came out, then of course with the rise of Anurag Kashyap -- I think it really exploded. I think he and Dibakar Banerjee have really been at the forefront, partly because they are so bold as filmmakers. They're really audacious, they know both the international art-house film language as well as the Bollywood language, intimately. And they're so prolific, they're making lots and lots of movies so you get the acceleration of this new wave.
Two years ago when Kashyap released That Girl In Yellow Boots at TIFF 2010, not many people were talking about him -- especially not in India -- but now people can't stop. Anupama Chopra says he's become the "poster boy of Hindi cinema" -- would you agree?
I would, for a lot of different reasons. Partly because his work is strong, because it is very bold, he makes bold choices all the time. You can like or dislike the films but you can't deny that they're made with a real passion. The other thing is that he's making so many films - not just that he's directing but also producing - he's at the forefront of a whole movement. He and Guneet Monga are really carrying a lot of other filmmakers along with them. He's writing for other people, he's involved in the script for Taalash for Aamir Khan, producing other filmmakers, the film Peddlers that was at Cannes. You get the sense that he's that guy that could spearhead the entire independent film world.
It seemed like he needed the international attention before India would give it to him. Do you think so?
Yeah, it's unfortunate but not surprising. That's always the way. India's not alone in this. Certainly in Canada, we know this as well. When your own filmmakers, your own artists are celebrated abroad, it gives them validation that they will never get at home. It's the way of the world.
I was glad to see him at Cannes, Gangs of Wasseypur epic. It's amazing. It's both an epic gangster story, in the tradition of Goodfellas, The Godfather or Once Upon A Time in America but it's also got something to say to Indians, specifically about the way society works. Although it's set in the criminal milieu there's obviously echoes of other elements. I'm going to leave that to Indians to decide what it's really about.
This was a very important year for Indian film at Cannes. You were at the festival, can you speak to this?
To have three films in official selection plus one in the Cannes Classics, really meant that India had a presence at Cannes that India hasn't had in a long, long time. Its been frustrating to a lot of us who are following Indian cinema to see how little has made it to what's considered the most prestigious film festival in the world.
But to their credit I think they've caught up. They showed these three films in very prominent positions. This was the Cannes Film Festival anointing these films as important artistically, and that makes a huge amount of difference.
When you were in the audience, did you feel like the other attendees were just as enthusiastic?
There's still a big learning curve in Europe, in France particularly, where the knowledge of Indian cinema is not very deep compared to other kinds of cinema.
When I want to see GOW it was a good crowd but its nothing compared to what he could expect in Toronto, for instance, where there's a massive audience and they know his work.
So is that a confirmation of GOW at TIFF12?
Absolutely not! [laughs] Nothing's confirmed until it's announced but he could expect a much warmer, bigger response here.
What do you expect the reaction to be like to the 10 Indian films at TIFF 2012?
I'm hoping it's going to be an enthusiastic reaction, obviously. We've done enough groundwork that there's an audience already, for the films from Mumbai at the festival.
Beyond that I hope there's real curiosity about the new films, I hope that the interest in the films goes well beyond which movie stars are in them because that's a big part of how we respond to movies but what's going on with this new generation of independent filmmakers coming out of Bombay is not necessarily about movie stars.
It will create it's own generation of stars -- people like Abhay Deol -- no question, but there's more to it than that. These movies are really engaged with contemporary Indian society, they're not fantasies. They're about what's happening right now in India, they have something to say to people who live and work in that country about the politics and the society and the culture of the place -- and the conflicts that happen on a daily basis -- and that should be exciting.
A lot of people are betting on Deepa Mehta's adaptation of Salman Rushdie's Midnight's Children to premiere at TIFF 2012.
I can say that we've been looking forward to the film for a long time. Last year at the festival, we did a conversation with Deepa Mehta and Salman Rushdie about the making of Midnight's Children and we snuck a couple of scenes to show the audience.
It's interesting to see just how much of the book was in the film. [Mehta] is very faithful to the book and to the voice of Saleem, the main character. You really get a sense that this is an adaptation that's fully immersed in the novel and all of its richness, all of its complexity.
In Part 2 of this interview Bailey discusses what Indian actors must do to change the future of Indian cinema, which up-and-coming Indian stars to look out for and why Indian women in film have it so tough.
An exclusive excerpt from Part 1 of this interview was first published on Mumbai Boss.

To read more from Marissa Bronfman visit her website.
Photo: Alberto Rodriguez/WireImage for TIFF.