It was a surprise treat to see the former Queen of New York fashion week sitting front row at Lakme Fashion Week (LFW) in Mumbai on Friday. She hasn't attended LFW for the last two seasons. Two years ago, the woman credited with starting New York fashion week left her illustrious post at global fashion management company IMG (which currently runs LFW) to start her own consulting company, Fern Mallis LLC.
Despite a one-year absence from Mumbai's fashion scene, the 10 years that Mallis spent creating, shaping and nurturing Lakme Fashion Week has clearly left an indelible mark -- she remains knowledgeable about the Indian market, frank about LFW's strengths and weaknesses and effusive about her love for the country and the promising design talent that is found here.
Find out why Mallis feels Lakme Fashion Week is so important for young designers, why fashion sponsorship needs policing and how Indian designers can take advantage of the extraordinary change India is going through.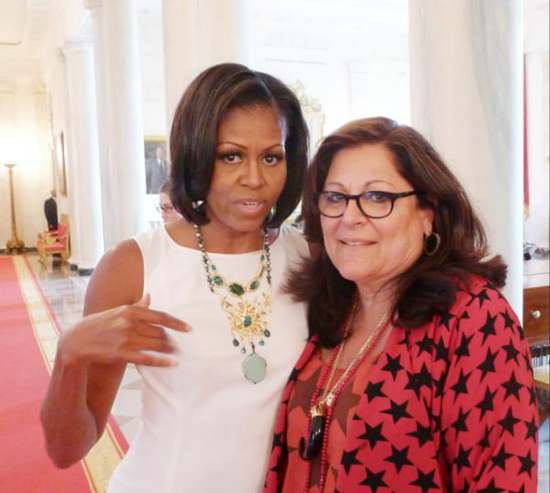 Fern Mallis with Michelle Obama at the White House wearing Indian designer Kallol Datta (Photo from Fern Mallis' Twitter profile)
What did you think of the Gen Next show?
The Gen Next show is really the signature of Lakme Fashion Week and it's one of the best things about this week -- discovering and finding new talent. The show was great. Richa Agarwal was my favorite designer in the show. The collection was refreshing, completely saleable and wearable. It was certainly overly layered for the show -- which we all understand, but I could see it next season in Anthropologie or Free People. It was young and exciting, I loved the mix of fabrics, I loved the shapes of the clothes. I thought it was terrific.
What is Lakme Fashion Week's greatest strength?
I think its biggest strength is discovering new talent and trying to give them that platform. We've seen so much of the talent through the ten years go on to be very successful and then to be players in the industry. When Lakme was formed it was really the split between Delhi and Mumbai and it was a choice that people had to make -- if they wanted to go with the 'newer, younger' or the old guard of Indian fashion and the old guard stayed in Delhi and the new guard came to Lakme.
There is a lot of criticism about sponsorship and Bollywood showstoppers and sponsorship at Lakme. What do you think about these criticisms?
Through the years there's been a line in the sand that gets stepped over a lot in this country and I, as much as anyone else, understand the need for sponsorships for shows to happen, but for 20 years in New York I was the policeman holding the ground -- where things were inappropriate and where sponsors names and products should not be incorporated into a show for the purity of a show. We lose that battle a lot here in India. That's the shift that's happened through the years and in fashion weeks in general -- it's become a lot more about sponsorships than designers, in some cases. I've always tried to protect the designer's integrity in the shows.
Gen Next has been great for some designers while others fall by the wayside. Some designers who gain critical success can't translate that into commercial success. Why do you think this happens?
It's a confluence of planets and everything has to come together at the right time, there's no real formula. So much of success in this business is timing, it's luck, it's about financing. One of the biggest obstacles in this country with the designers, if you look at the program and who to contact, the designer has their name, their email -- and that's a problem. There's not enough of a business community here that is training people to be the business partners, to work with these designers and help them grow their businesses and nurture them and finance them. There's not a successful designer in the world who hasn't had a good business partner with them.
Here they're all one man, one woman shops. You got to the stalls [in The Source] and maybe mum is there helping write the order. I've written thousands of orders over my ten years here and I can tell you that thousands of things never got delivered or never got made. You never know who's going to follow through, they write it down and you never hear from somebody again. There's a professional code of how to do business that's not being taught here in the schools, and the industry is still very nascent here.
So much of your work has been in New York. When people find out that you've done so much in Indian fashion, especially in Bombay, what's their reaction?
They're just completely gaga and want to come with me! Everybody I know wants to be in India with me. India is enjoying such an extraordinary place in culture right now, it's India's moment and India really needs to seize that moment and get behind these kinds of industries, the creative talents, the accessories, the designers. I could be bringing a busload -- a plane load! -- of people in a nanosecond who want to be here with me and shop with me. Forty percent of my wardrobe is from India! I'm the big ambassador for India. Kallol Datta, who's closing the show, is thrilled -- I sent him a picture a couple weeks ago of me at the White House with Mrs. Obama wearing his outfit. He's just behind himself and I am so proud to do that because I really think that some of these people are really talented and whatever it takes. Everybody is so intrigued -- if people haven't been here they're dying to come. The people who have been here love India and everyone wants to come back. It's a very special place, you either love it or hate it. There's no gray matter. For me it's a place that I fell in love with 11 years ago and that's been very much a part of my life.
This interview has been edited and condensed.
Read more from Marissa Bronfman here.