I meet Lisa Ray at a quaint café in her neighborhood on a steaming hot day in Toronto; she walks in -- makeup-free with green eyes shining -- looking every bit the glamorous star and nothing like her well-earned 40 years. We chat for nearly two hours, and she is full of life from start to finish; animated not only about what her future holds, but also the peripatetic past that has shaped the woman she is today. She fills me in on the wild '90s in Bombay, rife with riots, underground mobsters and a burgeoning Bollywood scene financed by shadowy bigwigs. She waxes eloquent about her love for food -- both Italian and Indian to be precise, which is appropriate, given that she's the host of Top Chef Canada. There is the requisite talk about her struggle with cancer -- which is well-documented in the press, thanks to her uncompromising efforts to shed awareness on multiple myeloma, and, of course, talk of the gratitude that overcoming such a potentially devastating illness instills. Last, but certainly not least, we talk about the new chapter in her life: meeting the man of her dreams and planning a wedding (this October 20th in Napa Valley) that celebrates her connection to India, his connection to Lebanon (his birthplace) and, of course, their passionate connection to each other.
Read on to learn about Ray's journey through film, food, life and love -- and don't miss the hints for what we can expect to see from her next. No one can deny that this is one bright ray of light.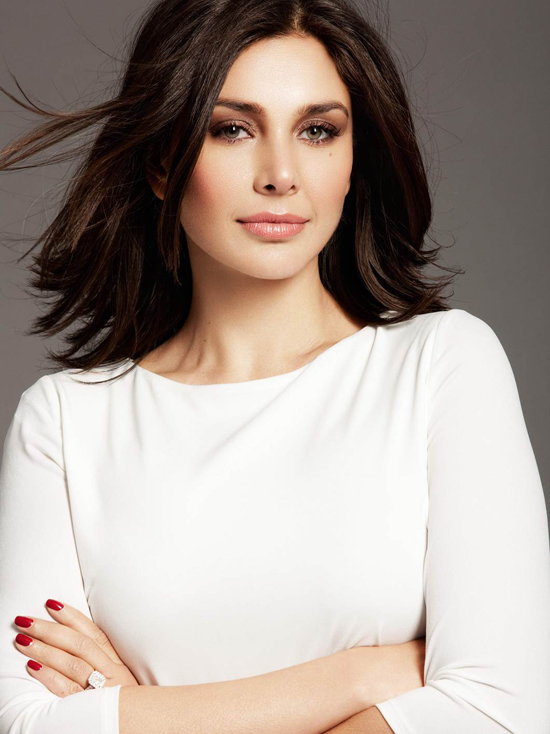 Lisa Ray
Hosting Top Chef Canada
"I love being on this show. It's a combination of everything I love. I am besotted by food, I have been my entire life, [but] as much as I've eaten my way around the world, I can't claim to be a great chef. Food is the most basic thing that nourishes us, and today we're obsessed with food programming!"
Italy Meets India
"I love Konkan food from Kerala, the uppams and curries that you get, which are very different than the Goan curries. I was in Goa [on her last trip to India], and this time I stayed with my friend Wendell [Rodricks, fashion designer]. The irony is, that even though he was measuring me and fitting me for my wedding gown all we did was eat, because that's what you do! The prawn curries are just delectable. There's something about eating it in Goa, in the rains -- because it's seasonal.
"I think now my palate just might be getting more refined. My ideal cuisine would be Italian-meets-Indian: Take the complexity of Indian cuisine, but marry it with the fact that Italian food is really about the ingredients and letting just the products shine through in their natural state. Something quite explosive would come out of it!"
Bombay Vibe
"I just love the vibe [of Bombay], it is my place! I've always had a very deep connection to India. It really hit me this time: 'I have to spend more time here.'
"What I love about where India is right now, is that it has a can-do attitude and that's probably a hallmark of a young society. You could say it's naïve, but everywhere you go, it's never 'Oh, you can't do that,' it's 'You can do whatever you want,' with the assumption that 'Yes, there are going to be problems and we'll deal with it when it happens and we'll overcome.' I love that. I don't know if part of it is the youth infusion -- India is one of the youngest countries in the world right now -- but, that attitude pervades everything and makes it all worth while."
'90s Child
"I lived through the '90s, [I'm a] '90s child! Bombay was going through a bit of an identity crisis. Economic liberalization just started in 1991, but before that, imagine: There were no credit cards, no mortgages -- unless you went to a loan shark. Things like that really do shape society in every way. It was still a protected economy; nothing was easily available. Every time I left, I would call my friends and ask what they wanted me to bring back, or we would go to Dubai to shop. Whereas now, I emailed a few friends asking if they needed anything and they said, 'What do you mean do we need anything? We have everything! Do you need anything?' I lived there for 12 years. Bombay is very much in my blood, I'm a Bombayite.
"When I started doing what I do, there was a handful of us -- a handful of photographers, a handful of models -- it was in its infancy, it wasn't even an industry yet, and look at what it is today. We were quite idealistic, because we felt we were creating something and none of us were in it for the money. Things were not as transactional as they are today in the industry."
The Cool Kids
"When I started out there was a handful of us -- me, Madhu [Sapre], Aish [Aishwarya Rai-Bachchan], Mehr [Mehr Jesia-Rampal] -- we were all contemporaries, all little stars in our own way. We were seen as the cool kids whereas Bollywood was seen as uncool; it was a very different industry.
"Bollywood has really developed an international sensibility in the last five years. I had to beg my director to get my lines the night before, otherwise they would have been given me to the day of. There was no script -- what you call a bound script is a modern invention. Also, it's a known fact that many of the films from the '90s were financed by the underworld; it was seen as something unsavory. You encounter it [the underworld] by association -- if you get the call to perform at a stage show, you go. Bombay has always been a bit of a wild west town -- and still is -- but, it was even more unstructured then.
"[Before,] Bollywood was seen as something as unsavory. Either you were the 'pure-as-driven-snow' heroine, or you were the vamp. I was actually offered the heroine role, but I thought the vamp was having much more fun! Unfortunately, now they've kind of merged in Bollywood."
Archaic Archetypes
"I've heard there's been a backlash [over] the archetypes that they're [Bollywood film Cocktail] presenting. It's the classic triangle and Deepika is the "modern" girl because she drinks, she has sex and she wears short skirts and shows off her fabulous legs. This is very retrograde, because this doesn't really represent what we believe in anymore. Maybe the Bollywood of the '80s and the early '90s, but we thought we had come further than that. They don't do subliminal advertising out there, do they? You get hit over the head!"
Cross-Cultural Wedding Planning
"It's a cross-cultural collaboration! Wendell [Rodricks] was the first person that came to mind, because our ceremony is going to be a real blend and it's happening very organically. You've got elements of India, you've got elements of Lebanon -- because Jason is originally from Lebanon -- meets Napa Valley! Wendell came to mind first because he's a very dear friend, and I knew I would be able to hang out with him for hours -- plotting and planning the dress. He's designed other stuff for me, as well; he designed what I wore on the red carpet at TIFF for Water, it opened at TIFF. And, he knows me and he knows my style. He's got this lovely, clean style. He said, 'Of course, I'd be upset if you didn't ask me.'
"I have two more Indian-inspired outfits, one is from Tarun Tahiliani and one is going to be designed by someone in Bombay. I'm also going to get something whipped up for Jason and my dad by Raghu [designer Raghuvendra Rathore]."
Dropping A (Very Large) Hint
"I was shooting for Oh My Gold and we were in Falaknuma Palace dealing with the jewelry traditions, and the bling so jewelry was top of my mind. I was so blinged-out, you get used to it! We did Diamonds in Delhi daaaahling, and I showed Jason [Dehni, her fiancé] the episode. At some point he got very, very quiet. And I was like 'You don't like it? You can tell me,' and he said, 'No... those diamonds are so big! Do you expect something like that?' Totally pressured, but, of course, he did well!" [She flashes her beautiful, large diamond engagement ring.]
Storytelling
"We are going [to India] in November... I have a couple things brewing. I will share as a little hint that my passion right now really lies in creating content, having a bit more creative control. I love acting, and I will continue doing that, but, I think everyone has a story and sometimes it's just a matter of timing."
Read more from Marissa Bronfman here.