There was a lot of Olympic action in Whistler on Friday even before the 2010 Olympic Opening Ceremony commenced.
The NH qualification round for Ski Jumping was underway in the Whistler Olympic Park mid-morning, an exciting start to an ultimately tragic lead-up to the evening's ceremony. Georgian luger Nodar Kumaritashvili died in Whistler on a training run on the world's fastest luge track, after falling off his sled and being catapulted into a metal stadium support above the exit wall. Having already been on the track 26 times, his 27th run proved to be fatal after coming out of curve 15.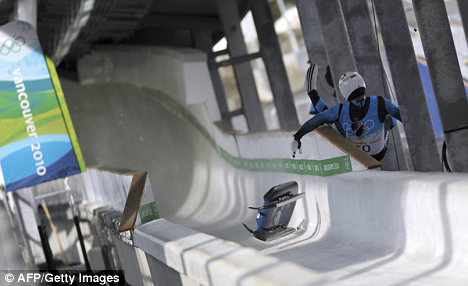 Image courtesy of Getty
There have been many complaints about the incredible speed athletes experience on this particular track, but after having closed it for 24 hours for an investigation, VANOC, IOC and International Luge Federation officials have deemed it safe. Some measures have been implemented since Kumaritashvili's untimely death however, including a controversial lowering of the start position on the track to decrease speed. After an emotional deliberation the Georgian team decided to stay and compete in the 2010 Olympics Games; the rest of the team consists of three alpine skiers, three figure skaters and one luger. In the town centre fans have created a tribute to Kumaritashvili with flowers and candles accompanying a picture of the athlete.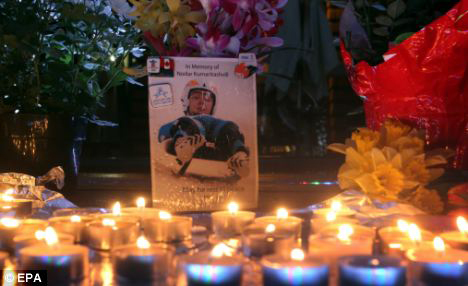 Image courtesy of EPA
While there was certainly a somber mood of morning in Whistler, neither Kumaritashvili's tragic accident nor the drizzle of rain that turned into a downpour could damper the hum of excited anticipation for the 2010 Olympic Opening Ceremony. The main screen was set up in the town square and fans slowly started trickling down the village stroll in the late afternoon, eventually coalescing into a animated sea of people eager to celebrate the start of the Olympics.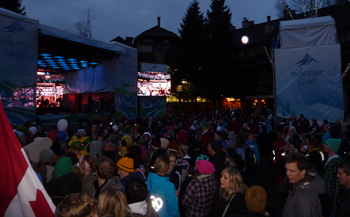 Despite a handful of technical difficulties that cut off the live feed from the opening ceremony in Vancouver a number of times, everyone's spirits were high watching the spectacularly elaborate opening ceremony in Vancouver. The ceremony celebration in Whistler culminated in a visit to the stage by Canadian Olympic athletes who spoke of their excitement at representing Canada in the 2010 Olympic Games.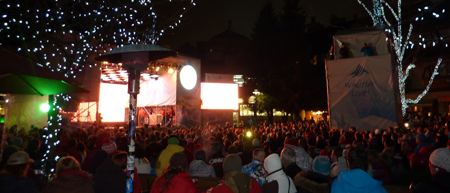 Read about the exciting week I spent in Whistler gearing up for the Olympics and learn more about superstar chef James Walt in my interview with him and our fabulous cooking lesson!
See lots of great pictures from Whistler, B.C. on Flickr.
Get the very latest news as I tweet my way around Whistler by following me on Twitter.