Paco Pena's A Compas (Primal Pulse)
I cannot recall the last time I experienced (for witnessed would be too meager a word) such an incredibly ebullient performance of such vitality and vigor, such precision and beauty, as Paco Pena's A Compas (Primal Pulse).
The show began with Pena softly strumming his guitar on a stage, ensconced in shadows. As if coaxing the light into being with his melodious music, the stage became awash in a warm glow as if the Spanish sun itself had risen to give life to this astonishing performance.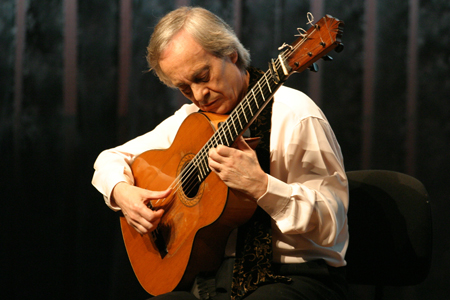 [Paco Pena on the guitar. Photo courtesy of Massey Hall]
A Compas celebrates the enormous range of rhythms fundamental to flamenco and truly communicates a primal pulse through various combinations of singing, music and dancing that had me entranced from the first note to the very last. The harmony achieved in the music was so perfect it seemed celestial, the precision of the dancing so impressive it felt organic.
Paco Pena, Spain's master guitarist, and his troupe of three dancers, one singer, three guitarists and a percussionist, interacted like a family on a stage, so utterly comfortable and attuned to one another's movements that it's no wonder the show was performed perfectly. While every member of the troupe impressed and awed, it was the two male dancers, Angel Munoz and Ramon Martinez, who were especially transcendent. Whether gliding across the stage like angels or stomping furiously like bulls, Munoz and Martinez danced with such precision, stamina and zest I had to constantly restrain myself from jumping out of my seat to applaud, so moved was I by their god-given talent and showmanship.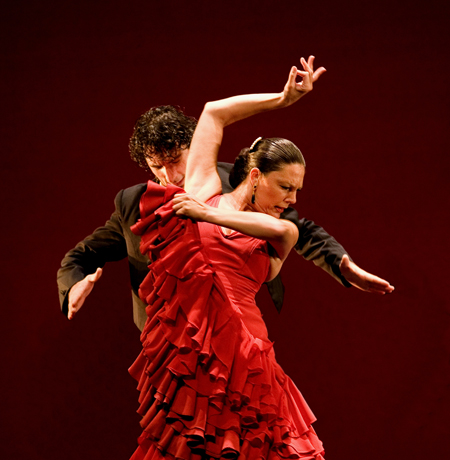 [Paco Pena dancers Angel Munoz and Charo Espino. Photo courtesy of Massey Hall.]
A Compas is a performance of such breathtaking flair and finesse that it has forever changed the way I experience live music and dance and will indefinitely dare successive performances of its kind to match its overwhelmingly impressive celebration of spirit and soul through sound and movement. Follow flamenco's undulating primal pulse and see A Compas for yourself, after all, music and dance this ethereally exquisite won't be tangible for long.
The Afro Cuban All Stars
The Afro Cuban All Stars harkened back to old world Havana with their cool-cat laid back vibe and Cuban cadence at Massey Hall in Toronto on Tuesday, which band leader Juan De Marcos told us is one of the greatest venues he's ever played and a place he loves. Born in 1997 out of a desire to preserve the traditions of early Cuban music and to experiment with new and exciting compilations, The Afro Cuban All Stars represent four generations of Cuba's finest musicians who have been heralded as "an undeniable force in the global revival of Afro-Cuban music."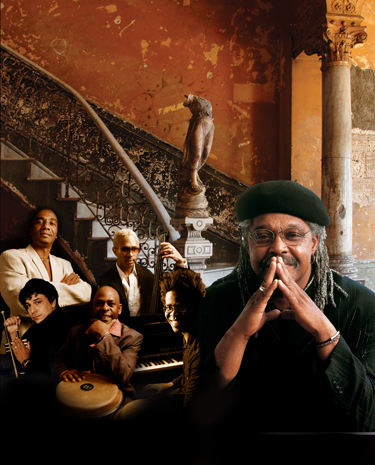 [Afro Cuban All Stars. Photo courtesy of Massey Hall.]
As the band began to play it didn't take long before I felt whisked away to an older time when sensuality came alive in the smoky jazz clubs of Havana. Between songs De Marcos would speak slowly and softly to the audience, sharing morsels of his memories, all the while strolling languidly about the stage or sitting contentedly on the steps leading to the audience. An almost immediate intimacy cast its spell over the room but it was broken not long after it had begun. A sense of musical clarity among the many notes being played was lacking, as rare moments of harmonious finesse regularly gave way to a Cuban cacophony, and it was difficult to hear the singing, drowned out as it was by the band's powerful output of sound. Frankly, it felt more like a rehearsal or jam session than a performance worthy of a large audience.
The most impressive part of the evening came when each band member took the spotlight and performed a solo. Trumpets were blasting, drums were beating and keys were dancing - all with well-deserved aplomb. Each musician had obviously mastered his own instrument but the band failed to master playing together. The stunning solos proved that the potential is there, it's just not fully realized quite yet.
Ultimately I had an enjoyable evening listening to The Afro Cuban All Stars and I know most of the audience did as well, there was a lot of clapping and hip swaying between Massey's seats and a final standing ovation brought the band out for an encore performance. Here's hoping that with a little more practice The Afro Cuban All Stars will have me singing a different tune way down in Havana.