Electric green and yellow lasers cut through the billowing smoke on the runway while the crowd and celebrity guests hushed their clamoring in anticipation for Shivan & Narresh's EQUUS collection to hit the ramp.
Models trotted out, fiercely styled in what is arguably the designers' most glamorous collection yet. Shimmering swimsuits in nude, emerald and black were meant to conjure the slick, shiny surface of a horse's flank, thickly braided detailing and tassels inspired by leather saddlery and whips highlighted their curves. A handful of suits and beachwear in pink and blue were less impactful than those in black and emerald but bore the same stamp of quality in fabric, design and cut.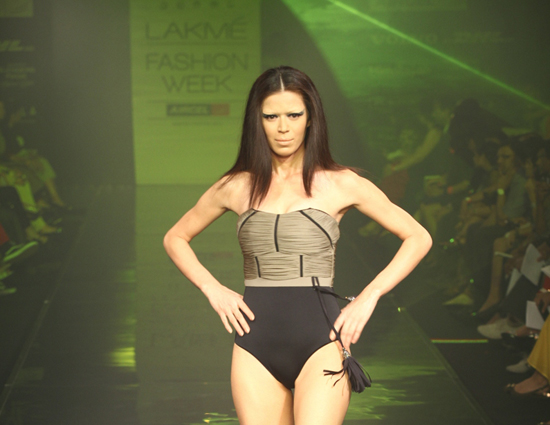 A model wearing the latest Shivan & Narresh swimsuit on the LFW runway
Not long ago Shivan Bhatiya and Narresh Kukreja were mocked and derided for daring to design swimwear in a country that didn't even have a swimwear industry. Today, their label is beloved by fashion insiders, lusted after by stylish young women and may just start a revolution with the bikini sari. They insist that their desire to design swimsuits is less about fashion and more about giving a woman back her confidence -- but make no mistake, these young men have built a brand that epitomizes style and elegance and perhaps with this show, solidified their place in India's fashion firmament.
Read on to find out how they broke into the fashion industry, why they've become famous for the revolutionary bikini sari and what the future holds for this promising young label.
***
What was your inspiration for this collection?
Kukreja: The collection in entitled EQUUS; it takes inspiration from the depiction of horses in the Indian folklore -- the anatomy of a horse, the speed of a horse, the physical attributes of it. We purposefully didn't make EQUUS with a western interpretation because we're very conscious and proud of the fact that we're an Indian swimwear brand.
This was our first formal cruise collection so it had to be more glamorous, more dressed up, which is why the color palette [has] more jewel tones. Swimwear is still the backbone of the collection because that's our bread and butter but the whole soul is very, very dressed up and very formal.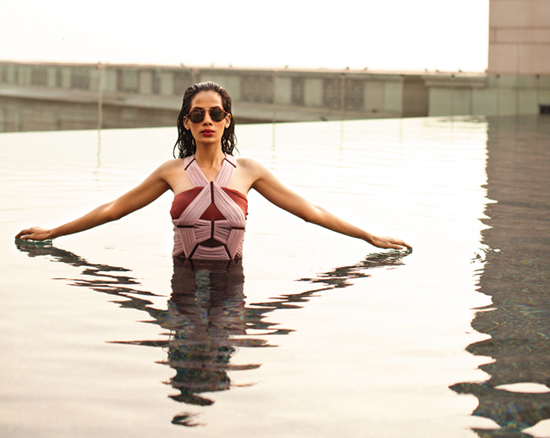 From the EQUUS lookbook
You're now quite famous for the bikini sari, which is really a revolutionary garment. What's the attention been like?
Kukreja:More than being about a fashionable garment, it's the fact that everyone's come back to us saying they feel so happy, they can finally swim or recreate around water, when they haven't been able to for 10 or 15 years. That these women can finally face themselves in the mirror when they wear a swimsuit or a bikini sari? That just makes it feel so much more worthwhile.
The bikini sari came about because we had a woman who was UK size 14 and she said, "I go on a cruise every year and I've always worn salwar kameez and saris. It's not that I cant afford western silhouettes, but I don't know what to wear." Then when she had the bikini sari, we got a call from the cruise. She said, "I cant even tell you, I'm almost in tears, how beautiful I feel. You've made me and you've made my husband fall in love with me again!"
You recently opened your first Bombay store -- how did it go?
Kukreja: When we launched the store, we wanted to keep it very intimate because we're an intimate brand and we wanted to call people who genuinely have been the reason we've been successful. It turned out to be quite nice!
I think the space had a lot to do with that. We wanted a place that makes you feel like you're shopping for a holiday. The place we have is perfect because it's in a residential area, no stores around, it has a small patio outside -- which in Bombay is finding heaven! -- and it's twice the size of our Delhi store, which is so ironic because Delhi has all the space.
How has business been since the opening?
Kukreja:We thought it would be dull because we were opening in a dull business period. June, July and August are very low periods because people are already on their holidays, they've already shopped for them. [But] it surprised us -- we've been able to pay our bills.
Why do you think you had such a great reception?
Kukreja: Nobody was doing swimwear here -- there was such a huge gap!
Bhatiya: When we started, our clients told us, "We were so badly waiting for something like this!" Our retailers were intrigued, they wanted to learn more, they showed the willingness to stock but they weren't sure. So we also changed ourselves, we trained sales staff...
Kukreja: ...changed our ways of approaching the market. We know we can't approach it in a traditional way. There's a lot of learning for us. We thought we'd cater to a younger audience, but we've been very, very pleasantly surprised that it's all 35 and 40-plus women; 80 percent of our business is 35-plus women. When we started to understand that, it made sense. These were the women who had practically stopped swimming. They didn't want to wear the same styles their daughters were wearing. Whatever they bought while traveling abroad didn't fit their Indian body types. What suffered the most was confidence. It's really not been about fashion, at all. It's been about confidence selling and giving them a reason to love themselves.
You've said your Indian upbringing had a lot to do with the maturity and modesty of your garments but they are still very sexy!
Kukreja: They had to be bold, otherwise they wouldn't be modern and it would push women back in their closet again. Thanks to Indians being very comfortable with color -- that really played a very big role. We could put in color blocking, we could then put attention at areas where a woman would want it to be placed and take away attention from areas she felt weren't her best assets.
Indian women tend to have beautiful napes, shoulders -- their hips aren't their biggest strength. So cutting diagonal lines or making sure brighter colors were placed more on the neck -- these were things that started to play a role.
They weren't open to wearing swimwear that was cut a little bit higher, because they were living under the misconception that wearing boy shorts is the best way to hide but in fact it's the worst because it puts more attention there! As you start educating them, they become more open to wearing swimsuits that are cut slightly higher -- not for sexual reasons but purely because it's more logical, it gives them more confidence.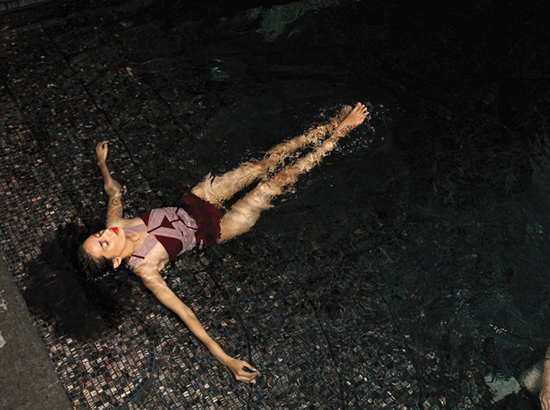 From the EQUUS lookbook
You're retailed online -- on Pernia's Pop-Up Shop, for example. Will you be expanding your online presence in the future?
Kukreja: Yes, absolutely! Very soon we'll be going online on our own. There will be a Shivan and Narresh dot com, the first online swimwear store for India. The idea is to reach out to second- and third-tier towns, from where -- you'd be surprised to know -- we do so much better business than from metropolitan cities! It shocks us.
Bhatiya: They're so thirsty. They want to get the latest.
Kukreja: We have something called the customized swimsuit service. It's a swimsuit workshop, every season in a [different] city, where we go and meet clients personally, for them to understand what swimsuits would best suit their body type. Some of them have never worn a swimsuit before so they really need that intimate session. The sales from those two days match up to the sales one makes in a month's time in a metro city! Places like Nagpur, Raipur, Chandigarh... it's astonishing!
It's obvious that you have a real, emotional connection with your clients.
Kukreja: Once we had a client who was from Bombay but belonged to a very, very conservative family -- they don't even show their face to their elders. She bought three swimsuits for her honeymoon. She was skeptical but she said, "No, I'm a modern woman!" She went to Bora Bora and she called us from there. She said, "You really saved my marriage! I never thought I was that beautiful but the way that my fiancé saw me, he's never looked at me that way. I've been pleasing all my relatives but the one I wanted to please the most has never given me the kind of attention I got on this honeymoon because of your swimsuits." At the end she said, very candidly, "I have to tell you, at the end of my honeymoon, I am your most satisfied customer!"
What are your plans for the future?
Kukreja: Opening more stores. Being an intimate brand, it's a better to have a designated space that's allotted to a product like this where one can very discreetly meet and shop, than to [put it] in a multi-brand store. It's financially intensive but it's a call that we'll have to take, especially in the first five to seven years of brand building. Bangalore, Hyderabad, Chennai... South Bombay is so promising.
This article has been edited and condensed.
Read more from Marissa Bronfman here.