The tony Bloor/Yorkville area of Toronto was alight Wednesday evening as the city's style mavens, business doyens and philanthropic supporters dined and danced at the Canadian Foundation For AIDS Research's (CANFAR) premiere fundraising event, Bloor Street Entertains. A handful of upscale boutiques in the neighborhood - including Holt Renfrew, Cartier and Teatro Verde - held stunning, intimate dinners cooked by the city's hottest chefs. The real icing on the proverbial fashion cake came later at BSE: The Party, held at the Royal Ontario Museum, where dinner guests and party enthusiasts came together to bid on a dizzying array of art, jewelry and vacations while dancing the night away - all in support of HIV/AIDS research.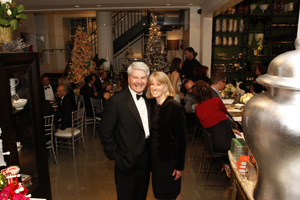 (CANFAR President Jason Stewart and wife Barb Stewart at Teatro Verde)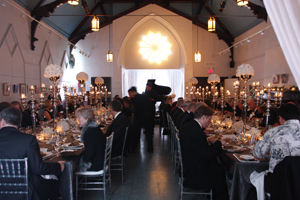 (Diners at Heliconian Hall)
Held only days before World AIDS Day on December 1st, CANFAR worked hard to maintain the link between the glitzy BSE gala and the HIV/AIDS cause, ensuring that the event eschewed the air of apathy that stylish fundraisers often fall pray to. CANFAR"S executive director Kerry Whiteside referred of the evening's dècor, which she said "highlights the doctors and scientists who are the true stars of HIV/AIDS research. Without the support of our attendees, the work of these important stars could not be carried out." Speeches made at the various dinners also stressed the importance of supporting CANFAR, which is the only national organization in Canada dedicated to privately funding HIV/AIDS research and which has raised over $3.4 million dollars through BSE since the event's inception in 1996.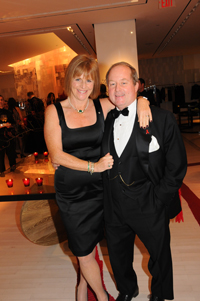 (CANFAR National Spokesperson Valerie Pringle and CANFAR Chair Andy Pringle)
This year BSE was co-chaired by Canadian fashion darlings Joe Mimran of Joe Fresh and Kimberly Newport-Mimran of Pink Tartan, both of whom lent an extra shimmering patina of glamour to the event while being careful to remember it's ultimate purpose. Mimran's support of the cause has intimate ties, he said "being in the creative community here in Toronto - we saw the mid-80s hit us hard. People we worked with, people we were friends with, were affected by HIV/AIDS. It became personal. It has become a world-wide issues and BSE is a part of that."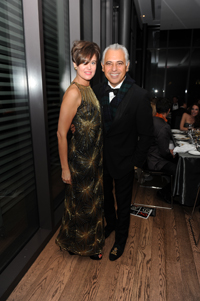 (BSE Co-Chairs Joe Mimran and Kimberley Newport-Mimran)
The 13th annual Bloor Street Entertains gala was a sensational success that had guests dining and dancing in some of the city's most beautiful and luxurious venues. There is no vaccine and no cure for HIV/AIDS but every dollar raised for research represents an invaluable step forward in the fight; BSE is off to a running start.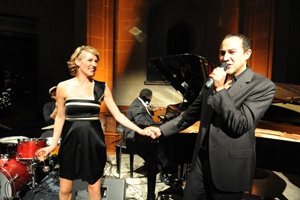 (Jarvis Church sings at The Party)
***
Click here to find out more about CANFAR, Bloor Street Entertains and how you can help in the fight against HIV/AIDS.
All photos courtesy of Tom and Aline Sandler