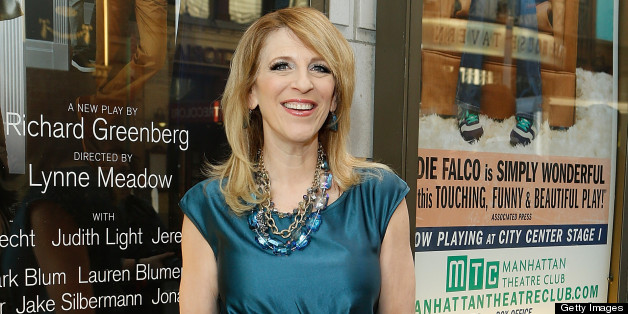 Recently I visited with comedy's lovable "Queen of Mean" and also one of GMHC's heroes, Lisa Lampanelli. Lisa is working on her one-woman show, tentatively titled, Lisa Lampanelli: Skinny Bitch which she hopes to debut on Broadway in 2014. Plus she will be part of CMT's new animated show, Bounty Hunters, starting this summer.
Lisa, it is so good to see you again. We first met in 2010 at the 25th Annual AIDS Walk New York VIP reception. Tell me about your experience participating in the Walk. Why do you feel it is important to participate in the Walk?
I can't even begin to tell you how inspiring the AIDS Walk is. The moment I entered Central Park that morning, there was a buzz and an energy that was contagious. There was good will, love, and dedication all around me -- the feeling was palpable. Everyone who cares about the issue of AIDS awareness should do the walk at least once. It's like nothing I've ever experienced.
A year later, I will never forget that fateful day when you called GMHC, five days after the 26th AIDS Walk New York in 2011. You were performing in Topeka, Kansas, and an unfortunate group was planning to protest your performance because of your support of the LGBT community.
I'll never forget that either!! That group -- which shall remain nameless, lest we give them further publicity -- was planning to protest my show in Topeka because I have some gay fans. So I had a great idea to combat their hate with love. I pledged to donate $1,000 to GMHC for each member of their hate-group who protested my show. I was lucky enough that 44 protesters came out, so I rounded the number up to 50 and I presented a check for $50,000 to GMHC. That is probably my proudest moment, not just as a comic, but as a human being.
It was a brave way to fight homophobia, bigotry and hatred by raising funds for our services benefiting thousands of men, women and families affected by HIV and AIDS. Plus it was a wonderful experience it was to have you actually bring the $50,000 check in late May to GMHC's new home at 446 West 33rd Street. We had just moved in that April.
And again, the feeling I got -- just like at AIDS Walk -- was that of caring, inclusion and love. Your new home is home to so many people with nowhere else to go for support services and even a hot meal. It's a miracle that you all have created right here in the city!
Then in 2012, your generosity took on another level when you became one of the 18 celebrities on NBC's The Celebrity Apprentice. You competed in business-driven tasks each week in order to raise money and awareness for GMHC. We were honored that you chose us as your charity.
When I decided to do The Celebrity Apprentice, there was absolutely no question that I would play the game for GMHC. I am proud to say that I raised $130,000 for GMHC after 14 tough weeks on that show. I like to joke that I took a 15 percent cut -- which, if you watched the show, I truly deserved -- but I didn't. I know you put that money to great use!
Last year was a particularly poignant as GMHC marked its 30 years. It was a time of reflection on the organization's past work while remaining committed to the work ahead. When did you first learn about the HIV/AIDS epidemic?
Shortly after college, I was working in New York City at Rolling Stone magazine. It was in the early '80s, and one of my associates had a boyfriend who died of AIDS. He was devastated, and I started learning more about the disease and people affected by it. Shortly thereafter, my cousin died of AIDS -- he was such a sweet and caring soul -- and that brought my interest and awareness to a whole new level.
What were your initial thoughts or feelings about the epidemic?
At the time, I was very ignorant about the disease. I thought it only happened to gay men, but hey, I was just out of college and, as you know, recent college grads don't know shit. But luckily I kept learning more and more about people affected by HIV and AIDS, and I have never forgotten that it can happen to anyone, and we need to support those people who need it. Thank God for GMHC who does that every single day.
Is there a particular story related to HIV and AIDS that has moved you?
I actually was very moved when I went down to GMHC's new home last year and served meals to some of the folks who regularly rely on GMHC for their daily sustenance. I put on my paper hat and just smiled at folks and dished out meals, and I really felt like part of the solution, even in that small way. It's impossible to not be moved when you look into the eyes of people just doing their best to survive the hand they have been dealt. And it's impossible not to feel fortunate to be in good health and lucky to have been able to help even a little bit.
What do you see are the reasons why the television, film and/or theatre industries are involved in the fight against HIV/AIDS?
Like it or not, celebrities -- whether on TV, in film or in the theatre -- have a voice and a very public one at that. We have the megaphone -- so to speak -- and we know how to get people's attention. Too many people have already lost their lives to HIV and AIDS, and the more celebrities who can bring attention to the issue, the better. Also, a lot of us have had friends, colleagues and relatives who have lost their lives to AIDS, and fighting against the disease keeps those people alive and in our hearts.
If you could send out a message to the general public about HIV and AIDS, what would that message be?
People with HIV and AIDS are nothing to be afraid of. They are people just like every single one of us, and each has a story to tell. These people should be helped, embraced, and not dismissed. We need to open our hearts and our minds to them, and we just may learn we're pretty much all the same.
If you had one wish about the epidemic, what would it be?
Needless to say, I would of course wish it could be over and be a very distant memory. I hope one day that can actually happen.
To register for the 28th annual AIDS Walk New York and/or make a donation, please visit aidswalk.net/newyork or call (212) 807-WALK.