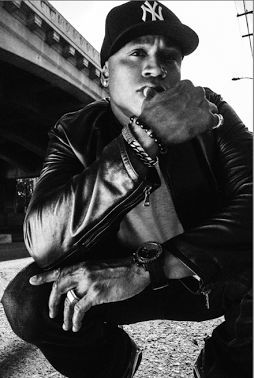 LL Cool J has been defined as a rapper, an actor, and let's face it, an international sex symbol. Besides the occasional lip-licking and topless video, he has offered his audience more variety than the average musical icon.

Raised in Queens, New York, James Todd Smith has deep roots in his community. Since the release of his first album, Radio, Mr. Lady Lover himself has flawlessly delivered thirty years of consistent and relevant music. Engraved in our culture and redeeming his title as the "Greatest of All Time", LL Cool J strives to deliver timeless lyrics intended to be echoed by another generation of fans. Honoring his well-deserved praise, he conveniently used the acronym on his fourteenth album, "G.O.A.T. 2". Amidst adoring fans, school-aged children and high security, my teenage heart throb and I sat in a local Queens sneaker shop discussing his latest projects, new music and celebrated survivorship.
Concentrating on his two new singles, LL mentioned how he wanted to recreate the original tone of old school hip-hop without necessarily sampling jams from the past. The song "Hustler," featuring Mavado, was intended to reintroduce LL to the current hip-hop culture. LL said, "When creating the feel of this album, I wanted to connect with real people and their daily struggles." Rapping about a lavish lifestyle concerns him, and his main priority was not disconnecting from the chronicles of his youth. "I'm Nice" which features famed Wu-Tang member Raekwon, New York's tri-state rappers Murda Mook, Troy Ave and Maino, all who challenged LL to the new age beats and bars. Never accepting failure, LL refers to his musical delivery as "a challenge to embrace the people." "I've met some colorful characters in my life, some were grey, some were even jet black, but for the most part these people paved the foundation to the stories I rap about."
Questioning the obvious, I asked LL if his new album will compromise his successful role on NCIS: Los Angeles. "I love acting!" he exclaimed. "But, I want it to be clear, I would never leave music for TV." Exhale ladies, he has no intentions of ditching his melodic day job! "TV stimulates the artist in me, and I want to give it 110%--just as I do music." No question about it, he enjoys playing cops and robbers, but the real rush is when he walks into a sound booth to lay down a new track.
Currently, LL is focusing on bringing together the hottest musicians in the New York City area, hoping to embrace the current street sound and push it forward. "True hip-hop from the Northeast has been washed out and I want to really revive the essence of old school with today's talented heavy hitters." Balancing his life and taking his time to focus on his career has resulted in several Grammy awards and more accomplishments than mentionable, so it's obvious he will deliver the quality sound we are desperately lacking.
Fans across the board surrender to his charming dimples and are mesmerized by his chiseled pecs, but it's his likable personality and multi-dimensional talents that have fans of all ages line up to support his endeavors. Dare I ask, did you know LL Cool J was a techy? Utilizing the convenience of the internet, LL has developed websites customized for crazed fans and motivated musicians.
Rouse Social allows fans to follow their favorite celebrity on various social media platforms in a single app. No more app hopping!
Boomdizzle Networks "integrates patented collaborative technology with innovative digital marketing to change how music is recorded, distributed, and shared all over the world." Or, as LL explained to me, "Pretend I'm in Los Angeles and you're in New York. We can connect and create music on real time using an Apple or a Windows platform. Genius!
Focusing on the true purpose of his visit to his home town, LL paired up with the media mogul and owner of WorldStarHipHop, Lee "Q" O'Denat, to distribute school supplies to neighborhood families. Together they spent the afternoon speaking with local families, gifting backpacks to children and implanting motivation for the upcoming school year. I had the strongest desire to meet him here rather than at the set of his new video shoot because of my ties to charity and the concept of giving back. With a firm handle on his career, the father of three proudly displays his loyalty to his family and shared a very intimate story with me about his wife's battle with cancer. After our interview, we exchanged some brief words revealing that I also was a cancer survivor. LL Cool J immediately reached for a lollipop necklace which hung around his neck and graciously gave me "A Sweet Touch of Hope." This was my exhale moment. I encourage you to read Mrs. Smith's story to learn more.

Preparing for G.O.A.T.2, I estimate the return of the rugged, lyrical genius who simply needs a camera to spit out memorable verses. Uniting these poetic storytellers was long overdue and songs similar to "I Shot Ya" and "4,3,2,1" are what today's generation can expect. He said it once and I'll say it again... "Don't call it a comeback, he'll be here for years!"