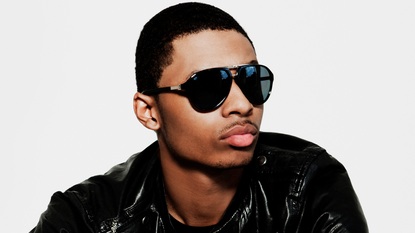 With his eyes to the sky, Deon Young sat in front of me spitting his strategically intertwined rhymes solely by memory. With just a few pauses to collect his thoughts, Young recites almost flawlessly his undocumented mix tape that was recorded directly from his youthful imagination. At only 21, Young has written and recorded countless songs and is ready to deliver his new urban sound to anticipating fans. Through his soulful lyrics, Young introduces us to his storyteller style and shares lovemaking fantasies one note at a time. Hearing Deon recite those tantalizing riffs left me yearning to hear a complete album of a new age sound mixed with classic R & B swag.
Young, born and raised in Harlem, impressed me with his adolescent charm and old soul vibe. We spoke of short and long-term goals and huge ambitions set out by none other than this young gentleman. He shared stories of how he identified himself as a singer as early as the fifth grade by serenading the girls and practicing his freestyle techniques with the fellas. His Casanova charm quickly adjusted once the spotlight was on him and decided to focus on his writing. In junior high school Deon remembers crediting hip hop moguls and early soulful legends for helping define his tone. His great-grandmother would play a vital role introducing him to Lilo Thomas, James Brown and Cheryl Lynn while his cousins were schooling him on lyrical knowledge with 50 Cent, Ghetto boys and gifting him his first taste of Rocafella. He emphasized the moment he first heard Jay Z and R. Kelly's extraordinary collaboration album, Best of Both Worlds. It was at that moment his romantic signature sound was meshed with the raw truth of growing up in the streets of New York.
Aspiring to follow the concrete path to musical stardom, Young started to create a fan base. Utilizing the World Wide Web allowed him to perform chart topping songs conveniently in his kitchen and followers tuned in. Often mistaken for Usher and Trey Songz, Young admits to have sung anywhere and everywhere hoping to get discovered. With over two million views on his YouTube channel, this singing teen was still in high school and launching a career between mid-terms. "My sound was new and fresh, I was rap and blues. My melodies were different then I'd kill it on the vocals." Young finally delivered his first mix "For the Love" and set his mark on his career in his first year of college at BMCC. I asked him how he would explain his sound and he quickly replied, "There is no sound. I don't want a sound. I want it to be me. My music is fashionable to anyone who listens to music." Young shares that he didn't want to be caught up with an era, but rather create timeless music.
With international success of his first mix tape, Young was on his way. Working at Abercrombie & Fitch, managers would have to escort girls out of the store due to Deon's wide-spread popularity. Pouring his earnings into his next mix tape, Young finally landed his first deal with Epic Records. His unique sound mixed with industry executives created "Just Another Love Song" and "Mad Respect." One song after another, Young's creative range highlighted by his natural talent produced sophisticated lyrical classics. "I have a deep appreciation for old school music. I never wanted to be mistaken for the troubled kids on the corner cause unlike them -- I had a plan. Being brought up in Harlem gave me the gift to rationalize right from wrong and excuse myself from difficult situations." Making a good point, this youthful entrepreneur said "The whole idea of being guilty by association led me to where I am today. I focused on my music and made sure I didn't drift from my original blueprint."
Consistent throughout our interview, Young would stop and start to hum. A young genius in the making, he would laugh off that his mind is always drifting into new sounds, lines, rhymes and would take a moment to acknowledge it. His plan for music is almost minuscule compared with his overall vision of success. Off the topic of music, Young has prepared a complete overview of his career shadowing Sean "Diddy" Combs total takeover approach. "I want Diddy control. I want my creative spin on Pop, Rap, Hip Hop and all genres combined. I admire that type of hustle." Not even flinching when talking about his future clothing line, musical career, video and production projects, Deon made it clear that he is aiming to be the "Diddy of his generation". Now signed to Alpine music Group, Young is set to release ten fresh tracks on his latest mix tape "For The Hate." At the age of 21, most young adults would be finalizing college graduations or submitting crisp resumes hoping to land their big break. Young on the other hand in sitting head of the table accepting offers. Demanding attention from old and new music heads, Young has finally surfaced with the innovative sound of which we have been deprived. Young's flawless rhymes blended with thumping crowd pleasers guarantees a new baby-making era is indeed on the books for this charming rhythm and blues maestro!
Get ready to take a journey.

Follow Deon on Twitter become a fan on Facebook and on Instagram.
To watch Deon's music videos and Blogs, subscribe to his YouTube page.
For more information and to stay up to date with Deon, please log on to www.deonforever.com