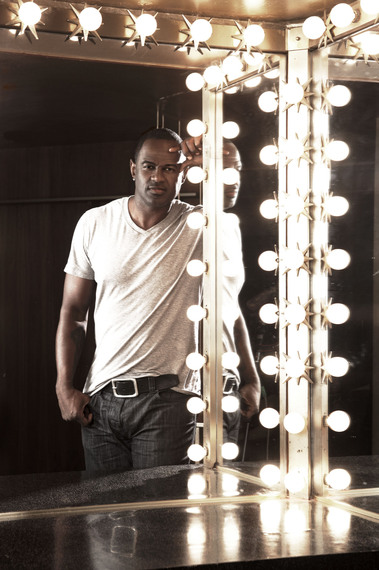 A quick thrust of legendary singer Brian McKnight's hips had concert goers jumping out of their seats suddenly sending them into pure fan-demonium. During a recent concert, I was blown away with the response once Brian took the stage... the man was sizzling. With over twenty years in the music industry mending broken hearts, drying tears and sealing marital vows in addition to charming dedicated fans with his signature sound he continues to deliver. Releasing new albums, intimate concerts and now launching his interactive site separates the R&B vocalist from today's one hit wonders. My recent interview with the charismatic singer revealed lyrical answers, the harmonious relationship with his sons and exciting news for loyal supporters.
I remember the first time I saw Brian on TV... he stood behind the snow dusted park bench as Martin kneeled beside Gina and proposed. Epic moment not only for the primetime comedian but for the career of the twenty five year old singer who had successfully released his self title album a couple of years prior. Song after song from his follow up album, "I Remember You" he effortlessly seduced and lured you in with his clever lyrics. Through his songs we developed a personal relationship with him as he spoke to us through his music. He recently told me during our interview that people always want to know what's going on in his life, his response was "If you want to know what I'm trying to say... Listen to the song; there is a meaning in there somewhere. " Closely listening we note that he's utterly attentive and ready for affection but pushing the obvious theme of "LOVE" to the side he is much more than just a voice. He delivers emotional support, poetic melodies that ease a moment and inspire genuine lifelong memories.
A nudge to his 1997 album, solely for blowing up the charts with the obvious summer single "Anytime", defined his career in a mere four minute song. Those who associate Brian for this song should consider it an appetizer to a succulent library of lovemaking classics. Throughout the concert Brian combined fan favorites with new music and wowed the audience with his striking smile. His smooth strides carried him back and forth instantly creating a cell phone paparazzi frenzy, very different compared to my first concert. Screaming fans bopped to his four piece band while flames lit up the stage. A concert experience strategically organized for loyal fans to enjoy; teasing us with a single chord or key of our favorite songs. No mistaking the energy electrified rooftops when "The only one for me" finally surrendered to the desperate cries of those in the balcony.
Highlight of my evening, two words: "Crazy Love". Too bad this performance was cut short...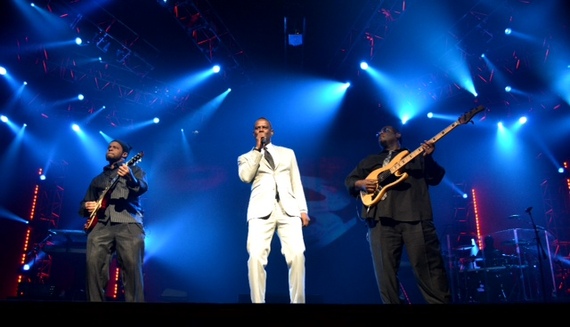 Like he says, "I'm not in the record business; I'm in the touring business." I saw this first hand when girls chatted of an overdue concert and witnessed the couple to my left googling when he'll return. Bravo!
Growing up with his voice in my ear I immediately had to comment on the new sound of his "More than words" album. Shifting to an 80's techno inspired sound, Brian stated, "I had to bring back that nostalgic feeling I had when I first started creating music; that was coincidentally in the 80's during high school. I think it would be foolish to try and do what everyone is doing today." Comparing his grown and sexy sound to today's raunchy lyrical mess the smooth talking lyricist simply commented, "Every generation has its music. When I ask people what was the hit of last year... no one can tell me. "With a bat of an eye I couldn't agree more. Legendary status is not based solely on album sales or selling your soul to a label. "I do what I want to do" playfully mentioning his distinct sound "Fans still want to come out to see me and sing my songs louder than I sing them. " Guilty as charged.
Digging a bit deeper we scratched the surface on his idols, those such as Michael Jackson, Stevie Wonder and Steely Dan. Bringing back the initial quality of music that first encouraged him allowed Brian to step out of media assigned lanes and tap into a new market. Quieting social media, press and naysayers helped expose the natural jokester after releasing a clever sexual parody written simply as comedic relief. Hoping to banish the act of compartmentalizing an artist he took a risk and succeeded in raising the bar for media acceptance and diversity. Crediting his new outlook towards the industry, Brian has notably taken a step back and allowed his creative offerings to lead his path. "I took everything way too serious when I started never realizing the journey that was in store for me. Now I sit back and enjoy the ride."
As a cookie cutter journalist I could have told you about his holiday movie casting him alongside Dolly Parton or the fact that he prefers boxers over briefs but seriously, who cares. The depth of his impact to new artist is what matters. Today's music has clearly cut out talent and replaced it with sales and awards... I say to that, good for you but I have yet to download poor quality music and refuse too. My gift to up and coming musicians is genuine advice from a living legend himself:
"Do you want to be a star or do you want a career? "
Laughing his way through our interview I enjoyed the friendly exchange of opinions and valued his thoughts but mostly respect his career as a successful R&B artist. Honing in on his craft, paying attention to details and creating quality music will keep us consistently entertained and engaged. The retweets, meet & greets and obvious interactions secures a healthy fan base and declares his icon status. Rolling out the Brian McKnight 360 Interactive page now allows fans to follow him as he creates and shares new music, videos and releases exclusive songs from the archive. Those with VIP status will benefit from concert interactions and personal Skype calls aside from the chance to win an all expense paid trip to Los Angeles and an opportunity to hang out with him.
Apart from the touring, studio and comedic runs Brian created a foolproof method of keeping the McKnight name relevant in headlines. Partnering up with his sons and creating his own label, Trif3cta was the most obvious next move. Joining his incredibly talented sons, Brian Jr. & Niko, the McKnight clan is set to release music consistently while promoting the albums already in rotation. Let's see if I can land a future studio tour for my next article providing fans with an insight look to his creative process.
While expressing my obvious admiration I managed to giggle my way past how much he means to me and vaguely skipped over a few details about my battle with cancer. The truth is I spent more nights listening to his albums on repeat than I'd care to admit. Finding comfort in him was my escape and I used him to manipulate my way through my battles. Although failing to meet him during my treatment, I managed to eventually spend an hour picking apart his brain and the honor of stealing an intimate moment with him after his recent concert. The little girl who once denied failed relationships, medically suffered and who survived all that life had dealt now had the opportunity to listen to him and replace all those negative memories with those few moments. I sincerely thank you for changing my perspective on life and eventually serenading me when I finally marry my Mr. Forever.
Follow Brian McKnight on social media:
Website HTTP://www.MCKNIGHT360.COM
Facebook: Facebook.com/BrianMcKnight
Twitter: Twitter.com/@ItsBMcKnight
YouTube: http://www.youtube.com/bmcknight23
Instagram: BrianMcKnight23