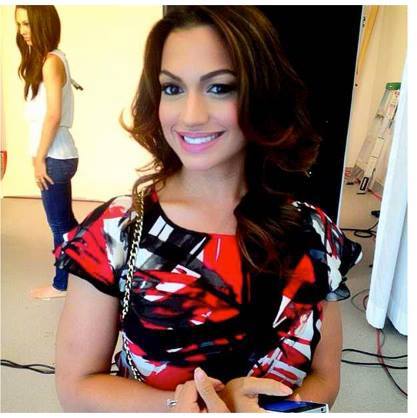 Little girls across the country watch their moms apply tinted creams, shimmered powders and glossy lips leading them to experiment with liners and rouges. I personally relate the scent of perfumes and blush to my morning ritual as a kid when mami would primp for work before scooting me off for school. Scents and shades leave a mark that are undeniably the most impressionable quality in a woman and overlooked aspect by others. Beauty products are a big deal for the average woman and depended upon as a daily necessity, not to mention budgeted in between our morning cafesito and monthly magazine subscription. Considering herself a third generation beauty enthusiast, Milly Almodovar was destined to perfect the art courtesy of cosmetics. I had the ultimate pleasure of interviewing this inspiring Latina and picked apart her journey as the beauty editor of Cosmopolitan for Latinas and how she balances her role as mom.
Whether having a lunch date with long- time friend, singer Adrienne Bailon or sitting in a business meeting with Cosmopolitan for Latinas' Editor-in-Chief Michelle Herrera Mulligan, you can expect to find Milly beautified and ultra glam. Simply by following her on social media makes me feel almost obligated to swipe on a layer of mascara and curious about masking my hair in coconut oil. Her signature smile flashes on the page of Cosmo for Latinas' beauty column and every so often on her popular "Beauty Logic Blog" where she is often paired with chic cosmetics. With a celebrity- studded Instagram, blooming career and happy household, I asked Milly, "How do you do it all and stay focused?" Ladies, I advise you to take notes!
During our midday interview, we sat amongst Hearst employees who were lunching and lost in friendly conversations. As our casual interview continued I asked the Dominican beauty where her tenacious personality stemmed from and she humbly replied, "I credit my parents. My father worked, went to school at night and graduated Cum Laude all while being the most amazing parent ever. My mother, a cancer survivor showed me that anything is possible, as long as you believe in yourself." While on maternity leave, the former FOX 5 employee heard the new Cosmo for Latinas buzz. Editor-in-Chief Michelle Herrera Mulligan needed Milly, the new mommy who had been blogging about products for seven years and had thousands of followers of her own, on her Cosmo team. Initially, Milly had no interest in a full- time position but filled the void by connecting popular beauty products to eager Latinas. Targeting young and fresh- faced women, Milly began to contribute to various sections of the new Hearst publicaton and took it upon herself to make her mark. Exceeding their expectations, this tenured beauty blogger had her hand everywhere. Remembering a specific mom segment , she mentioned how she didn't care if there was a boundary...she jumped into everything. "I made a name for myself by simply participating. I could have stuck to beauty but instead I went outside the box and got involved. The best way to advance and get noticed is to jump right in and offer to help." Securing notable names for the magazine was also helpful, "I managed to get Victor Cruz in an issue, top beauty distributers and even Adrienne [Bailon]. We love her here!"
Thinking back to this interview, I remember thinking how such a distinctively designed building could accommodate all of our favorite publications and how Latinas are now part of the populace with a magazine designed just for us. The Latina market has vastly increased in content thanks to the celebrity presence of such bellesas like J. Lo, Michelle Rodriguez, Sofia Vergara, Salma Hayek and all the sultry mujeras that grace our screens. Since successfully landing exclusive features with top competitors, it's only natural that someone would create a magazine completely geared towards our eclectic heritage and feature products concentrated on our diverse needs, fashion in our modish taste and recipes including our signature sofrito secrets. Following our interview, I rushed over to the Waldorf Astoria to join hundreds of fellow bloggers at Latism's annual NY conference which was already in full swing. There, Cosmo for Latinas' Michelle Herrera Mulligan spoke about balancing motherhood, a career and battling society's portrayal of our new work ethic in comparison to what our familia thinks we should be doing. A battle I live daily and struggle with more than ever. I had just covered the same topic with Milly who expressed how she's able to manage her pressing profession, relationship and dedicating quality time with her family. "It's rough! Finding the balance is crucial to keeping your sanity. You have to figure out how to prioritize your time." Touching the subject of kids she says, "Fortunately my family supports me and helps a lot. Generally all Latinos want to watch your kids! Find a tia, tio, abuela or amiga! Someone will be happy to spend a few hours with your kid while you're on your grind." She insists that you not make excuses and figure out a way to 1. Stay educated and 2. Stay motivated. "Education is key. A high school diploma is not enough anymore. If finances are an issue...research opportunities for scholarships." Latinas, did you know there are programs, grants & scholarships specifically for us? Google it! "You have to really want it to actually make it work!"
As I continue to secretly pick at her brain for new and fresh ways to advance my career, I ask for advice keeping the everyday hustler in mind. In summary, here are Milly's 5 key pointers for those interested in a successful career in any profession!
Network
Create a Vision Board
Business Cards
Blog
Be Nice
It's that Simple. She stressed the power of networking tremendously. "In order to be relevant you have to exist. Introduce yourself. Introduce your business. Let people know how they will benefit from what you can offer." Secondly keep yourself organized and focused. "I found that when I collected my ideas and put them all in one place I was able to stay on track." The key to her full time chaos is managing her priorities. "I've had five vision boards and as I completed a goal I knew exactly what was next." Her goal to become the next Oprah is a high priority and by declaring it she expects to reach this goal while pursuing her career at Cosmo. "Cosmo will go with me; we'll do big things together!" Her fearless attitude is exactly what will lead her to her ultimate goals. As far as blogging, if you're not a writer or into social media, you're excused. The rest of us, blogging is your resume. Having an established blog is a way to voice your thoughts, express your interest and an opportunity to showcase your brand. Regardless if you're into cooking, fashion, beauty or health... whatever you're into, start a blog. People who are interested in that same topic will find you. This goes hand in hand with networking and business cards. Investing in YOU will help guide you in the right direction. Next she urges you to create a business card. "It does not matter what business you are in, make a tangible card that people can take with them." Soliciting your service is okay as long as you do it in good taste. And finally, be nice. Whether you are an intern, custodian or CEO, mind your manners. People flock to pleasant people. "Kindness will get you far! Every single person you meet please be sure to appreciate, respect and stay humble." Opportunities come from everywhere and a rude disposition will hurt you in the most unlikely place.
As we finalized our interview I asked Milly what more can we expect from her. Without hesitation she told me that she is going to start focusing more on her blog. Her emerging career at Cosmo has introduced her impressive advice to many ladies and continues to influence their daily beauty regimens. You can also catch her on popular morning shows speaking about trending beauty products. Summing up our hour she shared her final bit of advice with up and coming Latinas, "Stop limiting yourself. Change your mindset and ask yourself "How can I" rather than saying "I can't." She's noticed more and more woman of color shy away from professional opportunities due to lack of confidence and the underlying message that older generations engraved in them. Feelings of not being good enough have to be replaced and instead feel proud of our ethnicity. "We are in fact good enough, Milly emphasized. Latinos are what's up right now and society is finally acknowledging our passion, hunger and drive. Cosmopolitan has coined the Fun Fearless phrase to help represent who we are...I agree. We have become a main stream culture and have more to offer than just a pretty face and cute smile. As the Cosmo for Latinas hype fills newsstands and tablets across the country, we look forward to Milly's advice column in the issues to come -- there will be five next year.
Want more Milly? Follow her:
Blog: www.beautylogicblog.com
Twitter: @beautylogicblog
Instagram: @beautylogicblog
Cosmopolitan for Latinas: www.cosmopolitan.com/cosmo-latina/belleza-blog/meet-milly