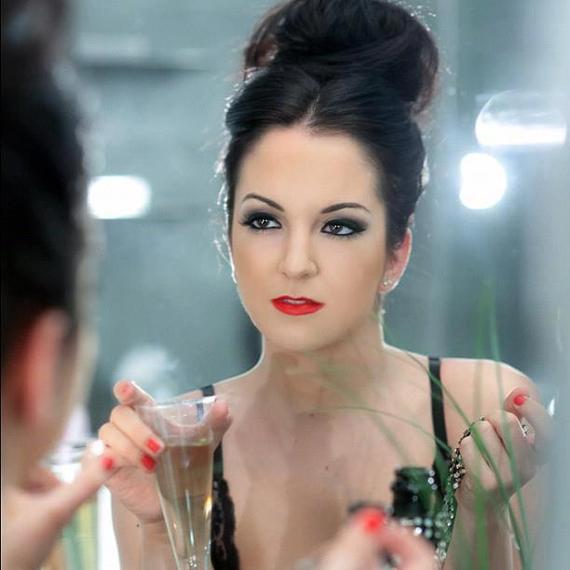 One of the greatest mood setters during the holidays is the traditional tunes played repeatedly on station airwaves. There is no escaping the nostalgia one feels when "Rudolph" is unleashed, or the sound of "Jingle Bells" chimes throughout department stores; but what if for one second we replace the familiar with Sariah's: "Holiday Heart"? Before retiring your festive albums, do yourself a favor and add this gem to your collection with a note: "PLAY ME CHRISTMAS MORNING!" I'd like for you to consider this an early gift from me, granted the discovery of her angelic voice comes to you post Christmas morning.
Sariah, nicknamed "Queen of Hearts," could not find another name more appropriate. Seconds into our interview, I was eager to hear more about her holiday project, and about her successful vocal career. Raised in Boston, Sariah was born to shine. Her earliest memories of dancing and singing flooded her as she mentioned her musical childhood:
"I completely bypassed walking! As a toddler I transitioned from scooting to dancing."
Creatively taking control of her career, the young princess began writing lyrics in 8th grade. Recording her first demo at the age of sixteen separated this diva from the average junior high scholar. And performing the legendary Etta James song, "At Last," mimicking the quirky Christina Aguilera's "Come On Over," belting Toni Braxton's billboard success "Unbreak My Heart," were a few of Sariah's first samples. During high school, our soft-spoken songstress was introduced to the hip hop and pop genre, and immediately changed directions.
Shifting gears after college, she packed her fitted crown and parked her royal carriage in front of Marymount Manhattan College. Instantly proclaiming success, she stated, "I knew I had no other choice, there was never another option. I was going to make it!" Solo in the city, motivation kept her on track and ultimately led her to new opportunities. The New York experience captivated the young star, and introduced her to all types of industry people. An artist development boot camp finally placed her face to face with Steven Beer. Creating possibilities and teaching her important business matters helped mold Sariah into the full package. "He pushed me to be an independent artist. I am incredibly thankful to him for helping shine a light on my career."
Pushing away from her latest album, Sariah has an impressive resume leading up to her 2014 calendar. With her loyal fans following her on all social media outlets, she also is blessed with huge support in the gay community. All fans tend to gravitate towards her infectious smile and upbeat personality. Appearing in popular N.Y.C. off Broadway and cabaret shows, web series and recording her latest album keeps Sariah busy, but never distracts her from growing. Defeating industry obstacles have created self discipline, priceless for those interested in collaborating. With a successful album on iTunes, she tells me more about the recording process. When approached with the Christmas project, Sariah was thrilled and jumped at the opportunity, "With just three months to record, I created an inviting atmosphere in a California studio, mentally preparing myself and the band for what was yet to come." Hanging ornaments on instruments set the mood in mid-august, and supported a flawless holiday album for us to enjoy. "My team, J2 Productions, made magic happen and helped deliver a perfect mix in this album... Not to mention, we were on a crunch!"
The most impressive quality throughout our intimate meeting was watching her navigate temptations. Amongst the usual social scene, the Queen meticulously made sure to take care of herself separating food temptations. "Self discipline, dedication and motivation never stop. My image is my brand, my health is my talent, and my body is my job. I eat right and fuel my body with what will help me succeed."
Focusing on what she wants, Sariah never waits -- she goes and gets it. Tenacity, her strongest quality, is lacking in the industry, and highly respected by those hungry to succeed. Another notable quality is her loyalty to those interested in pursuing work with her; she offers direct to the source attention and 100 percent accessibility. Priding herself for overcoming disappointing imposters, Sariah has used this to her career advantage. Building her character in the industry and implementing constructive criticism advances her and guarantees no one will be misleading this royal highness. As for 2014, besides performing and creating new music, we can assume that you will be listening to "Holiday Heart" on repeat to escape the mind-numbing overuse of our favorites, while sipping on hot cocoa. Instead, look forward to the addition of new music and fun usage of classic tunes with a royal twist.
Want more Sariah? Follow her on:
-SariahMusicNow.com
-Facebook
-Instagram: SariahMusicNow
-SoundCloud
-Twitter
-YouTube