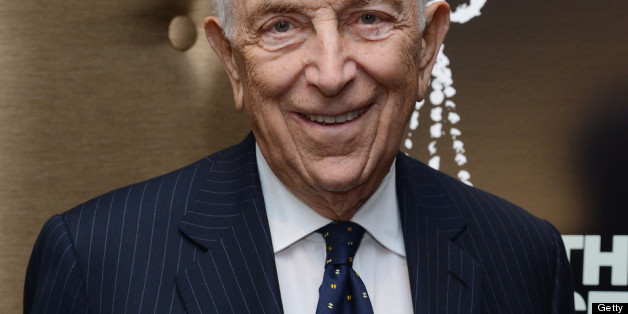 I have only worked for three office holders in my professional career, and while some may say that is three too many, it was during my time serving Sen. Frank Lautenberg that I learned three important lessons about cutting through today's disheartening cynicism and dysfunction in Washington.
As a young staffer, I learned quickly that there are two types of politicians in Washington: show ponies and work horses; those that seek the limelight and those that capture the opportunity to make real change. Frank Lautenberg, scrappy and tenacious as he was, was always ready and unafraid to take on big tobacco companies, special interests, and party bosses to make good on his commitment to the people of New Jersey. He had a unique ability to focus his attention on issues that average Americans care about but that often go unnoticed publically. Both his supporters and opponents would agree, when it came to issues and debates that mattered, you wanted Frank Lautenberg in your corner of the ring for the fight.
With fortitude and strength, he always looked beyond the gaze of the cameras and popular talking points to speak to the concerns of the average working family that he cherished and championed. While a staunch progressive, the Senator was never above bipartisan solutions. Examples include his work on the landmark 1997 Taxpayer Relief Act, the 1997 Domestic Violence Offender Gun Ban, and most recently his bipartisan efforts to reform chemical safety laws in the United States. Quite simply, Frank Lautenberg was a legislative work horse -- able, ready and willing to charge ahead on behalf of New Jersey.
Safe drinking water, eliminating smoking on commercial aviation, vibrant parks and beaches, public works and transportation, education, marriage equality, and advocating for the nation's veterans were just a few issues that he fought for and stood behind in his nearly three decades of service in the United States Senate, all with an ardent fervor that only a kid from Paterson, N.J. could muster. One of the many budget cuts proposed during the recent recession would have drastically impacted early childhood and higher education funding, which he vehemently opposed. It was over takeout during a late-night vote that the Senator imparted on me yet another piece of wisdom he possessed: Invest in people. He likened the education funding scenario to his time as ADP's CEO during a similar economic downturn.
Senator Lautenberg explained the divergent paths he was faced with as a result of the slowing economy, freeze re-investments back into the company or recognize the opportunity to acquire some of the market's top talent and take a strategic risk. The Senator chose the latter and by investing in human capital and more efficient technology, ADP was able to not only survive the times, but thrive despite them. Why? Because Frank Lautenberg understood the value of a good investment and he knew, just like he did when he was CEO of ADP, that investing in people, especially educating the nation's youth, our hope for a better tomorrow, would pay decisive dividends in return.
I never viewed Frank Lautenberg as my "boss." I viewed him more as the grandfather you admired, for his patriotism in World War II, for his stories, for his courage to fight for the same opportunities that allowed him to fight a war, go to Columbia University on the GI Bill, grow a successful business with two childhood friends, and ultimately return the favor in service to the United States Senate. He required a lot from his staff in both time and commitment. Long hours, short-notice rides to the airport or train station, missed time with family and friends. What he believed about hard work and sacrifice, however, left an indelible impression upon me. He did not believe in handouts and he did not believe in taking shortcuts or shirking one's responsibility. He believed that opportunity belonged to those who worked hard and sacrificed -- that was the only way to get ahead, that was how he got ahead. Frank Lautenberg was the toughest man I ever worked for, and he supported his staff unconditionally and with compassion and generosity. Even during the senator's battle with cancer, I remember, every morning, seeing the determination of a man filled with grit, moxie, and an unquenched thirst to achieve more for the people of New Jersey.
Frank Lautenberg, always true to himself, his values, and New Jersey, possessed that trait we so rarely see or hear about in Washington today. He had a degree of integrity that was a trademark of the Greatest Generation. What I learned from Frank Lautenberg and what I will always carry with me is the importance of never forgetting where you come from and who you are fighting for. Essentially, never forget your roots and where they lay. During a particularly heated debate for reelection against a distinguished opponent that was a retired general, Rhodes Scholar, and former Heisman Trophy winner, the Senator, without hesitation, in typical Lautenberg speak, reminded his opponent that "I might not be a Rhodes Scholar, but I am a scholar of New Jersey's roads."
The son of a factory worker, the last World War II veteran in Congress, a business pioneer, titan of the United States Senate, advocate for New Jersey, and champion of the middle class, Senator Frank R. Lautenberg has left behind a remarkable legacy of progress. One of the last things I remember Senator Lautenberg saying at this year's New Jersey Chamber of Commerce gathering in Washington, D.C. encapsulates both his optimism and indeed the very spirit of the state he was proud to represent -- "In New Jersey, when the going gets tough, the tough get tougher."