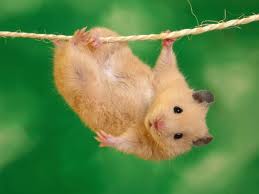 Dubinsky Shoestring Mouse Circus star, Maurice
Image courtesy of www.lolpark.com
PARSONS, W. Va. - If someone says he runs a business on a shoestring, he means with very little money. But Larry Dubinsky takes the expression one step further -- his entire business is centered around an actual shoestring. "It's called The Dubinsky Shoestring Mouse Circus," explained Dubinsky. "The only circus in the world featuring trained mice doing astounding tricks with shoestrings. I've trained them to jump rope, make and twirl lariats, even walk the tight rope."
Dubinsky got the idea while his career as a research scientist was winding down. "I wanted to start my own business, something I could run on a shoestring. I'd always enjoyed working with our laboratory test mice. They were so smart, they could do anything. So I wondered if there was something I could do, using mice, on a shoestring budget. Mice. Shoestring. Mice. Shoestring. Then it hit me. Mice could do anything with, on, or to a showstring -- tricks, stunts, games, you name it."
Dubinsky took on a few investment partners, hired a staff, and before long, he was deep into rehearsals for a national tour. "The key is to have a lot of large projection screens so everyone in the audience has a clear view of the astounding stunts. And, of course, we do a booming business with our concession stand, offering t-shirts, videos, stuffed animals, and our biggest seller -- string cheese. I'm so glad I chose to do this idea rather than my 2nd choice one, which was running a business into the ground."