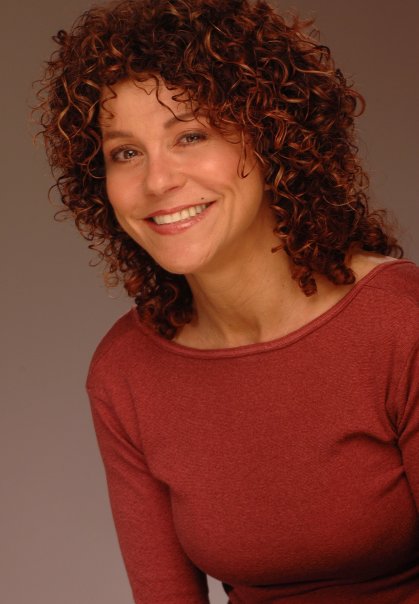 Lauri Fraser, creator and co-host of I Love a Good Story
Photo: Lauri Fraser
Courtesy of: Lauri Fraser
Surrender, Los Angeles! The storytelling/spoken word movement has invaded and taken over the city, much as stand-up comedy clubs proliferated during the eighties and nineties. Dozens of clubs, theaters, and coffee houses on any given night now feature actors, comedians, writers, and civilians from all age ranges, ethnicities and walks of life entertaining live audiences with true, funny, heartfelt stories about their lives. And despite the plethora of entertainment choices, audiences can't seem to get enough of these live storytelling events. Perhaps it's a reaction against all the technology and a desire to get back to our basic telling stories around the campfire or our parents reading us a bedtime story. Don't show up in your pajamas, though. You'll no doubt be singled out.
One of the best of these shows, I Love a Good Story, is both a live show and, after it is recorded, a podcast. It also includes a musical act along with the storytellers. I sat down with its producer, Lauri Fraser, for the inside scoop. Lauri is also an acclaimed voice-over actress whose talents are often on display during these shows, when she uses a plethora of voices to bring to life original commercial parodies. Note: Neither of us was in our pajamas.
When and why did you start I Love a Good Story (ILAGS)?
About seven and a half years ago. I was telling stories at the Story Salon run by Beverly Mickens in the Valley and I lived in Santa Monica and it was a long way to drive, especially since I had Annie, my Labrador, and she was getting older and I'd drag her along with me, and I thought - hey, why don't I do this at MY end of the world! And maybe I'll add some music. So I did.
What do you most love about doing the show?
It's a story party, and people come, and we get to hear stories that move us emotionally, or that we identify with (which, on a good day, feeds the emotions), and then we get to sit back satisfied by it all... or not, but either way, we have fun. Least? Trying to get a full house.
What has surprised you most about doing the show?
That it's been going on for seven and a half years and people keep showing up!
Why did you add the podcast component?
Originally, I wanted everyone to have access to great stories. I wanted people to be able to connect even if they were shut-ins, or afraid to go out. They could click on and feel a sense of connecting to someone out there. A sense of not feeling so alone. Or maybe that was ME, projecting. Now I just am glad that the world gets to listen in if they want to and that the storytellers are able to have their friends and family hear them from wherever they are.
Any future plans for the show?
You betcha! I just haven't thought of them yet. Well that's not true. I wanted to bring in an international component and Skype a storyteller from afar, but the Skype thing is not that reliable yet. Maybe we haven't met the future plans yet. I'm open.
Why a storytelling show rather than one focused on acting, music, dance, etc?
I like telling stories, I like hearing them, and evidently I'm not alone.
Who are your role models in the entertainment world?
Lily Tomlin, Whoopi Goldberg, Tracy Ullman, the woman who directed Zero Dark Thirty -- Kathryn Bigelow, Oprah Winfrey, and the mimes, Shields and Yarnell.
Can anyone perform there? What's the process for getting on the show?
Go to the website to see the guidelines for submissions, and submit something! Or have someone I know see you at a show and recommend you. THEN go to the website, check it out and submit something.
Do you have a favorite of all the stories you've told?
I suppose it would be Sauce (about my ex-husband and I making baked ziti to feed the fireman during the Topanga Malibu fire), and a recent one about my mom and dad.
Do you have a favorite story from someone else?
Wow. There have been so many good stories told! Okay. One would be from Jay Leggett called Tomahawk Time, about his parents in Wisconsin. John Barrymore told one about sneaking into the graveyard with his father to get his grandfather out and put him on a plane to carry out his wishes to be buried in his hometown. That was pretty exciting. James Judd told one called The Nudies that just cracked me up.
What made you add live music to the show?
I LOVE live music and it adds a wonderful dimension to the show. Also the podcast gives the musicians a chance to be heard all over the world! I love that!
Some story shows have themes. Why did you choose not to have one?
I didn't really choose NOT to have one, I just went with the flow, and most of the time a theme emerges organically. It's kind of cool. It just happens.
What qualities make a great ILAGS story?
Vulnerability, and usually honesty. The truth is pretty darn valuable when it comes to stories because usually the storyteller goes through a change of some sort just by the telling of the story and when we get to see that, magic happens, and that's the connection between the teller and the listener. A strong point of view, balanced with empathy usually brings us around as well, especially if the story starts out with "I hate blah blah blah, because so and so did this to me and he's a rotten so and so and the audience agrees), and then we find out a juicy piece of information (the lousy so and so was beaten and left for dead by his mother as a child, or the storyteller witnesses him save an animal (something that shows his heart) and that leads the storyteller to find a redeeming value in the person and at the same time we see a flawed storyteller and acceptance becomes the lesson. Put some humor in this and you've got a pretty good story.
What kinds of things don't work in an ILAGS story?
Therapy on stage, or telling us the story without allowing us to see how you are affected by your own experience.
What qualities make a great ILAGS storyteller?
Being professional and on time and having a good attitude is helpful. Being able to tell your story and not just write it helps. They don't always go together.
How did you happen to include fake commercials with the shows? What do they add?
Everyone loves the commercials. They add a nice tone to the show and a shot of humor which is sometimes needed after we get slammed emotionally by a story. Thankfully we are fortunate enough to have some talented writers, such as my co-host, Chris Pina, who is also a wonderful actor and voice-over artist, and Rick Overton, a terrific actor and comedian.
Tell us a bit about the behind-the-scenes elements of the show - lighting, sound, snacks, etc.
With the amazing help and knowledge of Brooke Seguin (30 Minute Musicals and Hammer Improv, both of which she produces) we enjoy lovely lighting for intimate storytelling and sassy music. Brina Kabler (sound engineer with her studio in Santa Monica) is our audio gal. She is the reason you get good sound on the website. We record live and then podcast later. Matt Russak puts the show up after Brina and I send it to him, and there you go! We have snacks because snacks are good they seem to put smiles on the audience even before we start. We do the show at the Fanatic in Culver City, run by Jane Morris (actor/writer/director).
What would you like your audiences to get out of these shows?
Something good! I would love for them to come away emotionally satisfied, wanting more, and excited about returning. Maybe take away the next winning lotto numbers.
What's going on in your life outside of these shows?
How much time do you have? LOL! I'm a busy voice-over actor, living with a full plate of life, while reading my latest book, Meditations for Women Who Do To Much. Just like everyone in L.A., right?
What's your favorite book, movie, TV show, ethnic cuisine, city, kind of vacation?
So many books. I like a variety of genres. No self-help books anymore. I love watching live performers. I love the tropics, and also climbing the mountains in Peru. Movies -- Off the top of my head, Star Wars, Rocky, The Dresser, Amadeus, Cannery Row, The Closet, It's a Mad Mad Mad Mad Mad World, La Vie en Rose, Vicky Christina Barcelona. Anything with Peter Sellers. The ones that really moved me I will most likely think of right after this interview.
Find out more about I Love a Good Story, including submission information, signing up for email updates, and a selection of story podcasts from past shows.
I Love a Good Story shows take place every two months at:
The Fanatic Salon Theater
3815 Sawtelle Blvd.
Culver City, CA 90232
(310) 795-7469