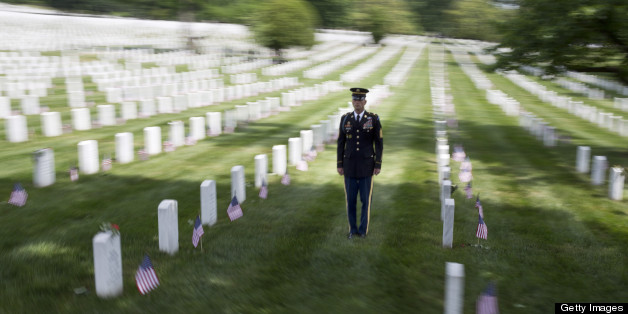 After the nation once again took pause to honor generational sacrifices of its warrior class this past Memorial Day, an unknown, but no-less important anniversary date looms: June 16 -- Veterans National Groundhog Day!
The iconic American film Groundhog Day (1993), starring comedian Bill Murray, depicts a self-centered weather man who finds himself trapped re-living the same day over and again. After countless failed attempts to alter the predictable outcome by reacting to the crisis, Murray's character finally succeeds in ending the vicious cycle by recognizing the culprit was a faulty core belief system blocking him from learning fundamental life lessons. Ultimately, the self-reflection leads to a paradigmatic transformation, liberating the comedic hero from a senseless pattern of self-destruction and toward greater self-actualization.
The Founding of Veterans National Groundhog Day
On an infinitely broader and more solemn note, American society is ensnared in a deadly pattern of self-inflicted wartime behavioral health crises since the 20th century. Awareness of this self-perpetuating cycle motivated Second World War (WWII; 1939-1945) leaders to painfully reflect on their failure to learn from previous generations of hard-won war trauma lessons:
"Further, and most important, there was the documented history of World War I, as well as accounts from other previous wars, which provided abundant evidence that combat would produce large numbers of psychiatric casualties,"[1] ... however, "Despite the foregoing data that were available to responsible authorities, there was no effective plan or real preparation for the utilization of psychiatry by the Army in World War II. Facilities for the care and treatment of psychiatric cases were only barely sufficient for the small PEACETIME Army." [1]
Recognizing its culpability in replicating a generational calamity impacting over 1.3 million WWII neuropsychiatric casualties, Army Surgeon General, Leonard D. Heaton (1966) gave this stern warning in the massive two-volume Army Medical Department compilation of psychiatric lessons from the First World War (1914-1918) to Korean War (1950-1953): "With this information so readily available, there can be little excuse for repetition of error in future wars, should they occur!" [2].
Without protest, Americans have also infamously observed Veterans National Groundhog Day in both the Vietnam and Persian Gulf War eras. In fact, we have created a national Institute dedicated to memorializing each anniversary passing.
Re-Learning War Trauma Lessons in the 21st Century
Fifty-nine years after WWII, in 2004, the foreboding USA Today headline "A Flood of Troubled Soldiers Is in the Offing, Experts Predict," followed by "Officer Sees 'Perfect Storm' Brewing in Military's Mental Health Care System," reflected mounting alarm over escalating rates of the predictable spectrum of war stress injuries including PTSD, depression, moral injury, traumatic grief, suicide, substance abuse, misconduct stress behaviors (e.g., prisoner abuse, sexual assault, atrocity), inexplicable medical symptoms, and TBI amongst a backdrop of exorbitant delays in VA disability claim processing, lengthy treatment waiting times, and severe VA staffing shortages.
June 16, 2007: Veterans National Groundhog Day Reaches the 21st Century
Rumors of a preventable mental health disaster emerged from within the American military, when a January 17, 2007 USA Today article "Psychologist: Navy Faces Crisis"-revealed persistent internal warnings since 2004, including official Inspector's General grievances detailing a grossly unprepared, overwhelmed, and unresponsive military health system facing widely known critical shortages of well-trained specialists and severely limited treatment access throughout the military-thus posing a clear and present danger [3].
Invisible to the national consciousness, on June 16, 2007, nearly six years into the first American war of the 21st century, a Congressionally-mandated Department of Defense (DoD) Task Force on Mental Health publicly unveiled its inexcusably delayed findings depicting an urgent public health crisis that DoD and Veterans Health Affairs (VA) had steadfastly denied as late as March 2007, "After returning home, Service members are provided easy and direct access to mental healthcare services following a continuum of care model." [4] The Task Force was mandated two years earlier amid gross discordance between DoD/VA's reassurances and reports of PTSD and suicide spikes.
Echoing an all too familiar verdict on military mental health care, "The Task Force arrived at a single finding underpinning all others: The Military Health System lacks the fiscal resources and the fully-trained personnel to fulfill its mission to support psychological health in PEACETIME or fulfill the enhanced requirements imposed during times of conflict." [5] -- a transparent admission of recklessly and willfully ignoring generations of well-documented war trauma lessons, such as the fundamental need to adequately plan, prepare, and train for inevitable war stress casualties, that now unnecessarily endangers the health and lives of over 2.6 million personnel deployed to war zones at least once, as well as the 100,000 to 150,000 service members discharged from the military every year, along with countless family members, DoD contractors, and caregivers entrusted to DoD Medicine.
Belatedly recognizing the dire implications of DoD's inexcusable failure, the Task Force pleads for a sense of national urgency in adopting century-old war trauma lessons it negligently chose to ignore "The time for action is now. The human and financial costs of un-addressed problems will rise dramatically over time. Our nation learned this lesson, at a tragic cost, in the years following the Vietnam War. Fully investing in prevention, early intervention, and effective treatment are responsibilities incumbent upon us as we endeavor to fulfill our obligation to our military service members." [5]
Instead of public outrage, vigorous inquiry into preventable causes of the crisis and blatant betrayal of veterans of this, and earlier generations, or even accountability of responsible leaders, DoD Medicine was celebrated for its "groundbreaking" efforts!
Terminating Veterans National Groundhog Day
2013 offers Americans yet another opportunity to self-reflect and end the social injustice of perpetuating National Groundhog Day, by demanding presidential and Congressional investigation, and transform the national mental health paradigm!
References
[1] Glass, A. J. (1966). Army psychiatry before World War II. In A. J. Glass, & R. J. Bernucci (Eds.), Medical Department United States Army. neuropsychiatry in World War II volume I: Zone of interior. Washington DC: Office of the Surgeon General, Department of the Army. (pp. 17-18).
[2] Glass, A. J., & Bernucci, R. J. (1966). Medical Department United States Army. neuropsychiatry in World War II volume I: Zone of interior. Washington DC: Office of the Surgeon General, Department of the Army. (p. xiv).
[3] Russell, M. (2006). Mental health crisis in the Department of Defense: DoD Inspector General Hotline Investigation #98829 submitted by Commander Mark Russell, USN on 05JAN2006. Available upon request via Freedom of Information Act (FOIA) at Department of Defense; Office of Freedom of Information, 1155 Defense Pentagon; Washington, DC 20301-1155.
[4] Embrey, E. (2007, March 27). The Military Health System Testimony of Ms. Ellen Embrey, Deputy Assistant Secretary of Defense for Health Affairs/Force Health Protection & Readiness. Senate Veterans Affairs Committee United States Senate Hearing On March 27, 2007. Meeting The Health Care Needs of Returning Service Members and New Veterans (pp. 11-12).
[5] Department of Defense Task Force on Mental Health. (2007). An Achievable Vision: Report of the Department of Defense Task Force on Mental Health. Falls Church, VA: Defense Health Board (pp. ES.2 and 63).