Hi, and welcome to my real-time blog on the 2015 Grammy Awards! This year, instead of preceding the Super Bowl by a week, the Grammys are airing seven days after the big game, which means that we get to find out whether the show's one-off collaborations will be on the order of Katy/Lenny/Missy, or if any of tonight's combinations will go together more like second downs and pass plays. So get your "how many times will we get to see Taylor Swift dancing in the front row" scorecards ready...it's show time!
8:00: A weird "previously, on the Grammys" recap kicks off the show, and includes mention of a Paul McCartney-Ringo Starr reunion that may or may not have actually happened on last year's broadcast. (Hint: it did not.) AC/DC opens this year's show by playing two songs, including "Highway to Hell." We see that audience members in the front are all wearing devil horns. Or, if you're Katy Perry, making devil horns.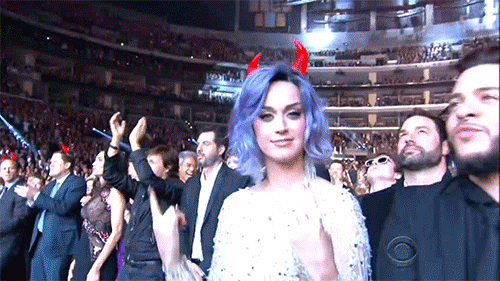 8:07: LL Cool J makes his way onto the stage, rapping his nearly 30-year-old hit "Going Back to Cali," then acts surprised by the irony of his own lyrics. You know, since the show emanates from Los Angeles and all. Get it? He hilariously refers to the opening performance as "devilishly good," introduces Taylor Swift with a "shake it off" pun...then says he will be foregoing his usual comedy monologue. Oh, don't stop now - you're killing it!
8:09: Swift is on stage, and reads another scripted "shake it off" pun while presenting the nominees for the Best New Artist trophy won by past performers who she says have "gone on to do great things." You know, those acts who have proven their staying power: fun., Bon Iver, Evanescence. This year's nominees include Haim and Brandy Clark. Yeah, good luck with that, ladies.
8:16: Arianna Grande is up to perform "Just a Little Bit of Your Heart." OK, so it isn't nice to call this boring, so instead, let's just say that the best part was watching her try to sweep away the massive cloud of fog that rose suddenly and made her disappear faster than my insomnia problem after about 30 seconds of this.
8:21: LL Cool J introduces Jessie J and Tom Jones, who give us a cruise ship-worthy performance of "You've Lost That Loving Feeling." This is a great combination, because if there are two people who should be singing a love song to each other, it's a man and woman four generations apart.
8:25: Pharrell wins the award for Pop Solo Performance and has thankfully decided to go hat-less this year, but is wearing a monochromatic suit that makes him the only person in this segment with more gray on his body than Tom Jones. He expresses his gratitude by summarizing his experience as "super awkward."
8:39: Sam Smith accepts his second trophy in 30 minutes, and credits his success to simply being himself. Somewhere, Tom Petty is watching his TV and saying, "Really?"
8:47: Miley Cyrus and Nicki Minaj are on stage to present the next act. For those who didn't get their fill of the stars of yesteryear with AC/DC and Tom Jones, Madonna - along with the gospel choir last seen in the "Like A Prayer" video - turns in the night's first really spectacular performance. Hey, AC/DC, if you're going to make everyone wear horns, you might want to take some notes.
9:02: Nile Rodgers and Smokey Robinson go from announcing George Harrison's Lifetime Achievement Award immediately into the Best R&B performance nominees. Beyoncé wins, though there really wasn't a lot of choice. Not that she didn't deserve it, but does anyone really think that this show's producers are about to hand a live mic to fellow nominees Chris Brown or R. Kelly?
9:11: Ed Shearan performs "Thinking Out Loud," then introduces Jeff Lynne for a two-song ELO medley. Yeah, because if there was a time for Lynne to perform, it's two segments removed from when his Traveling Wilburys bandmate George Harrison was recognized. Oh look, Taylor Swift is dancing!! And, a few rows back, so are the girls from Haim, who seem to have figured out that pretending to be uncontrollably joyful over every single song performed on the show is a pretty safe way to get some camera time. And let's face it, they could probably use the help.
9:15: Ryan Seacrest has apparently borrowed LL Cool J's coat, and in an awkward twist is on stage to introduce Gwen Stefani and Adam Levine, two of the judges from that other singing-competition show.
9:28: Annie Lennox has commandeered Tom Jones's sparkly coat and joins Hozier, stiffly waving her arm up and down like she's an extra in "8 Mile." Moments later, she has turned her stage-mate from Hozier to Who?-zier, completely stealing the spotlight with an out-of-nowhere domination of "I Put a Spell on You." Between her and Madonna, this is shaping up to be the night of the '80s diva. Cyndi Lauper, you backstage someplace?
9:34: Remember what I said earlier about Pharrell's hat? Scratch that. He's put on a bellhop cap for his performance of "Happy," which alternates between the familiar version and a decidedly less-happy, minor-key version. Afterward, a backstage producer is recognized for his long service to the show the way we'd all like to be acknowledged: with LL Cool J standing nearby, licking his lips, and some other random guy standing up and getting in the shot. Suddenly Annie Lennox is no longer the night's biggest spotlight stealer.
9:44: President Obama gives a pre-taped speech about preventing violence against women. Hey, Chris Brown, this might be a good time to step out and get some popcorn.
9:58: Tony Bennett and Lady Gaga throw their hats into the younger woman/much, much, much older man contest. Bennett impresses by showing his voice is still solid. Gaga, meanwhile, spends the next four minutes practically screaming into Bennett's ear and, at one point, has seemingly mistaken herself for Miley Cyrus and Bennett for Robin Thicke. Well, at least Bennett isn't pretending while he's singing the words "I'm in heaven."
10:13: Keith Urban introduces Eric Church, and jokingly hopes that Church's pregnant wife will make it through his performance without going into labor. Meanwhile, his wife politely laughs, but deep down is probably wondering why they didn't just let her husband perform earlier in the show.
10:17: Not creeped out enough yet? Good, because it's time for 37-year-old Brandy Clark and 58-year-old Dwight Yoakam to keep the country ball rolling by performing a song - where else? - on the same stage that earlier hosted the unholy Tom Jones/Jessie J and Tony Bennett/Lady Gaga alliances.
10:21: Rihanna, Kanye West and Paul McCartney are on stage for a performance that is West's second singing appearance of the night. Apparently he is no longer a rapper. Also apparent: whoever set up the microphones on stage forgot to turn on McCartney's.
10:29: CBS airs an ad for the upcoming NWA biopic, "Straight Outta Compton," which ends with the disclosure that this film has not yet been rated. Come on, what are you waiting for? We all know a film this gentle will be PG.
10:40: Beck wins his second trophy of the night. His wife wears a look of shock as he walks toward the stage. Not so surprising, however: Kanye West rushes the stage to jokingly protest another Beyonce snub. A few seats down, Taylor Swift wonders why he couldn't have been joking back in 2009.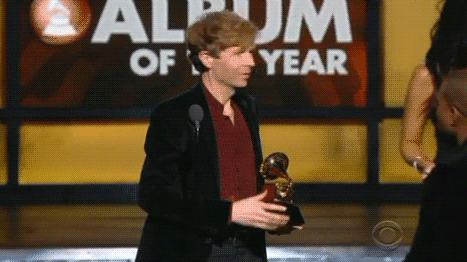 10:42: Nearly three hours into the show, we check in for the first time with "social media reporter" Pauley Perrette, who is doing great. That is, if actual reporting and making any mention of social media are not part of her job description.
10:53: Sia performs "Chandelier." I guess, anyway. Congratulations, Gwyneth Paltrow and CeeLo Green: you no longer hold the distinction of the Grammys' most "was that supposed to be funny or serious?" moment.
11:09: Stevie Wonder and Jamie Foxx read the nominees for Record of the Year...then delay announcing the winner so they can try to work out a comedy act. That's cool - it's not like the nominees are in any rush to find out who won.
11:27: Gwyneth Paltrow may have shown up too late to be a part of the Sia performance, but she is now here for some reason to introduce Beyoncé's amazing performance of "Take My Hand, Precious Lord." John Legend and Common then bring it home with a performance that was good...just not Beyoncé good. Despite running about 10 minutes over its advertised 11:30 end, the show manages to let the finale run in its entirety, helping make sure that no one cries on the internet this year about getting cut off.
11:37: The logical way to wrap the show would be for LL Cool J to thank us for watching, then say goodnight. Which must be why producers sign us off with no closure, instead randomly and inexplicably airing the closing moments of Sam Smith's performance from earlier. Well, since they didn't say it, I will: thanks for watching...and reading!