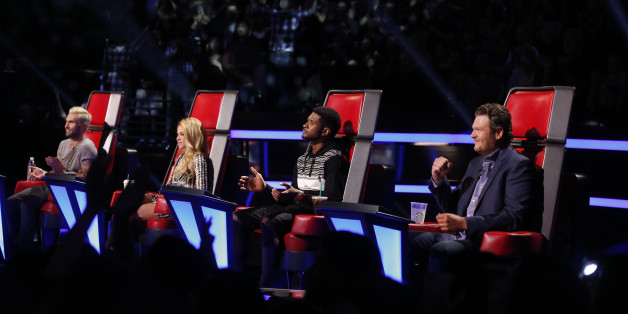 On The Voice, they're coaches. On American Idol, they're judges. On Rising Star, they're experts. And on every singing competition show, they're camera hogs.
In case you weren't aware after the 247th announcement during this past weekend's Sunday Night Football broadcast on NBC, The Voice returns next Monday with a pair of new faces on its four-coach panel. The move has already drummed up plenty of interest in this season's coaches, who -- if recent history is any indication -- will completely overshadow the people who should be benefiting most from the show: the contestants themselves.
The once-unstoppable singing-competition genre now brings in only a fraction of the numbers it was doing less than a decade ago. The Voice, for instance, has seen its ratings decline significantly over the past couple of seasons. Are fans simply getting tired of the format? Probably. But another possibility is that, in their quest to pull viewers by promoting celebrity judges over still-unknown contestants, these programs are going for instant gratification over building and sustaining a long-term fan base. The contestants -- once the very lifeblood of the show -- are now seen as temporary and disposable, while their celebrity mentors continue lapping up even more fame at their expense.
Starting next week, Adam Levine, Blake Shelton, Gwen Stefani and Pharrell Williams -- all already established stars before The Voice -- will find themselves in the unique position to help others find fame and fortune. Instead, however, the show will likely feature them in a starring role, devoting valuable air time to their own performances, promotional opportunities and playful banter. The contestants, on the other hand, will probably once again take a back seat, awkwardly watching the continuation of the Adam-Blake bromance while awaiting meaningful feedback (which may or may not even come) that could help steer them toward a career as a famous singer. Which, don't forget, is supposed to be the premise of this whole thing.
The Voice's six-season history has made this a pretty safe prediction, but in case that's not enough for you, a visit to the show's official website reveals its priorities. The entire page is filled with fun, photo-heavy links to videos, photos and other information on the coaches, including Levine, whose band's new album is being sold on the site. (None of the former contestants' own releases are anywhere to be found, by the way.) Information on past winners or runners-up, meanwhile, is scarce.
That's because the show does little to invest in its contestants once the season has ended. Only two of the show's winners, Cassadee Pope and Danielle Bradbery -- both country singers -- have had post-Voice singles that charted in Billboard's Top 100. The show's first winner, Javier Colon, was so disenchanted with his lack of support that he actually walked away from the record contract that his victory earned him.
The Voice may be the most convenient example of talent shows focusing heavily on their panelists and not their amateurs, but it is hardly alone. ABC's Rising Star and Fox's American Idol are no less guilty of investing primarily in their already-made stars while seemingly forgetting their own contestants before the credits on a season finale have even finished rolling. It is should be about as shocking as a Simon Cowell put-down, then, that they are also seeing the same drop in ratings that has begun to plague The Voice.
In the case of Rising Star, viewers tuned out in droves as the season progressed -- nearly 40 percent of those who checked out the show's premiere were gone by the time the quarterfinals started less than two months later. The program, which featured polite but hopelessly uncharismatic Josh Groban as host, showcased country singer Brad Paisley, pop star Kesha, and rapper-actor Ludacris on its panel of "experts," but figured to offer no real promotion for the guy who won the show last month. Know his name? Didn't think so.
Idol isn't doing much better: Its ratings have steadily declined since 2008, when David Cook took the show's crown and went on to have a couple of radio hits and a debut album that went platinum. In 2014, its smallest audience tellingly came not during some ho-hum mid-season episode, but rather Night 1 of its two-part finale. Night 2 did slightly better, pulling in 10.1 million viewers, but even that was only a third of the season average back in 2006.
It is no coincidence that, when it comes to record sales and celebrity, most of American Idol's success stories are from the early seasons. Kelly Clarkson is still turning out hits 12 years later; Fantasia Barrino had a reality show and TV biopic; Chris Daughtry continues playing large venues; Jennifer Hudson won an Oscar; and apparently that Carrie Underwood girl has done pretty well for herself too.
Once Idol's producers turned the spotlight on the judges, however, things changed: When songwriter Kara DioGuardi was added as a fourth member of the panel in 2009, Idol immediately lost well more than a million viewers. Subsequent seasons have seen changes almost every year, with everyone from Steven Tyler to Keith Urban, Harry Connick, Jr. to Ellen DeGeneres having sat at the table.
It should come as no surprise that American Idol was a ratings juggernaut during the years of stability on the judging panel, when the stars of the show were the contestants and the judges were still relatively unknown. Cowell and Randy Jackson became hugely famous because of the show; today, the opposite is true, as competition shows have turned their backs on what originally made the concept work.
Instead of promoting upcoming seasons based on new coaches or promises of catty infighting among judges, singing-competition shows could load their previews with samples of auditions. This is what worked in the beginning, and it's what still gets viewers to tune in to Idol's early-season audition episodes. Instead, however, we're destined for more judge overload, which is a shame. If you tune in to The Voice next week, be warned that the one that should be the loudest is the one you're least likely to hear.