By the end of next week, Chicago's streets will be lined with 10,000 demonstrators as the Occupy Chicago movement galvanizes disparate forces hungering for a more equitable America. From a distance, the casual mob wearing skinny jeans, ironic tees, and bicycle messenger bags looks more like a gathering of Deerhoof fans rather than the Second City's counterpart to New York's Occupy Wall Street protest; but don't be deceived by appearances. At the time of this writing, nearly 300 individuals were poised to spend their fourteenth night outside.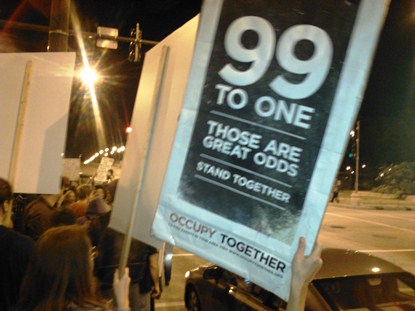 They are encamped in the heart of Chicago's financial district: the corner of LaSalle and Jackson near the Federal Reserve Bank of Chicago and the Chicago Board of Trade. Lampooning corporate-speak, they have a "Mission Statement" that proclaims: "Occupy Chicago is here to fight corporate abuse of American democracy in solidarity with our brothers and sisters around the world." The crowd is diverse in age, ethnicity, and political views, but is overwhelmingly comprised of students. The vocal but disciplined gathering adheres strictly to local ordinances which prohibit sleeping on public sidewalks or the storing of personal belongings on public property. Consequently, belongings are stored on wheeled carts or in backpacks, and individuals are encouraged to sleep in shifts.
Around 8pm on Wednesday, October 5th, the group marched from their home base in the financial district along Chicago's majestic Michigan Avenue to Congress Plaza where a general assembly (G.A.) was convened. "Sugar" and her counterparts traded the megaphone as they recounted "the rules" to newcomers. The group is highly organized and has a press representative, legal counsel, law enforcement liaisons, and medical care in the form of "First-Aid Andy," a grinning, dark-haired kid.
Occupy Chicago has created a parliamentary system vaguely inspired by Robert's Rules of Order. Members vote by raising hands and "stacks" (lines) are formed that allow individuals to voice dissenting opinions, of which there are many. The speakers are passionate, articulate, and tolerant while the audience is engaged, thoughtful, and patient. A homeless man who had earlier heckled intermittently joined the stacks to advocate beautifully for renewable energy. Decrying the disaster at Japan's Fukushima Daiichi power plant, he bellowed: "If these glowing skyscrapers behind me cannot be self-powered by wind turbines, let them come down."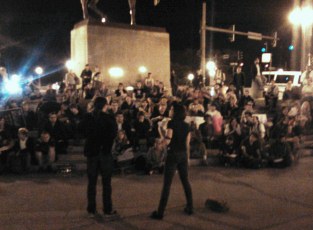 The highly democratic organization encourages dissenting views, but shows little tolerance to ne'er-do-wells and miscreants. Drugs and alcohol are strictly forbidden as are weapons and acts of vandalism. Earlier in the day when a teenager drove a hammer through a shop window, fellow protesters gave him the "fingers down" and quickly turned him over to police. The group uses a gestural language: "fingers down" denotes unfavorable things while, obviously, "fingers up" denotes the opposite. Forming a triangle by touching thumb to thumb and index finger to index finger informs speakers at the G.A. that they have strayed off topic.
As the assembly plods along, Roosevelt University students line the fifth and sixth floor windows across the street to hear the call-and-response of the crowd assembled below. The speakers promote a calendar of events that demonstrates how quickly they have curried favor with a number of important constituencies: Their most recent supporters include fair housing advocates, religious organizations, and labor organizations. The Service Employees International Union (SEIU) has provided the demonstrators with food, and greater sustenance for the movement will arrive Monday in the form of buses carrying union members. The Occupy Chicago movement has raised nearly $3000 in donations, and their website (http://www.occupychi.org) is evolving rapidly.
In the crowd bio-chemistry majors, teachers, laborers, and the unemployed mingle and converse. I spoke with Darell Willis from Chicago's Austin neighborhood on the Northwest Side. He is a 32-year old African-American man who has been unemployed since 2009. His seasonal position with Party City was terminated, and his unemployment compensation ran out six months ago. Since then, he has lost his apartment and has been homeless for six months. Even after receiving assistance from Thrive, a homeless advocacy organization in Oak Park, he has been unable to find work and survives by performing odd jobs that he can secure in the community: "I don't panhandle. I can't do it," he explains. He also told me that he doesn't like to use his Illinois Link card to buy food either, "Something inside me . . . I feel, ashamed." For now he has joined the Occupy Chicago movement hoping to see what opportunities it may bring. At the very least, he tells me, he is meeting great people.
This movement has potential to unite communities in Chicago that have been estranged since the early 70s, but its student leaders will have to reach out to citizens who have never set foot on a college campus or who have never heard of the Federal Reserve. For the occupy movement to reach its fruition in Chicago, these passionate and dedicated individuals must unite with the neglected and underserved citizens of the South and West Sides, the tireless Hispanic community scattered throughout the city, and all Americans who have been marginalized by the merciless forces of global capitalism.