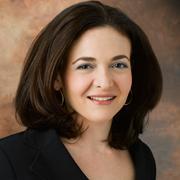 Sheryl Sandberg, official photo from The Walt Disney Company Board of Directors
If one were to ask the average American who is likely to become the first female president of the United States, the response is likely to be Hillary Rodham Clinton. The former Secretary of State and First Lady is lauded by the "old media" as a leading candidate for president. However, one should ask if this perspective shaped by the old media is also shared by the "new social media."
For the younger generation of Americans who use iPhones, Facebook, Snapchat, and Twitter, there is another woman who has emerged as the leading voice for today's youth: Sheryl Sandberg.
Sandberg is Chief Operating Officer of Facebook, the leading social media platform and she sits on the Board of Directors of The Walt Disney Company, the world's leading entertainment corporation. Therefore Sandberg clearly has an influential public presence.
In 2013, Sandberg published a bestselling book titled "Lean In: Women Work, and the Will to Lead" as part of a larger initiative to empower both women and men to overcome the travesty of sexism and unfair gender discrimination. Sandberg's book has spawned a movement known as "Lean In Circle" in which women and men around the world form coalitions to empower women and girls.
For the keen political observer, the formation of these "Lean In Circle" groups may have created a global springboard from which Sandberg has become a potent political leader in her own right; a base of power with an international network of women and supportive men. As such, Sandberg may have already surpassed Hillary Clinton as the leading voice of young women.
With a Bachelors degree and MBA from Harvard University, Sheryl Sandberg also has the strong academic pedigree to serve at the highest levels of government. From academics to business to socio-economic issues, she has emerged as a leading voice for both Generation X and the Millennial Generation.
Whereas Hillary Clinton may be the leader of the rotary phone generation, Sheryl Sandberg is the leader of the iPhone generation. Therefore perhaps the American people will lean in and choose Sandberg as the first female president.

Mark Charles Hardie is an attorney-at-law who graduated from the University of California, Hastings College of the Law and the University of California, Riverside. He was an international student at the University of Costa Rica and the Hebrew University of Jerusalem Faculty of Law. Mr. Hardie is a member of the NAACP and the World Jewish Congress.
This essay is dedicated to the memory of David Bruce "Dave" Goldberg (October 2, 1967 -- May 1, 2015), late husband of Sheryl Sandberg.