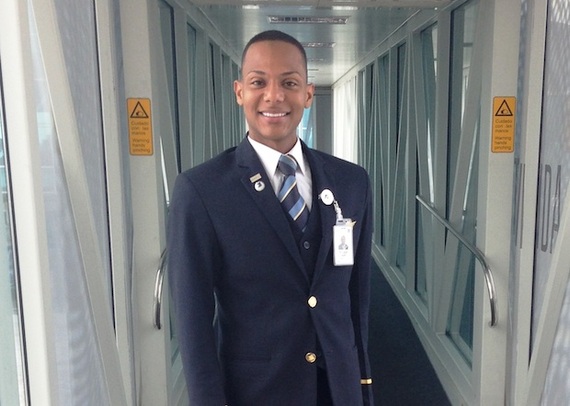 Flight attendant Rocko Galvez shares his insider Latin America travel tips.
If you want the best travel advice, you can't do much better than asking a flight attendant. After all, they've flown just about everywhere, stayed at hotels good and bad and eaten everything from fast food to the finest gourmet cuisine.
In Latin America, I found an especially knowledgeable flight attendant named Rocko Galvez, who has worked in the travel industry for nine action-packed years. He started out as a reservation agent, but for the past three years, he's been a flight attendant for one of the largest airlines in Central America, jetting regularly around North and South America as well. And in this exclusive interview, the 27-year-old hemisphere hopper shares his travel secrets.

What's your favorite airport in Latin America?
Tocumen International Airport, which serves Panama City, is one of my favorites, since it's an airport designed for connectivity, and because Panama has a strategic geographic position that makes it easier to connect with North and South America and the Caribbean.
Which Latin American airport has the best food?
On one of the flights that we call tumba y vira -- in English it's a turnaround -- we had a delay due to bad weather and we decided to get off the plan to get some fresh air and eat something. I've eaten in all the airports of Latin America, and definitely the best food that I've had is in the airport in Quito, Ecuador. I don't remember the name of the place, but if I have a tumba y vira flight [to Quito], you can be sure that I'll get off the plan and buy food from that comida criolla restaurant.
What's your favorite hotel?
There are good hotels everywhere, but in my opinion one of the most complete hotels that I've stayed is the Sheraton Lima Hotel and Convention Center, in Lima, Peru. [It has a] very large buffet, very good service and a very central location.
What's your favorite city in Latin America?
Every city has its allure, but there is one that is magic, with many colors, volcanos and -- at 9,350 feet -- Quito is a city in the mountains: a perfect climate with a balance of cold and hot. You'll find friendly, charming people who like to help, everywhere in Quito. It's one of the cities where I have seen that there is still a sense of respect; families go out together and share. It's also where I've seen the best floral arrangements, not to mention the ceviche and the variety of cuisine in the region.
Where do you like to shop when you travel?
I love arriving early at Juan Santamaría airport in San Jose, Costa Rica. I'm always the first one out [of the plane] in order to have time to shop, see and sample products. There is a store that I like there where they sell natural products; they also sell chocolates with natural fruits and they give away samples. I've tried them all and my favorite is the guayaba [guava] and maracuya [passion fruit] because it has a very tropical flavor.
But without a doubt, I've made some great purchases in the Paris of the Americas. I'm talking about Buenos Aires, Argentina. If you visit BA, you shouldn't miss going shopping on La Florida and sampling choripán, alfajores, dulce de leche or a good bife de chorizo. Also go to San Telmo and the Colón Theater and, of course, you can't forget to take a photo of the obelisk. If you ask me how to describe Argentina in one phrase, I would say it's Europe in the Americas.
What travel tips can you offer to travelers?
I can offer thousands of recommendations, but I always follow these basic guidelines when it's time to travel for pleasure. I call it my "basic guide to fly better:"
1. Choose your seat before the date of your flight; I recommend the emergency exit row, because it has more space.
2. On the date of your flight, don't make any appointments or plan activities.
3. Try to keep your carry-on luggage small -- for example, a backpack, in which you should pack water, a snack and a jacket.
4. Read the in-flight magazine. It has important information.
5. Pay as much attention as possible to the safety instructions. There are people who travel a lot and don't pay attention -- [but] every plane has a different configuration.
6. Before leaving the plane, make sure that you have all your luggage and personal items.
7. Hand in your meal tray the same way that you received it: in order, without making piles or stacking everything up.
Do you see a difference in passengers based on their nationality?
It sounds like a lie, but cabin crew have a chip that makes it easy for us to identify where each passenger is from, whether from how they dress or how they communicate. I love dealing with all types of passengers; they all have something special, and I learn something and gain experience from everyone, which makes me grow as a person. I've met people from all over, every age, sex, religion, sexual preference, but without a doubt the passengers with whom I most identify are the Colombians, because they say what you want to hear; they are very formal and respectful; they smile a lot and show purity and charisma.
What is your favorite kind of passenger to have on board?
We start in this career because we love people and we like to serve. My favorite type of passenger is one who is natural, who is himself and with whom you can have an immediate connection and a "click," and together you make the flight easy and pleasant. Once on a flight to Santiago de Chile, I was helping a woman of advanced age. When my duties were finished and I decided to eat, the passenger looked for me and said, "you've already served me and now it's my turn to serve you." I said that she shouldn't worry about me; that it was a pleasure to serve her, and she said "all my life I've wanted to be a flight attendant, and I want to wait on you." It was something that touched me as a human being, to see how a passenger could wait on me. It showed me that it's never too late to achieve a goal, even if it's just for a minute.