Chef Carl Schaubhut, the German/Cajun Chef at New Orleans' iconic Cafᅢᄅ Adelaide, knows why his revitalized hometown has added 400 new restaurants since Katrina nearly wiped his Crescent City off the map 10 years ago.
"Here in New Orleans, its all about eating, drinking and carrying on. There's more music, food and booze here, per capita, than anywhere else," he explained on a rainy night during this year's epic Jazz & Heritage Festival.
He's not talking about the fratboy, fall-down mess than unfolds on Bourbon Street every night from dusk til dawn. (Though, if you've never done 'The Walk', put it on your Bucket List. Drunk people will do pretty much anything for a dollar.)
Thoughtful, grownup, pleasure-for-its-own-sake is a serious art form in NOLA. "We're the last true indigenous cuisine in America," Carl crows. "We use the seafood and seasonal produce from our backyard in a cooking style that was created here, on a backbone of Cajun and creole, that you won't find anywhere else."
That's the delicious magnet that each year draws millions of hedonists back to the bayou to indulge... in everything imaginable. Those that plan ahead can snag one of the most exclusive resos in town: Carl's Bar Chef Table - a private, four course pairing dinner of craft cocktails and Gulf tastes. The reasonably priced, seasonably customized pairings of inventive cocktails with outstanding NOLA recipes had been a local secret, but all that's changed now that the City is back from the Deluge.
The Bar Chef's Table is a by-request-only bacchanal, created by Carl and General Manager Kenny Meyer, just for you, based on what's in their fridge. Imagine you and 5 hungry pals crashed a friend's house demanding to be fed - now imagine that friend happened to be a passionate, self-taught bayou prodigy with a wicked sense of fun and a love of bourbon.
"We call it 'Meeting in the Walk In'," explains Carl, referring to the morning conference in the large fridge to survey that evening's possibilities. "We see what herbs and fruits are in season that day. It's a collaboration between the Chef and the Bar Chef," (there are no lowly 'bartenders' at Cafᅢᄅ Adelaide) that produces original and unique pairings of mouthwatering tastes that are "constantly changing. We get our inspiration from everywhere. No rules, the food and drink just need to taste good and be well balanced. It's not always about more alcohol, believe it or not... After dinner, we want you to be able to roll out down to the warehouse district, or Frenchman Street, and be able to spend the rest of the night having fun."
Who needs rules, when you got a dinner like this:
First Course: Fresh Gulf Shrimp, dipped in Tasso corn dog batter, served with a Crystal hot sauce butter, pickled okra and frisee. Paired with Sazerac Rye Whiskey, served up in an Absinthe-rinsed glass, with sugar and a lemon twist.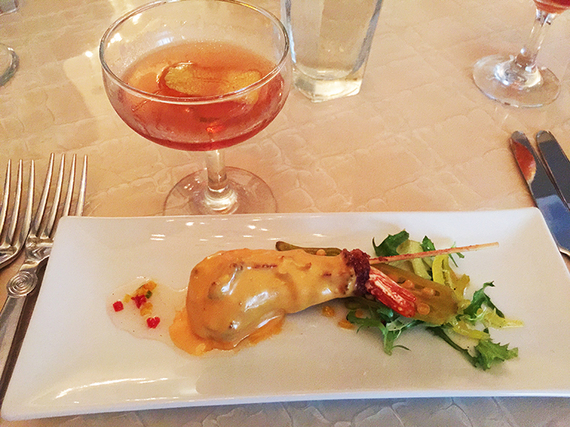 Second Course: Massa-crusted Gulf Oyster "Tamale"; smoked and braised Oyster over Cochon de Lait Tamale Grits with shaved Fennel Salsa and piquillo hot sauce. Paired with a classic Side Car, with brandy, fresh lemon and a sugared rim.
(These were so delicious, none of our six servings survived long enough to be photographed. Like Roswell pics, you'll just have to trust me - much yummy sounds were made.)
Main Course: Duck confit and bean puree. Paired with a Blood & Sand; equal parts scotch Whisky, Cherry Heering liqueur, orange juice and sweet vermouth.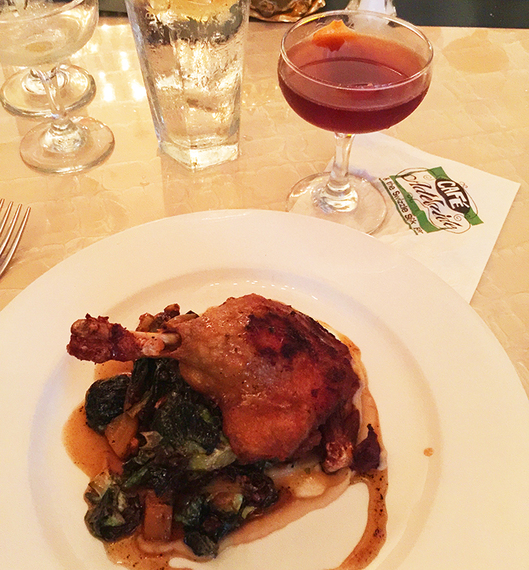 Dessert: Strawberry Shortcake, paired with a Strawberry French 75; champagne, muddled Louisiana Strawberries, and orange liqueur.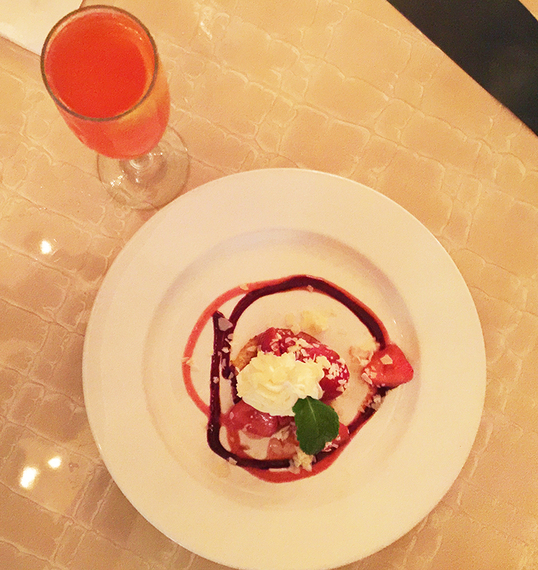 After four cocktails and four courses: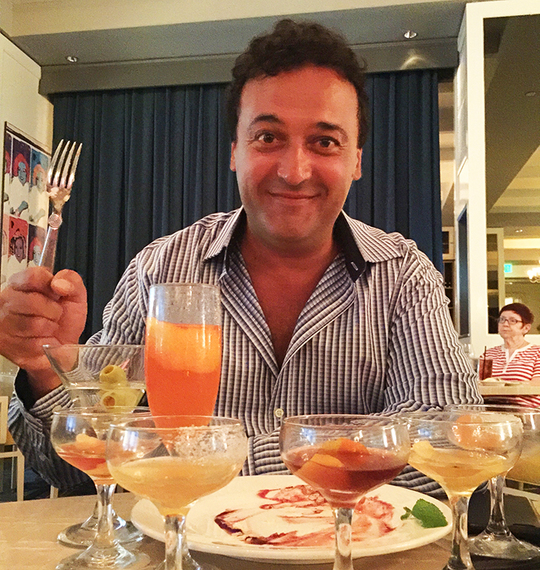 THIS is a face ready for an artful night of NOLA carrying on.
Laissez Bon Temps Roulette! TellyourmommaandthemIsayhey!