As you know if you've been reading around here lately, I am married to a gorgeous, vivacious Cuban woman named Yeni Alavarez, the Spanish Voiceover celebrity.
For years before we met, she had been roaming the globe in search of fantastic destinations and writing all about them on her popular website TravelingDiva.com.
Our roads less traveled converged five years ago at a MSY departure gate in a flurry of conversation and sweet potato pie. And now we travel on our tongues together, doing our weekly iTunes podcast, "A Fork on the Road" wherever our muse takes us. Thankfully, when it came time to plan our honeymoon, we both planted our pin on the same peninsula: Italy.
Roaming the Cittᅢᄀ del Vaticano on the first day of our Italian honeymoon, we came across a peculiar group of tour guides... expats of the Latin America and Caribbean sort. Yeni was particularly elated to find Cubans in a city where she'd never expected to hear the Cuban accent. My bride and the Ex-Caribbean-ites bonded over escape stories, nostalgia and their shared fondness for freedom.
The Cubans were tour guides by day, and evolving painters in their own right by night, living, eating and shouting art and culture with every waking breath.

I've learned that Cubans, like Italians, are a proud people. The tour guides were no exception. Opinionated, argumentative and absolute in their deification of the Italian masters they brought to life every day, the guides spent their days leading mouth-breathing tourists like us past some of the greatest treasures of the western world, and their nights in a very special local restaurant, discussing... LIFE! ART! And of course, WOMEN!
Yeni and Raul made their Cuban connection, which allowed us (I was merely unshakable baggage) to transcend mere tourist-hood and receive what would prove to be a Golden Ticket: an invite to share their guides-only evening ritual -- dinner at the "The Place."
Our savory sacrament began with a loud induction ritual in the belly of a fantastically joyous and loud family (in Italy is there any other kind?) at their Ristorante dei Musei -- Pizzeria Massa. Owners Giulio and Maria welcomed us with open arms...filled with plates of antipasto, salads and pizza. The dishes came flying out of the kitchen like Frisbee Puttanescas, one after another, landing on the worn communal wooden tables with the gentle touch of a favorite Aunt, literally before we'd sat down.
Our Family Style feast was incredible. We ordered nothing, and ate everything. Pasta, vegetables, meats, cheeses, tomatoes -- each simple dish was more sumptuous than the last, the ingredients fresh and colorful as a box of crayons. All washed down with fantastic Vino della Casa. (Only suckers order off the wine menu in Italy. The house wine is what the owners drink, and they are very serious about their food. Do the math.)
This was not nouvelle cuisine. This was home style, southern Italian food -- cooked by Giulio's good natured son, freshly rescued from the mother that, we gathered, was no longer an integral or welcome part of Giulio's life. Its amazing what strangers will confess over a plate of delicious food. You never get any good gossip at the Drive-thru window.
Best of all, each course came garnished with a boisterous peanut gallery of Cubans chanting and chirping at each other, while leading Yeni through their interpretive thanks for each recipe in song and dance.
We were almost full by the time our new friends brought us the "Specialitᅢᄀ della casa: Spaghetti alla Matriciana;" a savory Roman dish with pancetta, onions, white wine, tomato, basil, pecorino cheese, and tons of olive oil. Holy Mary, Mother of God Good!
Best of all, this Bro-and-Sis-shop is located a block from the entrance to the Vatican Museum, and another block from the Metro stop, on some of the most prized real estate on Earth.
But you don't need to wear your best Papal Miter; it's not an opulent place. In the family for decades, the restaurant was given to Giulio by his father when he retired. It's comfortable, not complicated. You'd miss it if you weren't specifically looking for it. Apparently from the glowing reviews, however, most customers are looking for it, after finding it on TripAdvisor.com. Giulio is very proud of that. The TripAdvisor certificate is prominently displayed at the entrance door of the restaurant, next to the photo of a local Saint. Such is Roma.
Every new customer was welcomed like a long-lost family member. Most people in Europe speak several languages, and here, Guilio himself insists on welcoming customers in their own language. So the first thing customers hear when they wander into the place is Giulio's thunderous 'Where-a You From!?" Then, no matter what they say, Giulio welcomes them with a rambling greeting in their own tongue! Giulio could be the Poster Boy for Rosetta Stone, if he didn't love this job so much. And Giulio's had some pretty cool jobs...
Eating at his place is half Under the Tuscan Sun meal, half Soccer match. We sat there, eating and listening to the polyglots, while laughing hysterically as the Cubans overly dramatically described the beauty and splendor of Ancient Roma. Yeni and I looked at each other, across a table littered with plates, wine bottles and mountains of the most flavorful food we'd had in years and smiled. This is the real Italy... and thanks to that douchebag Fidel, we'd landed right in the middle of it.
As we hugged, kissed and said our goodbyes to people we'd known all of five hours, Guilio stole Yeni's heart by magically producing a Cuban flag and hanging it in a place of honor -- next to his Italian flag. Forget the UN, all disputes, domestic and international could easily be settled here, amidst friends, food and grape. And our radiant new pal, Giulio the "trip advisor"!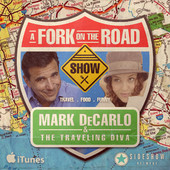 For more Mark, Listen to iTunes #1 new Travel, Food and Fun podcast, A FORK ON THE ROAD SHOW to win great prizes like Vivitar underwater camcorders, travel gadgets and free vacations.
New episodes every Thursday!