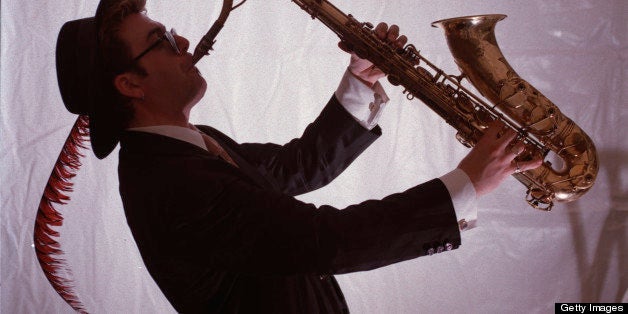 Like the Life-Giving, Levee-Breaking River that winds through it's heart, the City of New Orleans is a symphony of contradictions.
NOLA's French Quarter is both a garishly pantomimed tourist attraction and the genuine article: a place where cavernous atria of T-Shirt shops and Frozen Daiquiri arcades double as midnight concert halls for street musicians so talented that even Billy Joel would wonder, 'Man, what are you doin' here?'
Recently, I found myself back at a fine hotel in the Crescent City. It was 10 days ago during JazzFest. My 20th Jazzfest in a row -- not counting the one I missed -- and the five-day flurry, as described in its very own chapter in my Foodie Road Trip Guide "A Fork on the Road: 400 Cities, 1 Stomach," was frenetic as usual:

Threaten, cajole and drag The Traveling Diva out of bed @ 9am
Cafᅢᄅ du Monde @ 10am
Fairgounds by 11am
Music, Food, Ridiculous Fest Fun until 7pm
Dinner with cabal of drunken, yet appropriately hilarious friends, at 9pm
Live music in one of 20 great clubs til 3am
REPEAT X 4
Once a year for 20 consecutive years -- except the one I missed -- I come to this sticky Afro-French-Caribbean-Indian-Anglo Port to gorge myself in a cultural hedonism so pungent and soulful that for weeks afterwards, everyplace other place I am seems like a bland version of Orlando by comparison.
Music mavens from around the Globe descend on the bayou every spring to experience NOLA's carefully curated voodoo mash-up of American music, food and hospitality. Everything about New Orleans during Jazzfest Goes To Eleven. The jamming is louder. The musical combinations are tastier. The thunderstorms are drenchier. Like visiting Lake Placid during the Olympics - or Disneyland... any day of the year -- the whole population is putting on The Show.
Also like Disney, the folks and fabric of the touristy French Quarter between Canal and Esplanade, are well aware of their mystique -- and do all they can to monetize their decadently swoozy 90 square block adult theme park.
And ever the dutiful fan boy, my posse and I return each year to consume the cultural gumbo presented to us in easily digestible weekend chunks.
But not today. Today is just an ordinary Saturday. No Festivals. No events. No emergencies. Just a "normal" weekend in America's least normal City.
Its today again. After only 10 days away, I'm back in NOLA for a quick weekend show. I arrive a day early to enjoy a rare day off away from home. Alone, all day, without a Fest to ingest or friends with which to roam, I decide to spend my empty day filling up on the "Real" French Quarter... while wondering if there is, or ever has been, any such place.
In order to truly experience the City, I leave my Bluetooth cocoon behind -- no headphones for walking music. No cell phone for aimless conversations on my aimless walk. I wondered if after Katrina, the City, out of necessity, had descended into parody of itself to keep the tourism dollars flowing. So without the glitter of headliners like Springsteen and Fleetwood Mac, I wanted to experience the sights, smells and tastes of the Quarter, circa 2013. I wondered if the New Orleans I'd come to 'know' over the last two decades - except the year I missed - was the real New Orleans at all.
Walking up Royal from Canal Street, the first thing, of course, is the music. Sounds wash over my ears like a crashing tide. The master mix changes every 10 feet; Zydeco down that alley, Brass in front of the 8th District Police Station, Louis Prima jumping out of the Fleur Girl gift shop.
Busking, a corporatized "attraction" at such well meaning knock-offs as Santa Monica's Third Street Promenade...and every outside Mall in America with 'charming roving musicians,' is authentically alive and well here below sea level.
To be sure, some of the musicians are veteran barkers, as skillful at working the crowd as they are their own axes. But they're not aspiring musicians, they're not snarky hipsters grinding ironic tunes for an unknowing gaggle of pikers. They are proud professionals, young and ancient, alabaster and inked, proudly filling their city with a nectar that only ferments here. And unlike anywhere else I've been, to survive, the players start at good and get better from there. Marginal musicians simply can not make a living here, too much talent in too small a place.
But the topography of the Quarter is just the canvas. It remains as it has been, mostly, for over 200 years. It's the music -- the application of human energy and inspiration against wood and metal -- that is alive and new. Even a weathered chestnut like "Georgia on my Mind" reveals new thrills as these unsung artists throw paint in the middle of the street.
And I can't sit and listen without some Cafᅢᄅ au Lait and a melty Muffuletta. Wouldn't be right. The savory blend of olives, creamy cheese and salty meat -- all the excess grease having long ago deliciously soaked into the airy, catcher's mitt sized bun -- melts in my mouth like... like... a giant sandwich. Next to Louis Prima and Sam Butera, it's the tastiest Italian legacy here.
What's the 'authentic' NOLA Mufuletta? The last one you ate. Like gumbo, each spot slaps their own savor on this traditional meal. Hot or cold, hand-made or store-bought olive spread, they're all worth taking the time to enjoy. Which, unlike during the frenzied pace of my Fest Trips, I'm doing today.
And as I slouch into this bench, morsels of all the conversations swirling around the music pepper my ears.
Two chuckling, soon to be Fathers-in-Law trail a straggle of groomsmen through Jackson Square as they bicker about the fastest way to Frenchman Street.
The big man in the Trumpet/Tuba duo in front of the church plays a Dixieland version of Hank Williams' "My Bucket's got a Hole in it," before explaining that the lyrics are more than a metaphor... by passing around his bucket during his solo.
I listen as the breathless 22-year old girl from Kansas standing behind me explains why she is so in love with her new boyfriend who's brought her home for the first time to meet the family this weekend at his boyhood home on the West Bank. She talks, barely taking the time to breathe, through the entire song, her gush of newly discovered love unintentionally riding the melody in almost perfect syncopation.
I'm full. The sun's doing down, and as I turn to walk back to my hotel, I steal a glimpse of this tableau of strangers that until now, I'd only seen with my ears.
The girl is slender, pale and glowing in a simple farm dress and knit cap. On the bench behind me sit her incongruent confidants -- two ancient black men hanging on her every word.
One is dressed impeccably in a grey suit, royal blue tie and matching pocket square. The other, in dreadlocks and a rumpled tracksuit, cradles a dented sax in his lap like a baby. They both wear hats that tell those who know, they too, are players on the Street.
They gaze at her with faces filled with wonder and wisdom, another contradiction. Reliving while maybe coveting that magical moment in life where nothing else matters, everything is clear, and the unbroken road stretches out straight as an arrow in the headlights of your band new car. When all you need is a full tank of gas and a fresh hotel room somewhere down the road.
Authentic soul in a cartoon city. Thankfully, it's still available -- at least here it is. All you gotta do is unplug and listen.
Laissez Bon Temps Roulette!!!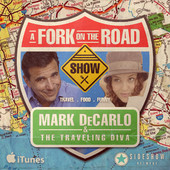 For more Mark, Listen to iTunes #1 new Travel, Food and Fun podcast, A FORK ON THE ROAD SHOW to win great prizes like Vivitar underwater camcorders, travel gadgets and free vacations.
New episodes every Thursday!