Summer is the perfect time for travel, and what better way to spend some time in a new place than at an outdoor concert enjoying a living, snarling, joyful legend?
Check out this video.
DAMN RIGHT! Buddy Guy puts on a show you've got to feel to believe.
On tour all summer, last time Buddy played Los Angeles' Greek Theater he miraculously avoided burning down all of Griffith Park. Not sure how it survived... because there were enough sparks for a whole summer's worth of music. This Guy, at an age when most guys are chasing punks off their lawn, put on a show, a clinic, then led a parade through a delirious crowd: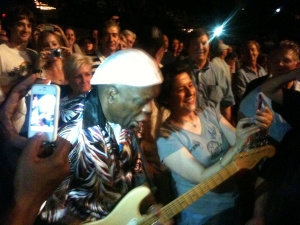 I have seen Buddy live many times over the years, and will keep seeing as long as he keeps playing. No matter the weather (it was 90 this night) he sweats more than you do.  Sometimes he meanders through iconic blues chestnuts, others, he vamps on his impressions of OTHER great guitar players - the guys who showed Buddy the way. Rarely though, does he play enough of his own new songs.
Last year's "Living Proof" won the 2011 Grammy for Best Contemporary Blues Recording, and is possibly the best album this Legend has ever released. HE SHOULD PLAY MORE OF IT IN LIVE SHOWS!!!  
On July 30, 2013 he'll release a new DOUBLE album, Rhythm & Blues, featuring new songs and new takes on some classics. And this time, Buddy's brought in some of his friends, including; Keith Urban, Gary Clark, Jr, Kid Rock at Steven Tyler and Joe Perry from Aerosmith. Early reviews of the boatload of blues points to a return trip to the Grammy podium.
But at such a reverential age, why does a mostly sane man, a self-professed homebody gumbo chef, drag his ass all over the world every year when it would be much easier to just relax on a bed of trophies, awards and royalty checks?
THE MUSIC - the heritage and the memories of the people who created the music that rescued him from a share-cropper's life and transported him into the Rock 'n' Roll Hall of Fame, the Kennedy Center Honors, even to the White House to receive the Presidential National Medal of Arts.
Prowling the stage, flashing that smile and preaching the Blues what really comes through is that, above all else, he's grateful. Grateful for his innate talent, and the capricious twists and turns of musician's life that have landed him a life rich in music and memories.
Not all his comrades had such fortunate landings. Even one of the lucky ones ran out of time at 35, less than half Buddy's age. Tick Tock. Yet Buddy is still flying high, and not shy about sharing it with the faithful.
"I didn't learn this from no book!" he growled, thumping into Muddy Water's "Hoochie Coochie Man".  No, he learned it from Mud himself.  One of the passionate elements of The Blues is the historical context of who got what from whom and when and how they tweaked it to carry it forward.  At this point in his illustrious career,  Buddy is not just a keeper of  The Flame, but has willingly transformed himself into its curator.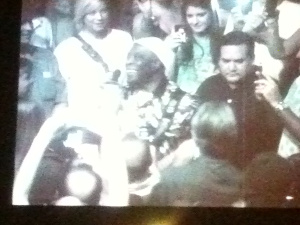 Buddy is but a leaf on a tree. A tree that has given shade and fruit to generations of hungry souls, lost until those notes, one song, one moment of musical lightning electrified them up and out of their personal woe and into a greater grokking of the human condition. Listen to Muddy's live version of "Hoochie Coochie Man" and if it doesn't twist your gut into a new kind of envy, you're not really alive.
Muddy Waters is the Trunk of the Electric Blues Tree. He planted himself in Chicago after WWII and began a career playing in clubs and bars catering to the 3 shifts- a- day working men on the South Side. Guys that slung beef or concrete all day long. Third shift guys who'd get off work at 8AM and head to their local bar to drink some cold beer and listen to hot music.
In 2012, Buddy is the last branch still in bloom. The most accomplished slinger with a personal link back to the inventors. Like a Chevy mechanic, he worked his way up in their shop - from sideman to maestro - and now finds himself alone in a once crowded forest of originals.
The sadness he feels in the absence of his teachers is etched into his face. His smile is at once cherubic and satanic. Buddy was punk before the Pistols. And even today, after a lifetime circling the globe in hotel suites and shiny suits, he's no choir boy: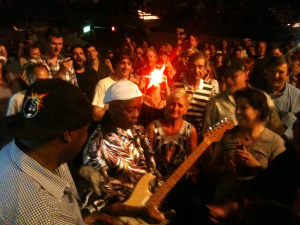 "I'm 76 years young, there ain't nothing I haven't doneI've been a dog and I've been a tomcatI chased some tails and I left some tracksI still know how to have my fun 'cause I'm 76 years young"

So, he could be forgiven if he, like a few other classic acts, was just making the rounds, coasting through an oldies show with weak fingers and a nostalgia voice.
But Buddy Guy doesn't need forgiveness. He needs a stage.
"I watch the people's faces," he told me last year in his suburban Chicago home, "They can all be enjoyin' the show, but if I look out and see one guy who isn't, I try something else, keep trying, until I get him."
He's got more medals than Michael Phelps, nothing - seriously NOTHING left to prove - yet Buddy still goes out every night and busts his ass until every single person is transported to that same place he visits every time he straps on his polka dot Strat.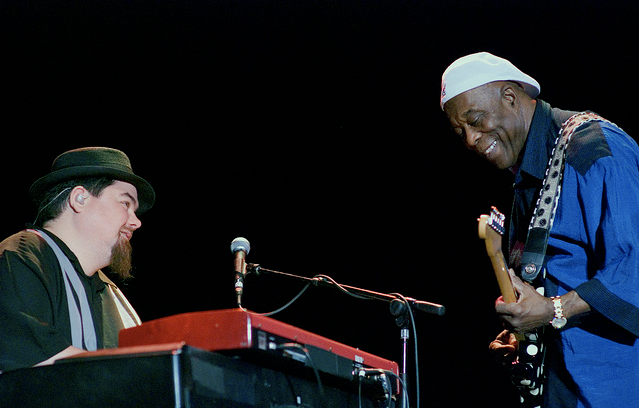 THAT'S why he plays behind his back.
THAT'S why he plays with a drumstick.
THAT'S why he prowls the stage like a rooster in a hen house.
And in the quiet moments between musical eruptions, that why he constantly reminds you where it all came from. He is NOT shy about preaching.
"Way back, there was this left handed guitar player..."
"STEVIE RAY!!!" a fan screams from the front rows, thrilled to have yelled the answer before the teacher had even finished the question.
Buddy's smile dropped into a scowl, "Stevie was NOT left handed. And if you'd shut the fuck up, maybe you'd learn somethin'."
Silence.
"Albert King was left handed..."  [Ironically, Stevie always cited Albert as one of his main influences. If you listen to 'Texas Flood', SRV's first album, you can hear Albert-y licks all over it.] "And I don't know how old you are, but be quiet and learn what I'm gonna teach you tonight."
Class was in session. Buddy strolled off the stage, wading down into the crowd, the faithful parting like the Red Sea, making way for the Real Deal.
It it showmanship? Yes. Does he clown? Absolutely. But that doesn't mean his artifice isn't genuine. Just like when he was coming up,  fighting for stage time with dozens of other struggling, less flamboyant slingers, he is there to put on a SHOW!  If that means jamming through the crowd with the guitar behind his head and notes dripping off his back, open the damn doors and let the people in!

Look at these faces. The expressions. Reverent, authentic bliss. We came for a show and got much, much more.
After the Visitation, he wasn't even close to done. After spending over an hour looking back, playing Albert and Muddy, Buddy introduced the crowd to the future. Some saplings he's tending, ensuring that the forest will never die out.
Quinn Sullivan, a 12 year old musical prodigy, joined Buddy on stage to play an original tune from his first record. A song about the first night he met Buddy Guy.
Quinn looks like a cross between a muppet and Shaggy from Scooby Doo - until he plugs in his guitar. Then he looks like Buddy. And Stevie. And the guys that Buddy and Stevie were copping when they came up, before they WERE Buddy and Stevie.
The screeching, wailing sounds ripping off his fretboard electrified the audience. Quinn took center stage, as Buddy eased over to funky keyboard wizard Marty Sammon and smiled like a proud poppa.

Quinn ripped it up, his soaring voice a perfect compliment to his slashing hands, and brought the crowd to their feet. Then, as Quinn was  matter-of-factly basking in his standing ovation, Buddy brought out an even YOUNGER kid to play.
We barely heard this eleven-year old's name, Ray Goren, but he didn't seem to care. Ray plugged in and walked right to center stage to take control, silencing the band of road warriors with one swoop of his scrawny arm, he whirled back to the mic and sang, "I got a Sweet Little Angel, and I Love it when she spread her wings."
For those new to the party, this BB King hit is NOT about an actual angel. It is what we call in writing class, a metaphor. This kid - and his rubber, guitar hero face - breathed new passion into a song he can not possibly understand... unless he's a distant relative of Georgia O'Keefe.
Ray was impossibly good. The only topper would have been a newborn with a Strat jamming Purple Haze out of a Baby Bjorn strapped to a hot Hollywood mommy.  Ray oozed Mojo far beyond his years, matching Quinn and even BUDDY, riff for riff.  He refused to yield the spotlight, and went toe to toe with the Man without a hint of fear. Johnny Lang came out, but couldn't get a note in edgewise.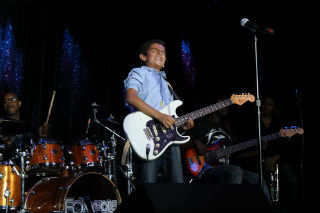 Eventually, Buddy just gave up and let the kid go. Without hesitation, Ray strolled past Buddy to the edge of the stage as if he'd been fronting this state-of-the-art Blues Machine for a decade.  HOW he got this good this young isn't the question. I want to know how good he's gonna be. And though Buddy may not be in the wings for Ray's 76th year, he'll be there on his strings. Just like Muddy and Junior and Wolf and T-Bone never miss a show of Buddy's.
THAT is why I love the Blues.
And that was his show.  A passionate invocation of the past, a blistering present, and a bridge to the future. Buddy shared the music that changed his address - the music that brings love, lust and humor - the music that lifts us up even as we are pulled down. And for those of us who knew when to hoot and when to shut up, he spun a thread that connects us to something much bigger than a summer rock concert at a day care center.
Buddy IS Living Proof. He didn't start it, but it sure as shit ain't gonna end on his watch.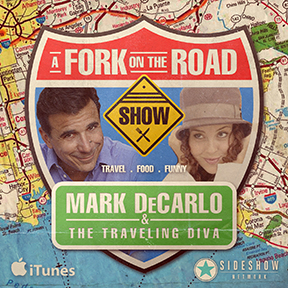 Listen to Mark each week on iTunes' ONLY weekly comedy/travel show,
New shows each week. Listen & win great travel prizes... like a Vivitar 850W underwater camcorder.