Where you live, what you can do and whom you know have always mattered when it comes to moving up the economic and social ladder. Fair or not, geography, ability and influence have long affected how far many Americans get in life.
But with a sluggish recovery, an increasingly competitive global economy, and a yawning divide between rich and not-rich, expanding these "gateways to opportunity" to more Americans is arguably more important than ever before. This is particularly true if we are to keep the American Dream alive for the next generation and help low-income youth gain the skills they need to reach the security of the middle class.
The good news is, each and every one of us has the power to achieve this goal, and millions of us are helping already.
Civic engagement is a core value for Americans in all its forms, from voting to being neighborly. Such participation strengthens our society and our economy. Research indicates a strong correlation between group membership and economic growth, for example. And volunteers contribute $150 billion a year to the U.S. economy.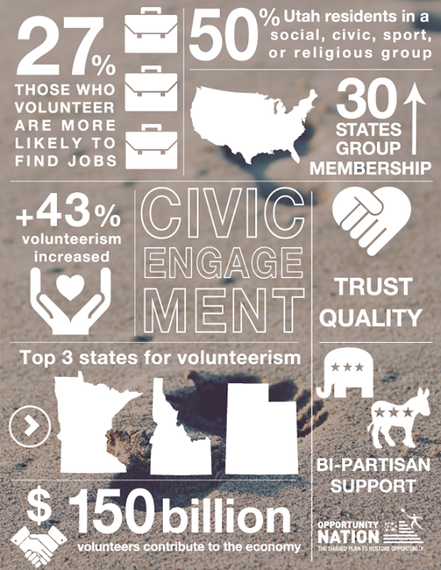 Civic engagement is also an effective way to help millions of teens and young adults get on the right path. Community involvement empowers youth to learn valuable skills; build strong social and professional networks; and improve their communities.
That's why the Citi Foundation and Opportunity Nation have launched a deeper exploration of the connection between civic engagement and economic opportunity at both the individual and the community level. We want to learn what kinds of participation and connection help young Americans build social capital and confidence, as well as professional skills and experience that will serve them well as adults. This initiative will examine benefits that accrue not just to youth themselves, but also to the neighborhoods they serve, so we can learn more about how various forms of civic engagement can expand economic opportunity throughout communities.
Studies show that civic engagement can pay big dividends. A 2013 study by the Corporation for National and Community Service found that volunteers have a 27 percent higher likelihood of finding jobs after being out of work than people who don't volunteer. And a 2014 report, The Mentoring Effect, found that youth with mentors who are at risk for falling off track are more likely to stay in high school and aspire to graduate from college than those who lacked mentors.
The Citi Foundation is already leading in this area. The foundation has invested $10 million over the next three years in ServiceWorks, a national program that uses volunteer service as a strategy to help 25,000 low-income youth develop the skills they need to succeed in college and careers. Launched with AmeriCorps and Points of Light, this program will deploy 225 AmeriCorps members in 10 cities starting this summer. Teens and young adults will gain valuable leadership and workplace skills, strengthen their networks and lead volunteer service projects in their communities.
Meanwhile, Opportunity Nation seeks to shape and advance the national conversation about closing the opportunity gap through the Opportunity Index, a tool that measures 16 economic, educational and civic factors that expand or restrict economic and social mobility. Updated annually, the Index ranks all 50 states and Washington DC and provides Opportunity Grades for more than 3,000 counties.
Today, nearly 6 million teens and young adults ages 16-24 are currently not in school or working, a tragic loss to them personally and to our nation as a whole. According to the Opportunity Index, the higher the number of disconnected youth in a region, the worse the chances are for upward mobility. It's clear that we all have a vested interest in making sure teens and young adults get connected to meaningful educational and career pathways - and we believe that civic engagement can help achieve this goal.
The high cost of youth disconnection is a major challenge for the 10 cities targeted by ServiceWorks: Boston, Chicago, Dallas, Los Angeles, Miami, New York, Newark, San Francisco, St. Louis and Washington, D.C. The impact of youth disconnection is felt throughout the counties surrounding these cities, with county grades averaging in the C/C+ range on the Opportunity Index. ServiceWorks aims to lower the number of disconnected youth in these cities through the power of volunteerism and service, which in turn would boost the region's Opportunity Grade.
We know that around the country, various organizations and leaders are committed to increasing civic engagement, particularly for youth. We hope you will follow us on our journey to understand the links between increased opportunity for individuals and communities through civic engagement, and how all of us can help more young Americans reach their potential, and thrive.