It's that time of year again. The smell of new crayons and the musty, vanilla smell of old books fill the air, while parents are anxiously shopping for the newest, trendiest clothes to start the school year.
Taking advantage of the immense amount of social chatter about Back-to-School shopping, I worked with MutualMind to understand the who, what and where of these conversations. The social listening campaign was set up to collect any mention of "Back to School" and one of the following six retailers -- Walmart, Target, Kohl's, JC Penney, Kmart and Amazon.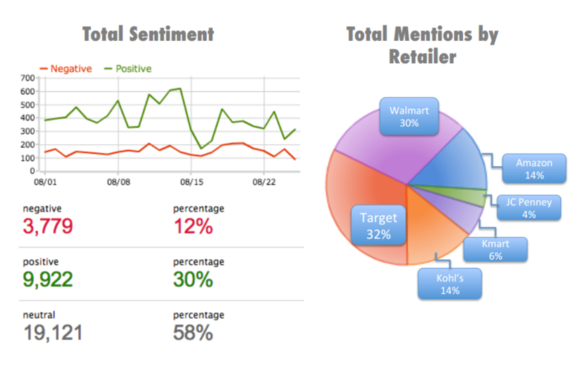 After the collection, MutualMind's analysts took a deeper dive into the dataset to tag content based on whether a mom, dad, student or teacher was the one making the post. They also tagged content by the grade the student was going into.
The date range of this study was August 1st through August 25th. During that time there were a total of 32,822 mentions. The content was overwhelmingly positive. Marketers can use the excitement of back to school to their advantage to boost sales on not only the products on the supply list but also apparel and backpacks.
The data shows that there were 1,920 posts about apparel and 1,098 about backpacks. To a kindergartner, it would be safe to bet a new backpack with Elsa from Disney's Frozen would be much more exciting than a new package of pencils. These are the things that drive more conversation. Items that would be on the top of any school supply list didn't receive nearly the number of mentions. Spirals and notebooks combined made up 486 total mentions while folders and binders made up only 475.
We also learned from this study that moms are the ones doing most of the conversing. They're blogging about their experiences. They're talking about how much fun they had over the summer, their excitement for the kids to go back to school and what they need to do to prepare for a new year.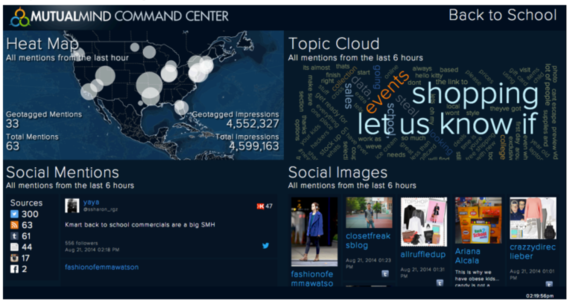 Many moms wrote about after school snacks and the foods they'll be preparing their family while balancing a jammed-packed schedule. Teachers are talking getting their classrooms decorated, so their students can work in a fun environment. Dads are searching for the best deals and asking where they might find them. And students. They love to share with the world their most recent purchases.
While searching through the content, we found several videos of students of all ages going through their shopping bags of new clothes and school supplies to show off what they had just bought. Marketers can use this information to better understand how they can relate to their audience.
And finally, the where. Where are these consumers doing their shopping? Target is winning the social sphere for Back to School with 32 percent of the overall conversation by creating discussion-worthy shopping experiences and content. At the one stop shop, consumers can purchase supplies, backpacks and outfits. Walmart is coming in a close 2nd with 30 percent of the conversation.
Amazon, while arguably an even better solution for a time-starved mom isn't getting near the passion and fervor. This could be due to the glamorization of back to school shopping. It's an experience, and when you get to touch and feel the crayons you'll purchase and your child can try on the outfit she has just declared she wants to wear on the first day of school, that's a share-worthy moment.