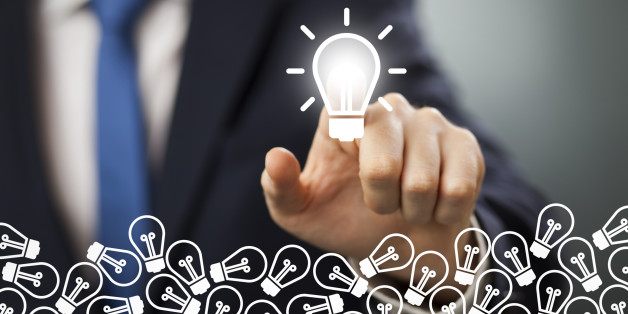 With the launch of the sustainable development goals last month, companies have started to look at ways they can get more involved to help end extreme poverty, fight inequality and injustice, and fix climate change.
One of the most obvious ways that companies are already partnering to work towards these goals is by encouraging and paying for their highly skilled employees to volunteer around the world.
These programs, like Microsoft's MySkills4Afrika, IBM's Corporate Service Corps, Pfizer's Global Health Fellows (to name just a few), have a history making a positive impact in the short-term while developing leaders more capable of leading us towards a more equitable world in the long-term.
To help highlight the benefits of these programs, I sat down with one of our partners, Matthew Farmer, Managing Director of Emerging World. He just published a new study, the Corporate International Service Learning Impact Benchmark, which examines the value that these programs deliver.
1. What classifies as an international corporate skills-based volunteering program, or as you call it, a CISL Program?
A CISL (or Corporate International Service Learning) program is an initiative with clearly outlined business objectives and employee development objectives. In these programs, employees travel across international borders to apply their skills to address a real need. In the process, they end up developing really valuable skills that come back to benefit the sponsoring employer
Companies run these programs for a variety of reasons, including leadership development, international market development and to increase employee engagement. We purposefully don't call these programs "volunteering" programs because the experience is so different from traditional programs, and its benefits much more vast. However, most ICV (International Corporate Volunteering) or Experteering programs can also be classified as CISL programs.
2. Some companies have been doing this for over 15 years... why do you think they started?
The first companies that started this kind of initiative started to do so in the mid-to-late nineties. What drove these very early adopters - such as Accenture, PwC and Zurich Financial Services - was surprisingly different in each case: like marketing, philanthropy, and employee engagement. However, they all learned that there are some potent benefits that were the same, regardless of why they started.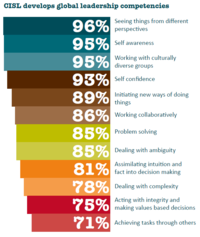 It has been these underlying benefits - like market development, innovation, and employee development -  that have brought more companies to establish programs. But the real accelerator in adoption has been driven by global megatrends facing all businesses, such as the increasing importance of emerging markets, increasingly diverse work forces, the growth of experiential learning and leadership development programs, and the increasing value placed upon corporate citizenship.
Simply put, it makes great business sense to create socially and environmentally responsible programs that create business value.
3. Why are more companies are engaging in these programs than ever before?
There is very robust evidence that these programs create benefits for all stakeholders. Our most recent study, conducted in partnership with five leading global companies - BD, Credit Suisse, EY, GSK and Microsoft  and with responses from over 300 participants - clearly demonstrates how these programs develop skills in participants, make a positive impact, and are good for the business.
In addition, there are some greater forces at work, too. Consumers are demanding that companies engage in social change programs, and The United Nation's Global Goals for Sustainable Development are requesting that companies also take action. In fact, Global Goal #17 calls for global partnerships to end poverty, inequalities and injustices, and climate change.
As our study shows, CISL experiences - when properly constructed - provide the learning and development that's required to build this kind of leadership while creating environmental, social, and business benefits in the process.
4. When you say properly constructed, what do you mean?
The research shows that simply having the experience is not sufficient for it to be truly developmental from a career perspective. Factors such as the following are all critical to the program having an ROI:
The quality of matching assignments to participants
The degree of line manager engagement
The curriculum of support when individuals return to the workplace all affect how impactful the experience will be.
Properly constructed experiences take these kinds of factors into account. Their design helps individuals plan for the learning experience, reflect upon it, and then apply new learning to their work upon return.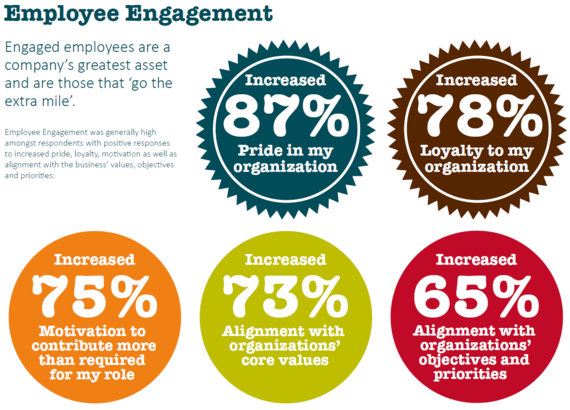 5. What are a few samples of CISL programs
Programs can be quite diverse. They vary in a number of ways including duration, seniority level, and whether for individuals or group.
Programs like the EY Vantage Program, Pfizer"s Global Health Fellows and GSK"s Pulse Programme are longer, from 6 weeks up to 6 months. Others such as the education assignment in Credit Suisse's Global Citizens program are shorter.
In the same way that length varies, group size varies, too. While EY's and Pfizer's programs are individual based, Microsoft Front Lines program, BD"s Volunteer Service Trip and IBM Corporate Service Corps are group-based.
Another area is program design for scalability. While the Front Lines and Executive Service Corps programs are designed for executive level talent and curated in small batches, with a significant cost per head investment. Microsoft's MySkills4Afrika program is designed with technology in mind, using a matching platform to support scale, connecting people for about the price of a conference for 1-2 week project and based on a per-project application to anybody within the company.
6. What were the most surprising findings of your research?
On the whole, quite a lot of thought goes into designing and supporting a CISL program. In this research we were able to begin to look at which areas of support actually impacted the results that companies were achieving.
Interestingly, the perceived amount of preparation that participants received made no difference to the results they achieved but the degree to which people were supported upon return had a significant impact on a number of areas such as employee learning, retention, career mobility and upon employee engagement.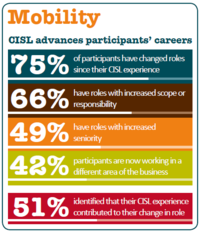 We were also pleasantly surprised by how high the approval rating was. We made a very conscious effort to reach out to former employees of programs as well as existing employees and reached back many years to previous participants to obtain a balanced sample and while we knew that these programs were popular with participants, to hear that 99.7% of participants had recommended the program to at least one other colleague since participating was very interesting. I've not come across other programs with that level of approval. It equates to only one person in a sample of over 300 people not having recommended the program.
7. What was the least surprising finding of your research
I'm not sure if it is the least surprising finding but certainly the most reassuring one is the observation that the most impactful experiences for an employee (in terms of learning, engagement, career mobility and retention) are those in which employees felt there was genuine need for their skills on the project - On the one hand, this means that there are diminishing returns in creating assignments that do not meet real needs. This is good news for those people that want to see corporate engagement as a tool for achieving the Global Goals for Sustainable Development.
8. What is next for you and this research?
Our intent is to establish a benchmark against which companies can compare their programs against, while continuing to better track the social and environmental impact that these programs can have.
Our research indicates that every company should have a program like this, and we're going to continue to capture more evidence to not only highlight why companies should, but also how to make them the most impactful.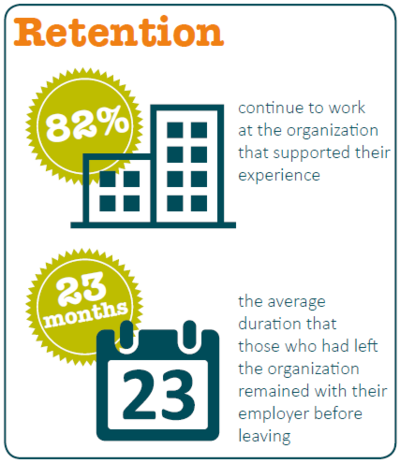 9. What advice do you have for companies looking to get involved in programs like this?
The best programs align business objectives with social objectives. We also know from the research that the more these align, the more these will sustain and stronger the impact will be. But don't get stuck over-planning. The benefits are so consistent that we recommend piloting as soon as possible, just make sure to get senior sponsorship and be sure to include line managers in the program.
For more information, here is an article in DEVEX about why every company should have a program like this, and another in Triple Pundit with tips to easily pilot and scale one.
10. How can we learn more?
We have a number of online information sessions for people to join and find out more.  Each session will also feature representatives from some of the participating companies to illustrate the findings from their own experiences.
If you have a general interest in this area of work and would like to understand more, please register for Insights into CISL Long Term Impact on 29th October 2015 10:30 EST, 15:30 GMT, 16:30 CET
If you have a Learning and Development interest in this area of work and would like to understand more about how CISL programs can develop global leaders, please register for Leadership Development that Lasts: Using CISL to deliver your Learning and Development goals on 12th November 2015 10:30 EST, 15:30 GMT, 16:30 CET
If you already have an international corporate volunteering, CISL or equivalent leadership program and are interested in benchmarking your program, please register for Building Stronger Programs: Insights into the CISL Impact Benchmark Study on 19th November 10:30 EST, 15:30 GMT, 16:30 CET
You can also download a summary report here.
11. How can my company's program be included in this benchmark report?
In our opinion, CISL is an important approach, not just for companies but also for the wider world, and the more data we have about its impact the more effective we can make it.  The study has been designed so that companies with CISL programs can have their own initiatives benchmarked against other participating companies, at the same time as gathering an important dataset that they can use to communicate the value of their program to stakeholders.
Companies wishing to do so can contact us to talk through the options.