As I made a final, stumbling descent off the mountainside and onto the icy road the snowfall increased in tempo and ferocity. A series of dark, seemingly endless tunnels stretched before me, boring their way, serpent-like, through the mountain for as far as I could see. Shouldering my pack, I sized up the passages: 2km long, fifteen feet wide, no ventilation, and dark as night - the ideal place for a through-hiker to get himself splattered against a windshield. No thanks. After walking already for some 100km, I'd developed a survival-based fear of drivers and I didn't fancy my chances of getting through unscathed. Instead, I decided to skirt the tunnels by traversing the icy slopes on their outer walls.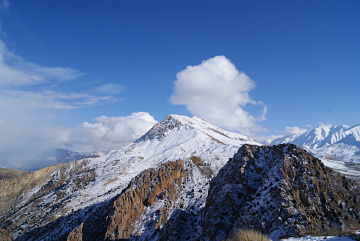 I began punching holes in the deep, crust-covered powder and kicking a narrow path for my feet. Despite the near freezing temperatures and heavy snowfall, I was sweating heavily, partly from exertion, the rest from fear.  A fall here with a heavy pack and no ice axe or crampons would be deadly, with little chance for self-arrest as I slid and cart wheeled down the exposed slope to the bottom of the ravine hundreds of meters below. But as I progressed I gained in confidence and technique. My holds were strong and one by one I inched around them. After 16 hours of scrambling, I reached the final tunnel, on a high pass at 2800m. It was snowing hard, and I had to constantly wipe the ice from my watery eyes. Looking down, I could make out the rooftops of a ski town below me. Smoke rose from the chimneys of massive alpine chalets that looked as if they'd been transported from Switzerland. I hopped the guardrail and slid through a meter of fresh snow into the valley below, where I trudged past the base of a ski slope, the lifts closed for the evening. An illuminated road sign shone through the closing darkness. I pushed my way through the drifts until I was close enough to read it: Tehran 20km.
Some weeks previous, as my flight began it's final descent into Iman Khomeini International Airport, media-fed images of flag burning crowds, women clad head to toe in the chador, and politicians screaming about nuclear ambitions filled my head. I had chosen to travel to the Islamic Republic of Iran to attempt a solo, on foot crossing of the entire country from the Caspian Sea in the north to the Persian Gulf in the south - more than 1600km through some of the most extreme temperatures and terrain the country has to offer. But beyond the physical and psychological challenge of the crossing, I had come to separate fact from fiction and find out for myself just what Iran and it's people were all about. Since the formation of the Islamic Republic in 1979, Iran has been at odds with much of the west and at times much of the rest of the world. Most recently its reported support of militia elements in Iraq, its ongoing pursuit of nuclear capabilities and the 2009 detaining of three American hikers have landed the country in the crosshairs of western media. However, two years of intense research had convinced me that this focus on politics was leading to a misunderstanding of Iran's actual citizens. From late November 2009 to the end of January 2010, with whispers of war emanating from western airwaves, I walked across the Islamic Republic of Iran. I made footprints across the country but Iran and its people are forever imprinted in my mind.
Tehran
Walking through Tehran, the capital of the republic, with a massive backpack, mud splattered boots and dusty clothes drew occasional curious but not unfriendly glances from passersby. The only time I had contact with women was through my friends and that was behind closed doors. Stupidly, I had expected most, if not all of the women in Iran to wear the chador or cloak. But a surprising majority of women in Tehran defied my presumptions, wearing skin-tight jeans, thigh boots, and trendy headscarves to cover their bleached blond hair.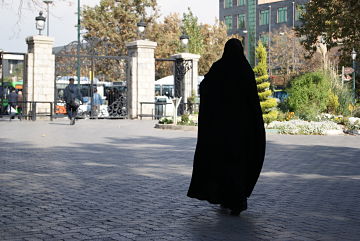 For the most part, people in Tehran seemed too busy going about their daily business to care much about who I was or that I'd trekked across the Central Alborz mountains (which separate the coastal plains on the edge of the Caspian Sea from the country's central plateau) to get there. An urban population of eight and a half million and infrastructure to match, Tehran feels like any major western city: Overpasses, underpasses, freeways, roads, avenues and alleys divide it into endless puzzles that, without a good map, can have you walking in circles all day.
Tehran feels like a western metropolis, but reminders that it isn't are everywhere. As I rested my feet near the Holy Shrine of Iman Khomeini--the first Ayatollah of the Islamic Republic of Iran and whose existence for many in the west has signified the very caricature of a country at odds with their own--a man and his son came up to me and at first with some brusque gestures questioned what I was doing.  I explained to them my journey and reasons behind it.  Before I knew it, one had shouldered my pack and we were marching around the corner of the massive building to their shop.  We sat outside in a cool breeze, a Coke in each of our hands and big grins on our faces.  I could have sat there for a long time chatting about football and fielding their questions about my home. But, there was still a lot of country to cross before I reached the Persian Gulf and, navigating irrigation channels and flooded plains; I marched southbound out of the capital towards the edge of the Dasht-e Kavir (Kavir Desert).
This is part 1 in a 4 part series.