It's back to school week for the Parker family in Newtown, Conn. But this year, they are taking only two daughters to school instead of three.
The loss of their 6-year-old daughter Emilie at Sandy Hook Elementary School last December is still raw for Robbie and Alissa. But they feel driven to speak out. They want people to know there are many things we can do to better protect children from disaster -- in whatever form it may strike.
In this video message from the Parkers, Alissa says:
"Remember the pain that's in our faces when we have to talk about our daughter no longer being here. We want you to remember that there are things that you can do instead of being in this position that we are in."
From Hurricanes Sandy and Isaac, to Sandy Hook, to the Oklahoma tornadoes, the last 12 months have featured natural disasters and high-profile school tragedies. Unfortunately, it's clearer than ever that children in the United States are still not getting all the protections they deserve.
Save the Children's annual disaster report card, released today, reveals many glaring gaps:
28 states and the District of Columbia still fail to meet four minimum standards for protecting children in child care centers and schools.
Some shelters had inadequate food, supplies and protections for children after Hurricane Sandy.
Children often lack specialized support to heal from the trauma, fear and stress they experienced.
Child care centers have struggled to access emergency recovery funds, leaving children of disaster-impacted families even more vulnerable.
The National Commission on Children in Disasters, which I chaired, endorsed our report card's four minimum standards: 1) requiring K-12 schools to have emergency plans for multiple types of hazards; and 2) requiring child care centers to have an evacuation and relocation plan, 3) a family reunification plan and 4) a plan for children with special needs. The good news is that four new states -- New Jersey, Nebraska, Tennessee and Utah -- did take action this year to meet all four standards, but 28 states and the District of Columbia continue to fail the test. We have much more work to do.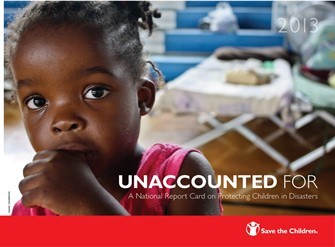 Pulling children from the rubble alone
One of the major gaps is that child care centers are often overlooked when it comes to disaster preparedness, response and recovery. That's dangerous to children's safety, and to their ability to successfully bounce back from the upheaval in their lives.
One Moore, Oklahoma child care owner we've helped tells how parents and staff pulled children from the rubble after the tornado struck. Meanwhile, first responders were passing them by, rushing to the nearby destroyed hospital. They had no idea there was a destroyed child care center full of children in need.
"There's a disconnect between child care centers and the city," says Memory Taylor of Agapeland Learning Center. "There's not enough communication between us."
Thankfully, none of the children in the center were seriously injured, because Memory's staff had calmly executed their oft-practiced emergency plan to the best of their ability.
So, what can you do to protect children before disaster strikes? See whether your state meets the four basic standards to protect children in child care and schools. Then send your governor a letter urging they meet these. Or, if they already do, urge them to take the next step: making sure strong emergency plans are clearly communicated and practiced. We must protect the 68 million children separated from their parents any given workday.
And don't stop there. Download checklists for families and for child care centers and schools at Save the Children's new initiative: Get Ready. Get Safe. Hold yourself and caregivers accountable for your children's safety. I know you'll agree with us and the Parkers -- our kids are worth it.