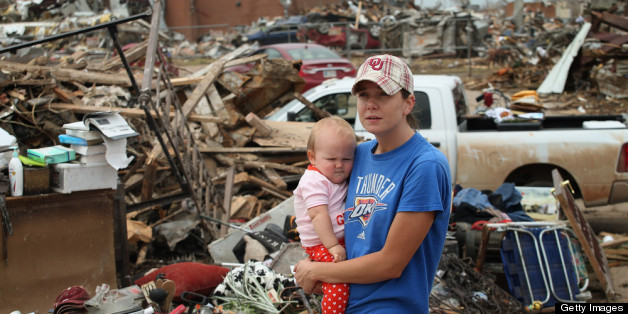 My first impression arriving in Moore, Oklahoma this week was how complete and concentrated the destruction was. My second was how the families and children I saw in the community looked overwhelmed as they took it all in themselves.
But now the sense of immediate danger and shock is starting to shift into questions of what next.
Candace Phillips was due to give birth on Wednesday. But baby Connor made his entrance one week early and became homeless on the fifth day of his life.
The community has pulled together, and Candace has all the supplies and food she needs to take care of Connor for now. They have a temporary place to stay in a dorm room at the University of Oklahoma, after a tough first night in a more makeshift shelter.
But with her family home's roof torn apart by the tornado, Candace, 21, doesn't know what the future holds. She is far from alone. Many challenges lie ahead for her community and especially the children who have lost their homes, their schools, and even their friends.
"We have no idea when we'll be able to move back. We're at the mercy of the landlord now," Candace told Save the Children staff on the ground in Moore.
She's worried about her 10-year-old brother, Daniel. He is restless already and has little to distract him from the destruction and upheaval around him.
Daniel was lucky. His family pulled him out of Briarwood Elementary School just in time. They fled in their car watching the tornado in their rear-view mirror.
Now his school is in ruins and his classmates are scattered.
A game, an activity with friends, a routine -- such seemingly mundane things take on incredible importance for children after disaster strikes.
Save the Children is setting up safe play areas in shelters, called Child Friendly Spaces, in Moore so that Daniel and other children can have a place focused on their needs. A sense of normalcy is so important for kids, and so is the opportunity to express themselves. It gives them a chance to work through what they've experienced, their fears and insecurities -- and to have some fun and be kids again.
Without these options, the initial damage of a disaster can stretch on much longer in a children's life.
From Hurricane Katrina to Hurricane Sandy and Sandy Hook, and through decades of responding to disasters around the world, Save the Children has learned how important it is to support children and their families quickly in the initial aftermath, but also in the long days, weeks and months to come.
Children need a place to recover, and their parents need a safe space for them as they take on the many tasks needed to rebuild their lives. That, along with rebuilding the community itself, will take time.
The television cameras won't stay very long, but the tornadoes' impact will. We need to make sure children's needs are on the recovery agenda from the very beginning so that they can recover as well.
To learn more about Save the Children's recovery efforts in Oklahoma and ways you can help, visit www.savethechildren.org/tornado.