Late last year my partner Randy began to drastically decline after years of fighting ALS. He was no longer mobile, he was down to 92 pounds (from a high of 165) and he was losing his ability to speak.
Before the effects of ALS took hold, Randy had a powerful voice, a great laugh and his own, special intonation. But quickly that great voice began to trickle to a whisper during the course of 2013. As his partner and caregiver, it was difficult for me, and Randy, to accept that I could not understand what he was trying to say... Luckily I got a tip from John Costello of Boston Children's Hospital. His tip was simple. He said that if I couldn't understand Randy to ask him to put what he was attempting to say into context. For example, if Randy was trying to say he wanted chocolate ice cream as a snack and I couldn't understand his request, I would say "context" and he would say "eat" and "snack." Then I knew what he wanted, chocolate ice cream (his all-time favorite).
Along with his counsel over the phone, John tried many times to provide his special services to Randy and myself. John's the director of the Augmentative Communication Program at Boston Children's Hospital and is continuing to find and create new ways to help people like Randy communicate.
One of John's offerings is a message banking program. Through that program, pALS can record and "bank" responses to questions while they still have their voice. Then, down the line, when they inevitably lose their ability to speak, the recordings provide the person's own, natural voice to communicate versus the standard, robotic voice that comes from computer-support systems.
Along with the message banking program, John provides an array of services that use technology and special techniques to help pALS communicate. Unfortunately, the demand for John's services is overshadowed by the fact that insurance doesn't cover the cost of most augmentative support needs. John also doesn't have a true program budget.
In terms of Randy, we were too late to "bank" his voice. However, I think John was impressed by Randy's personal and innovative approach to adaptive communication devices.
Randy had tried using "eye-gaze" and "head tracking mouse" devices to operate his iPad but found they were too sensitive for him. This was because he could still easily move his head, unlike most pALS. So, instead he created his own communication device. It was a simple headpiece with a steel rod attached to it and a stylist pen taped to the tip. With that crude "head-pointer," Randy tapped out his blogs, researched the latest ALS news and communicated with family and friends. Randy died earlier this year and I have donated all of Randy's equipment for others to use, but the head-pointer is something I will never part with. It was Randy's link to the outside world...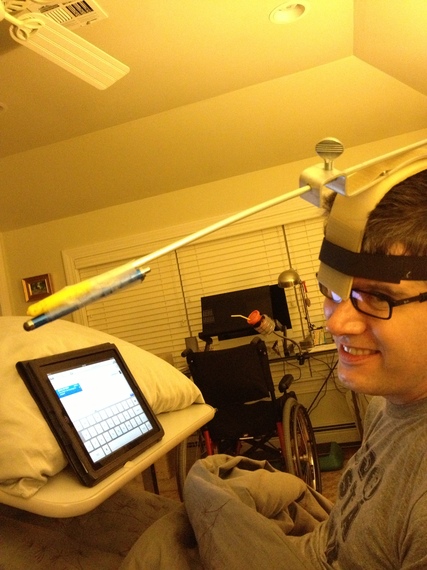 Photo Courtesy of Mark Malinowski
My main point? Communication is a vital lifeline for pALS, and every person's need is different. We need more John Costello's in the world and they need our support. To support John's work, visit bostonchildrens.org/givenow and designate your gift to the ALS Care Fund. You just might help give a voice back to someone who has lost theirs.
Mark Malinowski is a marketing executive and continues the fight against ALS begun by his partner Randy Pipkin. He has formed "Team Randy" in support of this fall's Boston Walk to Defeat ALS.