Grief is a really strange thing. I have been living smack, dab in the middle of it since March and I continue to learn new things about it and myself every day. There's always a new emotion tied to a memory that can throw you for a loop at any time. It is true what everyone says: "It's a process."
I lost Randy, the love of my life, after he died of ALS. Because his fight was a long one, I thought I had prepared myself for the inevitable, but I soon learned that was not the case. New emotions are stirring up now, since I'm am selling the house on Tower Road we bought together more than five years ago. When we bought it, we still had faint hope that Randy would be the one person to beat ALS. Actually, we still didn't really want to believe it was ALS. We wanted it to be anything but ALS, but of course it was...
For me, the house is the embodiment of so many memories. Some hard to relive, others I don't ever want to forget. I remember Randy sometimes sitting sadly in the house as he became more and more a prisoner in his own body. But I also remember watching endless movies and television shows together, cuddling in our comfortable, sweet bedroom. We were so lucky to find the house on Tower Road, because it truly became a refuge from the world and a horrible disease. It's all on one level, so there was not one room that Randy could not visit in his wheelchair. That was important to him. Surrounded by beautiful, lush landscaping, Randy could watch the birds at the bird-feeder and roll out to the back patio to enjoy just being outside.
So today I start packing. In a lot of ways, it's packing up the hope we had together as a couple, fighting an awful disease. That said, I am now taking what is left of that hope and trying to move forward with my life as it now stands.

So far, I think I am doing OK. I have a new job I enjoy. Throughout the summer and fall, I visited and reconnected with friends I hadn't seen in years. More importantly, as I was doing these things and getting out of the house, I realized that Tower Road itself reminded me of the "sick" Randy versus the healthy man I met in 2003. I had forgotten that life we had together, but more and more, memories of Randy before ALS were coming back to me. It was truly a shock to really remember what life was like before we moved to Tower Road -- we literally didn't have a care in the world. Finally, about a month ago, I realized that deep-down my days in the house were coming to an end. Then, like magic, I found a house I loved, a nearby 114-year-old Victorian overlooking the water. In a very strange circumstance, I sold Tower Road to friends literally within 24 hours. I like to think that Randy had something to do with it all.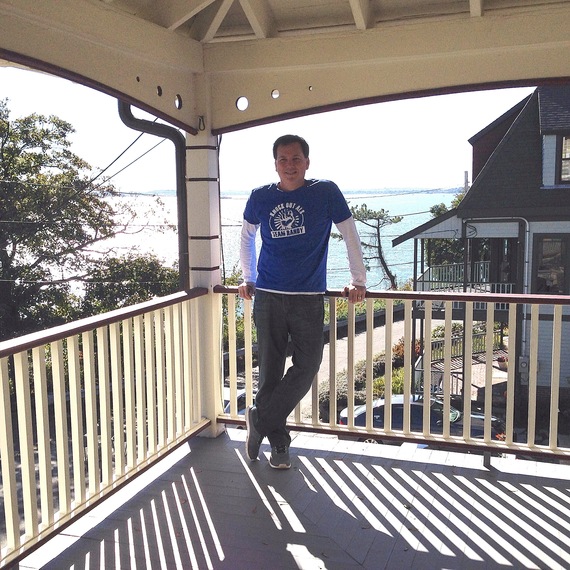 Photo Courtesy of Mark Malinowski
Shortly before he died, Randy made me promise not to settle when he was gone. At the time, I didn't really know what he meant but now I do. He didn't want me to be stuck in the past, in a specific place and time. I think he literally wanted me to open a door, window, whatever, and move forward with my life. So, I am. It doesn't make packing any easier, but ultimately I know I'm doing the right thing for myself and even Randy.
When you lose someone in your life who you love more than yourself, the experience will change you forever. I know I will never be the same, I am different and that's OK. It will happen to most of us and, when it does, it's important to give yourself the permission and time to discover who you are following a great loss. Let yourself feel all the emotions coming at you, but do whatever it takes to move forward, as surreal as it can be. As hard as it is, that's what I'm going to do. Even though moving is brutally hard, I know that's what Randy would want too.
Mark Malinowski is a marketing executive and continues the fight against ALS begun by his partner Randy Pipkin.